Feeling frustrated and betrayed in Flint

By Bryan 18X Crawford |

About 100 people filed into UAW Local 659 hall in Flint, Mich., to get a formal update and explanation as to why the new team of prosecutors dropped all criminal charges against city and state officials who had a hand in creating the worst ecological disasters to affect Black people in this country in recent memory.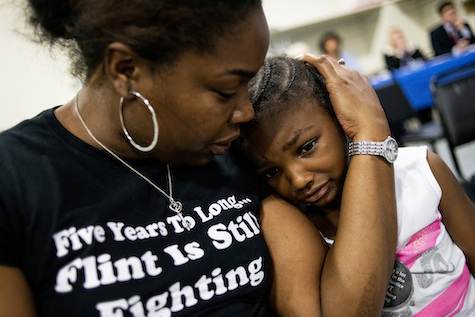 Flint resident Ariana Hawk consoles her daughter Aliana, 4, nearing the end of a two-hour community meeting with Flint water prosecutors at UAW Local 659, June 28, in Flint, Mich. Hawk is the mother of Sincere Smith, who graced the cover of Time magazine at the height of the Flint water crisis in 2016. Michigan Solicitor Gen- eral Fadwa Hammoud and Wayne County Prosecutor Kym Worthy spoke to about 100 residents at a union hall in the city. Photos: Jake May/MLive.com/The Flint Journal via AP

The officials showed up on a Friday, June 28, to talk to Flint residents who have been without clean and safe drinking water for more than five years, and it's been three years since those responsible were hit with criminal charges for the decision. But in mid-June, the Michigan Attorney General's Office, led by the newly-elected Dana Nessell, dismissed all criminal charges against those who played a role in the water crisis. A total of 15 state and local officials had been charged with crimes as serious as involuntary manslaughter, with eight still awaiting trial before the legal maneuver was made. Seven others have already taken plea deals.

Michigan Solicitor General Fadwa Hammoud and Wayne County prosecutor Kym Worthy stood in front of the audience and tried to justify their controversial decision.

"We know that you have concerns. We know that you have questions. And quite frankly we know that you're angry, "Mrs. Hammoud told the crowd. "We know that there are many deaths out there, yet to be investigated. And it is our obligation- when we accepted this position, when we take an oath to represent the people of the state of Michigan-to investigate those deaths. Those families deserve it."

Ms. Hammoud said that within a month's time, their own investigation team uncovered approximately 20 million documents the previous prosecutorial team seemed to have been unable to find in the three years they worked on the case. She blamed Andy Arena, the former director of the FBI's Detroit office, for failing to properly handle all searches related to critical documents. "We have received information that is absolutely relevant to our investigation that we have never had before ... . There were some phone dumps we never had. And the first thing we said, 'If we don't have this, what else don't we have?' " asked Ms. Hammoud.

Representatives of the Michigan Attorney General's office showed the audience a number of heavily redacted, critical documents related to the case that were uncovered during their review of the previous file. Kym Worthy, who was brought in by Attorney General Nessel to help with jumpstarting the new investigation, told the audience about the newly-discovered documents. "I've never seen anything like it. That causes questions. Was this a real investigation?" she asked.

As much as $31 million of taxpayer money has already been spent on the previous investigation and legal proceedings. News of the dropped charges was not only a blow to the people of Flint, but added to a strong feeling of distrust of both city and state political leaders, and a feeling of despair that after their 62-month-long, ongoing struggle, justice may never be served.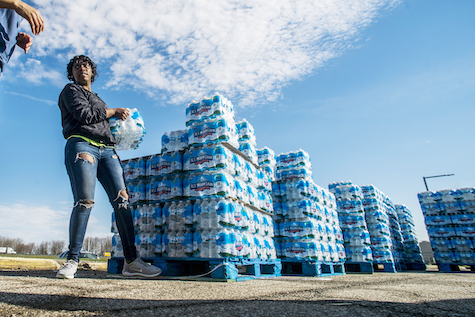 Katia Kenney, 18, of Flint, Mich., volunteers as she loads cases of water into vehicles as non-profit Pack Your Back distrib- utes more than 37,000 bottles of water on April 22, 2019, at Dort Federal Event Center in Flint.


"They didn't come to the community. We had reporters call to tell us that the charges were dropped and they wanted to know what our response was. Then we read about it in the paper," Claire McClinton, a Flint resident and one of the driving forces in getting the story out to the world, told The Final Call.

During the meeting, when the floor was opened for residents to ask questions and speak their minds, the frustration and pain in the voices of those who took the microphone was palpable.

"Do you not realize how it felt when you released to the press dropping the charges without coming here first? Without any kind of communication?" Laura McIntyre asked angrily while addressing Ms. Hammoud. "You could have at least have said, we're going to be doing something, but we can't talk about it [right now]. Just any kind of acknowledgment that we existed before going to the press. And then waiting 15 days to have this meeting, it really hurt. It really did a lot to destroy a lot of trust."

Arthur Woodson, a community activist and the first Flint resident to speak that evening, was unhappy with the terms of already accepted plea deals. "They got less time for poisoning over 98,000 people than somebody stealing a slice of pizza. People are dying. It's hard to trust," he said.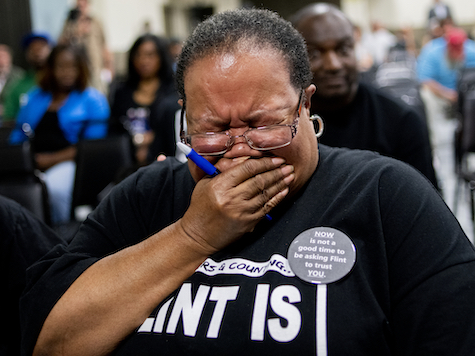 Marijoyce Campbell, a 65-year-old lifelong Flint resident, sheds tears as she gets choked up after speaking her mind during a community meeting with Flint water prosecutors at UAW Local 659, June 28, in Flint, Mich. Campbell said she had a "heavy heart" after learning about the new docu- ments and being told some materials the previous investigative team had were heavily redacted. Michigan Solicitor General Fadwa Hammoud and Wayne County Prosecutor Kym Worthy spoke to the residents, two weeks after dismissing charges against the former state health director and other officials.

"I cannot believe something like this can happen," added lifelong Flint resident Marijoyce Campbell, fighting back tears. "Please, please tell me some heads are going to roll; that somebody is going to pay for all this murder, all this criminal activity."

"I just feel they should've continued with the charges they already had," Audrey Muhammad, a Flint resident who has been advocating for justice for the people of the city, told The Final Call. "The reason I say they should've kept going is this: Because this has been stretched out for so long, I don't feel like there will be a true conviction on higher charges."

Adding to the concern expressed by Ms. Muhammad is the fact that the statute of limitations on many of the charges are set to expire in approximately nine months. Ms. Worthy, however, tried to assure all of those in the room that justice would be pursued properly and much faster.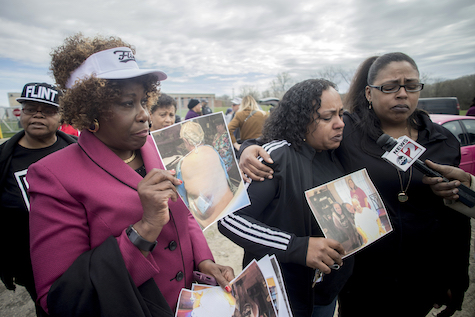 Detroit attorney Cynthia M. Lindsey stands alongside her clients Buffi Clements, 42 at center, and her sister, Brandi, as they talk about the death of their father Joseph C. Clements, who passed away from kidney cancer in July 2017 during a rally on the five-year anniversary of the Flint water crisis on April 25 outside of the Flint, Mich., water plant. Buffi Clements said their family believes his cancer was caused by drinking Flint tap water following the switch, and are currently part of a class action lawsuit. Photo: Jake May/MLive.com/The Flint Journal via AP




"We can't tell you where we're going to go, we can't tell you where it's going to lead, we're going to go where the facts and evidence lead us," she said. "I know that's been repetitive but that's the truth. Anything else would be irresponsible."

While the initial cause of the problem, the switching of the water supply sourced from Lake Huron and the Detroit River to the highly polluted Flint River has been corrected, and a number of infrastructure repairs related to corroded pipes done, city residents are still relying on bottled water for their basic, everyday needs.

Bill Schuette, the former attorney general for the state of Michigan, defended his team's investigation and the way it was handled. "We took the steps that preserved the evidence in this case. And our work was not done," he said in a statement. "Two judges bound significant cases over for trial. And we were prepared to go forward with robust prosecutions. But this is not about prosecutor versus prosecutor. This has always been, and only been, a fight for justice for the families of Flint. We acknowledge it's their case now and we wish them success in their pursuit of justice for the people of Flint."

Some water activists are convinced the motive behind this disaster was a sinister one and bigger than the town of Flint, Mich. They see a battle brewing across the country and all over the world when it comes to water.

"People have to understand that water is the new money. It's the new gold. People are actually investing in water," Yonasda Lonewolf, an activist who organized and protested in both Standing Rock and Flint, told The Final Call. Dakota Access Pipeline protests began in early 2016 in reaction to the approved construction of an oil pipeline in the northern United States. Native American tribes worried about plans to run the pipeline from oil fields in North Dakota to southern Illinois, under the Missouri and Mississippi Rivers and beneath Lake Oahe near the Standing Rock Indian Reservation. Many Native Americans saw the pipeline as a threat to clean water and to ancient burial grounds. Massive protests were held in opposition to the pipeline in 2016. The pipeline was eventually completed in 2017 through the actions of the Trump administration. But military and police violence against protestors and indigenous "Water Protectors" was stunning during the months of opposition.

"But why are people investing in water?" asked Ms. Lonewolf. "Because these corporations and greedy government officials are fighting to control the water … . I understand that, of course, they're not going to give the people of Flint justice on their number one investment. So, with that being said, there have been so many people who have left and moved out of Flint, and the people who have stayed are poor and live below the poverty level. So they're just waiting for them to leave because outside investors have already started to come into Flint for redevelopment."

"I've stopped paying attention to what the politicians and everyone else has been saying and I've been trying to work on getting our people to understand about separation and that they've got to be prepared to do something for themselves," Audrey Muhammad said. "We have to make sure we're taking care of ourselves in this situation because we don't know how long it's going to take. But you still have some of our people who say, 'No, they're going to make this right. They've got to make this right.' Well, while you're saying that, what are you going to do in the meantime? Are you just going to allow yourself to die while you're waiting on them to give you justice? Or are you going to get up and start doing things for yourself?"

(The Associated Press contributed to this report.)