Boycotts, Black Athletes And Activism
By
Bryan Crawford
-Contributing Writer- | Last updated: Sep 26, 2017 - 12:44:27 PM

What's your opinion on this article?
Protecting rights or profits? NFL owners on bended knee
Generally speaking, sports are seen as apolitical. Certainly, professional athletes and team owners have their own individual views and embrace political ideologies that don't always align, but both parties can usually find a common goal in their desire to compete and win for their organizations, cities and fans.
Since being elected president, it's become almost a weekly occurrence that Donald Trump says something that is attention grabbing that gets people talking. Mr. Trump has a knack—and a penchant—for getting under people's skin with his abrasive rhetoric that has driven the wedge in the relationship between Black and White people in America, even deeper.
Since taking a knee during the National Anthem more than a year ago, Colin Kaepernick has consistently been on the radar of Donald Trump, and even more so now that athletes in the NFL, and in other sports leagues, have begun taking a knee in support of the movement started by Mr. Kaepernick.
At a September reelection rally for Alabama Senator Luther Strange, Mr. Trump took another shot at Mr. Kaepernick, and others, in front of an all-White audience that seemed to hang on his every word.
"Wouldn't you love to see one of these NFL owners, when somebody disrespects our flag, to say, 'Get that son-of-a-bitch off the field right now, out, he's fired!' " Mr. Trump said to rousing applause. "You know, some owner is going to do that. He's gonna say, 'That guy disrespects our flag, he's fired.' And that owner, they don't know it. They don't know it. They're friends of mine, many of them. They don't know it. They'll be the most popular person, for a week. They'll be the most popular person in the country."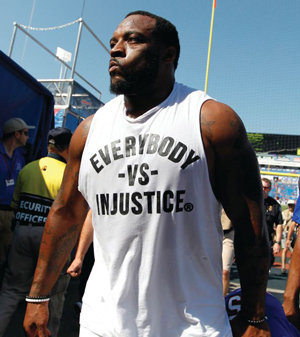 The very next day, in a series of tweets, Mr. Trump attacked Stephen Curry, star of the NBA's Golden State Warriors basketball team. It is customary, after a team wins a championship, to visit the White House and deliver a personalized jersey to the sitting president. However, Mr. Curry has publicly stated on several occasions that because he does not agree with the politics of Donald Trump, causing the president to rescind the invitation via Twitter—the very same day that as a team, the Warriors were planning to discuss whether or not they wanted to make the trip.
Both incidents created an uproar within the sports world—as well as the White House recently calling for the firing of Black female ESPN sports personality Jemele Hill for tweets calling Mr. Trump a White supremacist.
But the president's Alabama tirade seemed to ignite special, widespread criticism, a call for solidarity with players under the hashtag #TakeTheKnee.
Despite outward shows of togetherness, the question must be asked: What are we showing solidarity for? NFL Commissioner Roger Goodell, in a statement regarding Mr. Trump's comments, called them "divisive."
The Pittsburgh Steelers, coached by Mike Tomlin, a Black man, stayed in the locker room while the National Anthem was being sung prior to their game against the Chicago Bears. Dan Snyder, owner of the Washington Redskins, locked arms with his players on the sidelines on Sunday as a show of support. The irony here was 28 of the NFL's 32 owners, all donated money to the Trump campaign, including Mr. Snyder who gave $1 million initially, and another $100,000 after Mr. Trump won.
DeMaurice Smith, the Black executive director of the NFL Players Union, said, "This union will never back down when it comes to protecting the constitutional rights of our players as citizens, as well as their safety as men who compete in a game that exposes them to great risks."
Still, neither statement from Mr. Goodell, Mr. Smith, or the action by Mr. Snyder, even begins to address the "great risks" that Black men and women—who aren't celebrities or famous athletes—face daily from the police, and the dog whistle political statements that served as inspiration for White groups to publicly assemble in Charlottesville, Va., not long ago. President Trump was very careful not to ostracize neo-Nazis and White rightest in Charlottesville by implying that not all of them were bad people, but he called athletes protesting Black oppression, SOBs.
"What a hypocrisy we live in," said New York attorney and activist Kenneth Montgomery. "Black people being oppressed and shot at the hands of the state is just the tip of the iceberg concerning our continued social, political and economic alienation. It seems like the U-S-of-A has no place for us unless we are dead, incarcerated, cooning for acceptance or entertaining [White people]."
Mr. Montgomery also told The Final Call, "This whole thing has become a spectacle. Colin Kaepernick kneeled to protest Black oppression. Now it's being usurped by the very owners who blackballed him. Many of these athletes, and the owners, are actually protecting the NFL shield. They don't give a damn about systemic oppression affecting Black people."
Activist Tamika Mallory has one word to describe NFL owners taking a knee: "Disingenuous."
"The reason why the protest started cannot be ignored," she said. "It cannot be that you separate Colin Kaepernick taking a kneel during the National Anthem to protest police brutality and other injustices happening to Black and Brown people, if the owners weren't willing to kneel with him … to stand up against Trump is disingenuous to me."
The owners don't want to upset 70 percent of their players who are Black men, she continued. The activist added, the NFL owners' statements and others have nothing to do with the original reason for the protests.
What the president said was outrageous but it's in line with who he is, and was unsurprising, Ms. Mallory observed. The issue isn't Mr. Trump or the National Anthem but "the idea that Black lives don't matter in America," she said. And, Ms. Mallory continued, the point of the Kaepernick protests was not everyone was enjoying life in the land of the free and home of the brave as touted by the anthem—which has never represented freedom for Blacks and people of color.
"They want to shift the conversation," she said.
Ms. Mallory has also not heard from the NFL following a protest outside NFL headquarters in New York. The New York Justice League, which includes Ms. Mallory, led the successful "United We Stand: Rally for Kaepernick."
During the rally, the activists called on the NFL to have a written policy that protects the right to player protests without retaliation, to have internal and external committees look at diversity, cultural sensitivity among a league with nearly all-White ownership and whether people of color were disinterested in ownership or locked out by a good ole boys network.
And while scholarships from the NFL are great, the league was called to join those addressing the school to prison pipeline, said Ms. Mallory.
And, she added, four years ago, she sat across the table from Mr. Goodell as Black women sought to have the league deal with the problem of domestic violence. There were also questions about where the NFL disperses $100 million to charity and whether some of the funding could go to addressing domestic violence and other violence in the Black community, Ms. Mallory said.
Perhaps, if the league had followed up and dealt with those issues as well as diversity and racial sensitivity, things would be at a different place, she added.
She also thanks an unlikely source for much of the renewed activism: Donald Trump.
"Trump is so unhinged that he basically is speaking to the private conversations that all these folks are having and their private thoughts," Ms. Mallory explained.
Now people, including once-silent athletes, feel compelled to speak up or lose everything, she said. It's uncomfortable, even scary, but it's an opportunity, the activist noted.
Making public statements, not watching games, not purchasing paraphernalia or spending money with the NFL, using social media activism, and collectively keeping conversations alive have an impact, she said.
"It's the beauty of Donald Trump being president," she said. "We have been having these conversations."
Rapper and activist David Banner has been very outspoken during the campaign and eventual election of Donald Trump. He argues Black folk should go even further. "The NFL has shown Black people that they don't care about the death of our children. Why would we ever want to feed that machine our money and our support again?" Mr. Banner told The Final Call. "We need to leave people alone who don't love us," he said.
(Final Call staff contributed to this report.)