Anger, protests and vows not to forget Eric Garner's death in NYC Police custody
By
Saeed Shabazz
-Staff Writer- | Last updated: Jul 23, 2014 - 2:15:33 PM

What's your opinion on this article?
Printer Friendly Page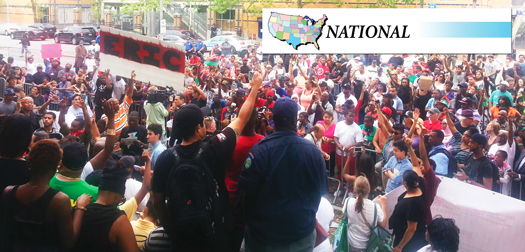 Hundreds of protestors chant 'I can't breathe' at rally in Staten Island after death of Eric Garner. Photo: Matthew Muhammad
STATEN ISLAND, New York (FinalCall.com) - Six employees—two police officers and four Emergency Medical Technicians—were removed from street duties after the death of Eric Garner, 43, an unarmed Black man who police say was selling individual cigarettes, "loosies," on a street.
A stunning videotape of the tragic encounter sparked outrage, condemnations from leaders and angry street protests after apparent police use of a chokehold on the victim. Mr. Garner died July 17.
One of the police officers, Daniel Pantaleo, an eight year veteran turned in his gun and badge and was placed on modified duty. Officer Justin Damico, a veteran of four years, was put on desk duty, according to the NYPD. The EMTs were not identified, but a seven-minute video shows EMTs not giving any medical assistance to the fallen man.
"The police commissioner promised me there will be a thorough and transparent investigation," Councilmember Debi Rose of Staten Island told
The Final Call
.
The officer identified as possibly using an illegal chokehold should be suspended from duty until the investigation is complete, said Damon Jones, New York representative of Blacks in Law Enforcement of America.
Mr. Garner, according to family members, suffered from asthma and may have died of cardiac arrest after application of what looked like a chokehold with officers wrestling him to the ground. Officers were saying he was resisting arrest. The large Black man never pushes, punches, strikes or makes an aggressive move toward the officers in the video. He asks to be left alone and says the officers keep harassing him.
Commissioner William Bratton, speaking to the press July 18, said, part of the investigation will focus on what happened, despite the video, to understand all circumstances surrounding the incident. The video seems to be clear that the officers knew Mr. Garner, said the police commissioner. Mr. Garner "made it quite known to them that he was not going to allow that arrest to occur. I do not expect my officers to walk away from that type of situation. But let's be quite clear that one of the things the video appears to show is that the officers were in fact in the performance of their lawful duties," he claimed.
A reporter asked Mr. Bratton if what was seen on the video was a chokehold: "Yes, as defined in the department's patrol guide, this would appear to have been a chokehold. As far as the department is concerned it's a violation of our policies and procedures. The Staten Island District Attorney determines if it is a violation of law," said Commissioner Bratton.
"Tell me what your thoughts were after you saw the video?" a reporter asked Mayor Bill de Blasio, who was at the press conference.
"It was very troubling I watched it the same way a family member would watch it and it is very sad to watch. But that being said, we can't pass ultimate judgment based on one video. We need the facts of a full and detailed investigation," said the mayor.
Hundreds of angry Staten Islanders marched to the 120th Precinct July 19 demanding justice for Mr. Garner, chanting "I can't breathe!"
"A blatant abuse of authority, the officers should be suspended without pay," said Student Minister Abdul Hafeez Muhammad, of the Nation of Islam's Muhammad Mosque No. 7 and the Honorable Minister Louis Farrakhan's New York representative. "Let's be real we have all seen the video," he told
The Final Call
. "Here is a Black man because of his size is seen as a threat—subdued in a full-nelson thrown to the ground and tasered—no weapons on him.
I can only continue to say an abuse of authority," said Min. Hafeez Muhammad.
Civil rights leader Al Sharpton held a pre-rally press conference along with local pastors, Rev. Herbert Daughtry, a long time civil rights activist, community leaders and an assortment of elected officials. The only elected official from Staten Island in attendance was Councilmember Rose.
This will not be a "drive-by protest," vowed Rev. Sharpton. "We will be here until what we see in that tape is clear in the halls of justice." Family members of Mr. Garner appeared earlier at the National Action Network headquarters in Harlem with Rev. Sharpton.
Public Advocate Letitia James, speaking at the press conference, said there must be answers to why the banned choke hold was used by a veteran police officer. "This will test the mettle of the city," Ms. James said.
Commissioner Bratton told reporters he did not view use of the chokehold as a widespread problem, this was my first exposure to this issue in six months as commissioner, he said.
But the Civilian Complaint Review Board released a statement July 20 saying as of July 1, the board had received 58 chokehold complaints against the NYPD this year, but only one was substantiated. Over 1,000 New Yorkers have accused the NYPD of using the banned hold in the past five years.
"Police management has failed miserably in keeping the officers of the NYPD accountable," Mr. Jones of Blacks in Law Enforcement of America said.
Councilmember Rose told
The Final Call
she came was politically targeted by the Patrolmen's Benevolent Association, which represents New York City police officers, and other police unions for opposition to stop and frisk tactics used by officers in the 120th Precinct. "I was one of two councilmembers targeted because of my votes, which I saw as a civil rights issue," Ms. Rose said.
According to police, there were 11,190 people stopped in 2013 within the precinct jurisdiction. Blacks represented 58.9 percent of the stops, Latinos were 24.7 percent and Whites were 13.7 of people stopped. Only 18 percent of the stops resulted in a summons or an arrest.
According to Census data, the total population of Staten Island is 468,730 with Blacks making up less than 10 percent of the population. Eighty-two percent of the Black population lives in the neighborhoods patrolled by the 120th Precinct.
"This is about racism," said Gary Taylor, who saw the encounter between police and Mr. Garner. "The police officers involved were all White, and that has been an issue around here for a long time." he said. "Just by the way they treated him, he was just sitting on the stoop when they came up to him. He had just broke up a fight, not selling cigarettes."
"I have known Eric for 20 years, and in all of those years I have never seen him argue or fight with anyone," Twan Scarlett told
The Final Call
. Mr. Scarlett and an unidentified White woman agreed that all of the arresting officers being White was a problem. "We never see Black police officers in this neighborhood," said the woman.
According to media reports, Officer Pantaleo has been involved in two civil rights charges, one recently resulted in a $30,000 pay out by the city. The second charge of violating a Staten Islander's civil rights is pending in Manhattan Federal Court. While he could face departmental disciplinary charges, it is not yet clear if he will face criminal charges in the death of Eric Garner.
Mr. Garner's mother, Gwen Carr thanked the more than 500 protesters who took to the streets. "This shows how much Eric was loved," she said from the steps of the 120th Precinct.