Boycotts, 'buycotts,' & Black dollar power

By Charlene Muhammad National Correspondent @sischarlene


Annual Black spending strategies designed to support demands for racial justice and end police violence are kicking in as 2019 ends and reports of major store closures emerge.

Retailers with high hopes for Black Friday spending have offered deals earlier this year to help spike holiday sales. But activists have kicked in with Black Friday boycotts and "buycotts" just as early this year.

In the run-up to the 20th Anniversary of the Million Man March, Justice Or Else! in Washington, D.C., Nation of Islam Minister Louis Farrakhan called for Blacks to pull their money from the U.S. economy by not spending money during the holiday shopping season.

Minister Farrakhan quoted Dr. Martin Luther King, Jr., often in the run-up to the 2015 gathering in the nation's capital saying, "We have to find a way to redistribute the pain."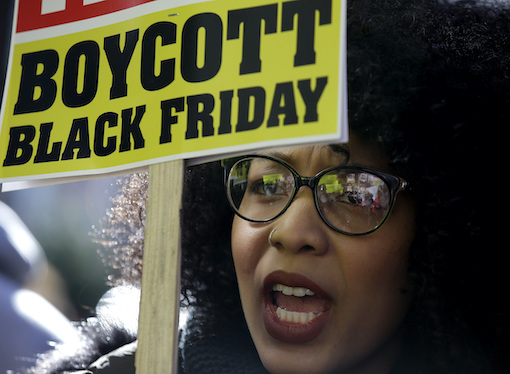 A protester holds a sign in Chicago, Nov. 24, 2017, during a demonstration billed as a "march for justice" on Black Friday. Photo: AP Nam Y. Huh




"We have to now withdraw our economic support, so that those who give us pain can receive some pain in return," Minister Farrakhan added.

He was inspired by Dr. King, Jr.'s desire for a 1963 Christmas boycott after the White supremacist bombing of the 16th Street Baptist Church in Birmingham, Ala., that killed four little Black girls.

And, in his final speech in Memphis on April 3, 1968, Dr. King talked about using Black economics in the fight for justice. He was assassinated the next day.

"We don't have to argue with anybody. We don't have to curse and go around acting bad with our words. We don't need any bricks and bottles," said Dr. King in some of his last words. "We don't need any Molotov cocktails. We just need to go around to these stores, and to these massive industries in our country, and say, 'God sent us by here, to say to you that you're not treating his children right. And we've come by here to ask you to make the first item on your agenda fair treatment, where God's children are concerned. Now, if you are not prepared to do that, we do have an agenda that we must follow. And our agenda calls for withdrawing economic support from you.'

"And so, as a result of this, we are asking you tonight, to go out and tell your neighbors not to buy Coca-Cola in Memphis. Go by and tell them not to buy Sealtest milk. Tell them not to buy—what is the other bread? Wonder Bread. And what is the other bread company, Jesse? Tell them not to buy Hart's bread. As Jesse Jackson has said, up to now, only the garbage men have been feeling pain; now we must kind of redistribute the pain. …

"But not only that, we've got to strengthen Black institutions. I call upon you to take your money out of the banks downtown and deposit your money in Tri-State Bank. We want a 'bank-in' movement in Memphis. Go by the savings and loan association. … Put your money there. You have six or seven Black insurance companies here in the city of Memphis. Take out your insurance there. We want to have an 'insurance-in.' Now these are some practical things that we can do. We begin the process of building a greater economic base. And at the same time, we are putting pressure where it really hurts."

The lack of opportunity, injustice, race-related and police killings of Blacks has continued.

Black people were 25 percent of those killed despite being only 13 percent of the population, according to MappingPoliceViolence.com. Blacks were three times more likely to be killed by police than White people and 21 percent of Black victims were unarmed compared to 14 percent of White victims, according to Mapping Police Violence.

Beyond dangers faced by Blacks, holiday stress is affecting people across America. According to a November Bankrate.com survey, "More than 6 out of 10 people told Bankrate they feel pressure to overspend on either presents, travel, social outings or charitable donations during the holiday season."

"About half (51 percent) of survey respondents told Bankrate they feel pressure to spend more than they are comfortable with on gifts during the holidays. The percentage was significantly higher than those worried about breaking their budget for charity (30 percent), social gatherings (28 percent) or holiday travel (24 percent)," Bankrate.com reported.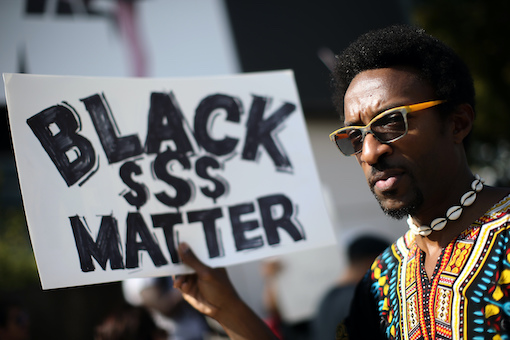 Nathaniel Dyer carries a sign during a Black Lives Matter protest near Lenox Square Mall in Atlanta, Sept. 24, 2016, in response to the police shooting deaths of Terence Crutcher in Tulsa, Okla. and Keith Lamont Scott in Charlotte, N.C. Photo: Branden Camp




"Consumers are expected to spend almost $1,048 on average during the 2019 holiday season, according to the National Retail Federation, a rise of 4 percent from last year. The national trade organization forecasts holiday retail sales during November and December reaching a total of $727.9 billion to $730.7 billion," said Bankrate.com.

Sixteen percent of those surveyed by Bankrate.com said they were considering "skipping or boycotting gifts altogether."

Most people (31 percent) told Bankrate they start worrying about holiday costs in November as the holiday displays start to go up and Black Friday appeals bombard everyone. Twenty-three percent of respondents worry about how much the holidays will cost in October, while 20 percent of people don't start stressing until December.

"The end of the year can be a tricky financial time for families even before considering holiday costs. Colder temps often mean higher heating or energy bills or expenses to winterize cars and homes. Charities and other programs help some families struggling to juggle end-of-year expenses," Bankrate.com observed.

WalletHub, a personal finance website, reported that despite near-record credit card debt levels, some 35 million Americans still have credit card debt from last holiday season, and nearly one-third of consumers will spend less on holiday this year than last year.

"That indicates people are just treading water financially and have been unable to use the past 12 months to prepare for the next recession, the arrival of which is just a matter of time," warned WalletHub CEO Odysseas Papadimitriou.

"The fact that nearly one-third of consumers plan on spending less this holiday season than they did last year could be either good or bad news. It depends on whether people are recognizing the need to cut back and save before it's too late or simply beginning to falter financially."
Up with Jesus, down with Santa

"You're either going to treat us right, or we're going to withdraw from you our economic support," said Min. Farrakhan. "We intend to boycott Christmas but not Jesus. We choose not to spend dollars on Black Friday, Black Saturday, Black Sunday, Black Monday. We are not going to spend our money for the rest of that year with those companies that we have traditionally spent our money on," the Minister added.

"If you love Christ, then to hell with Santa! Up with Jesus! Down with Santa!" Minister Farrakhan reiterated during Part 2 of his Justice Or Else! address delivered on Oct. 11, 2015 at the Washington, D.C. Marriott Marquis.

Last year, Minister Farrakhan called on Blacks to be kind and loving to each other; to be the gift, instead of spending money on children and giving the credit to a mythical Caucasian. "Let love break out in the ghetto," said Minister Farrakhan, as he offered an alternative Holiday approach that reflected the Holy Quran's 107th Chapter, "Acts of Kindness."

"I thought it was prophetic, providential … As we know, God always calls his prophets to a place of warning the people before devastation comes," said Pastor Dinah Tatman of St. John African Episcopal Church in Kennett, Mo., and CEO-founder of Greater New Visions Ministries, Inc. of Minister Farrakhan's call.

It came in a timely manner, said Rev. Tatman, also co-convener of "No Justice, No Profit" boycott.

She started the campaign with other leaders in St. Louis to not only boycott businesses, including Target, US Bank, Burger King, Shell, Schnucks grocery chain, Gap, Inc., Goldman Sachs, and the St. Louis Galleria Mall, but to encourage Blacks to spend with one another. "I recognized that if Black people withheld our money, we could get anything we want," said Pastor Tatman.

Among things they wanted at the time No Justice, No Profit launched on November 2, 2017 was justice in then-officer Jason Stockley's fatal 2011 killing of Anthony Lamar Smith. The cop's acquittal set off a new wave of outrage and protests.

The community and the country were already in turmoil over the killing of Michael Brown, Jr., by White male officer Darren Wilson in 2014 and the failure of state and federal authorities to charge the cop in the 18-year-old's death.

"If we can recognize the power that we have, and use it, and stop begging, kings and queens don't beg. Yet we beg the masters to take care of us when we take care of everybody else, except for us. When we recognize us, things will change. So, I love Brother Minister Farrakhan, because he's not afraid to stand on the greatness, and the justice, and the righteousness of God and speak what God has told him to speak unabashedly, and not be afraid," stated Pastor Tatman.

In addition to No Justice, No Profit, groups like the Chicago-based Black Mall and Houston-based Shrine of the Black Madonna, have consistently worked on two fronts. Their efforts began locally but have grown to inspire support nationally.

Nailah Nelson, executive director of the Shrine of the Black Madonna's Shrine Cultural and Event Center, observed that five years after Justice Or Else! Blacks are still experiencing injustice, police brutality, and injustice. People cannot let up, she said.

"We started this movement as a response to the brutality with Michael Brown, following the Justice Or Else! movement with the Honorable Minister Farrakhan. We did it in an effort to raise consciousness and to recirculate the dollars into the Black community," Ms. Nelson said.

"It is a boycott movement empowering our people, and the only way that we could effectively do this is to join together and boycott the stores, put our dollars back into the Black community, because Black businesses are the largest employers of Black people. So, this is for our own economic development that we seek to push our movement," Ms. Nelson told The Final Call.

The Shrine's Buy Black Market started on the first Saturday of every month but has grown to include the third Saturday of the month as well. What began with approximately 30 vendors has grown to a list of over 620 across the country, according to Ms. Nelson. She is hoping the group will launch an online component to its economic movement in mid-December.

"We joined with the Justice Or Else! under Minister Farrakhan and we've been doing it effectively since then, giving small Black businesses an opportunity to grow their business," Ms. Nelson said.


'Retail apocalypse' hits U.S. stores

"More than 9,100 stores are closing in 2019 as the retail apocalypse drags on," reported Business Insider in November. The story looked at statistics for record-breaking store closures.

Charlotte Russe, Family Dollar, and Chico's announced more than 1,100 store closures in a span of 24 hours at one point. Payless ShoeSource, which filed for bankruptcy in February, is closing 2,500 stores, amounting to the largest retail liquidation in history. The Gap is closing 230 stores over the next two years. Walgreens plans to close 200 stores, and GameStop is closing 180 to 200 stores.

Sears, Kmart, Party City, Walgreens, and Barneys are among the retailers that recently announced store closings. Forever 21 expects to close 350 stores globally, including 178 in the U.S. after filing for bankruptcy. Sears planned to close 175 stores, and Walmart is closing at least 17 stores across the U.S. and Canada.

"Anybody who would just do their research since 2015 and go back and look at Minister Farrakhan's Saviours' Day address in 2016, he laid out the stats during his message, and it has only increased since them," said Jesse Muhammad, social media director for Minister Farrakhan. "That's one thing that can't be overlooked … and it has not stopped."

Big box stores including Sam's Club and Walmart reported closures, as well as everything from vitamin and health stores, to cookware stores, children's clothing and toy stores, and electronics stores.

Some mainstream analysts blame tax reforms, lingering effects of the U.S. government shutdown—Dec. 22, 2018 to Jan. 25, 2019—and severe, unmerciful weather for the decline of brick-and-mortar stores. But Black activists and some Black leaders say the tsunami store closings are also tied to strategic withdrawal of Black dollars as a weapon against injustice.

"Right now what's really awesome is that our efforts were not in vain," said Casseopia Uhuru, co-founder of The Black Mall, based in Chicago. "There are more people buying Black than ever! So, actually, this particular year, we're not having our usual, annual Buy Black holiday event, because there are so many people now heading up their own small business markets and fairs that are featuring Black-owned businesses all over. We don't want to create any type of competition," said Ms. Uhuru.

She is so excited about Black business engagement and commerce with The Black Mall online (https://theblackmall.com), and a South Side storefront, using it's platforms to highlight many businesses. The Black Mall plans to release a Holiday Gift Guide, and daily info about great Black-owned businesses for an economic "buycott," Ms. Uhuru told The Final Call.

The call for justice has raised awareness and interest, so Blacks are looking at ways to strengthen their own communities, she said.


No easy victories

There have been some small victories in getting police brutality indictments, but they're not sufficient, added Ms. Uhuru, who cited the second-degree murder conviction last year of former Chicago police officer Jason Van Dyke for shooting 17-year-old Laquan McDonald to death.

He was found also guilty on all 16 counts of aggravated battery—one for each shot he fired into the teenager in October 2014. Activists say he received a "slap on the wrist" sentence, which was a slap in the face. Mr. Van Dyke could have faced a maximum sentence of 96 years, but prosecutors sought 18 to 20 years.

Judge Vincent Gaughan sentenced the killer cop to 81 months, less than seven years, in state prison, on the second-degree murder conviction only. The ex-cop could serve a little more than three years in prison with time served and enjoy the possibility of parole in two years.

"Now we know if this happens again, we need a stronger prosecution, and longer terms and being more knowledgeable of the actual judicial system itself and how if you don't actually convict on the correct charge, then literally, somebody could get away with murder!" said Ms. Uhuru.

"I think what's happening is that one aspect of awareness is helping us to be more knowledgeable in the other areas that we need to be more knowledgeable in, like the judicial system, like the political system, and how we are living in a capitalistic country and politics is directly connected to corporations and how they work," said Ms. Uhuru.


Just a beginning of the fight

While there have been victories with the Justice Or Else! economic boycotts, activists are under no illusion that justice has won the day.

Former Fort Worth Officer Aaron Dean, who was supposed to be responding to a neighbor's well care call, shot 28-year-old Atatiana Jefferson in her own home, in front of her 8-year-old nephew on Oct. 12.

Convicted White female former officer Amber Guyger is serving 10 years in prison for fatally shooting 26-year-old Saint Lucian native Botham Jean inside his Dallas home on Sept. 6, 2018. She claimed she mistook his apartment for hers, felt threatened and fired her weapon.

In Arizona, Pima County Sheriff Mark Napier placed Deputy Manuel Van Santen on administrative leave following violent arrests of a 15-year-old quadruple amputee, with no arms or legs, and a teenager who recorded the Sept. 26 incident at a Tucson group home.

The 15 year old was upset and knocked over a trash can, prompting the call for police, according to media reports. Disorderly conduct charges against him were dropped after an explosive video of the incident surfaced in November. The other teenager, a 16 year old, was still facing charges at Final Call press time, media reports indicated.

"What it's really doing is it's waking us up in a really grand way, understanding how nations work. Period. We've just been bystanders. We've just kind of let it gloss over us and done lots of unfortunate, just complaining, but not really understanding how we can get to the root of these issues so we can fight back in the most effective way," Ms. Uhuru said.

(Final Call staff contributed to this report.)