Riveting testimonies, partisan bickering mark impeachment hearings

By Askia Muhammad -Senior Editor


WASHINGTON—Donald J. Trump, the 45th President of the United States, is now only the fourth president in U.S. history to face public impeachment hearings. As the hearings continue, the contentiousness and bitter partisan politics have been on full display before the country and the world.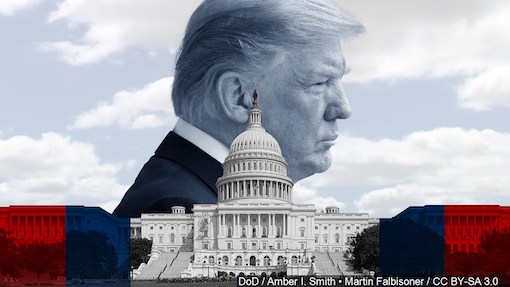 For hours and hours, three witnesses testified before the House Intelligence Committee Nov. 13 and Nov. 15: George Kent, a deputy assistant secretary of state; William Taylor, a former ambassador and the top U.S. diplomat in Ukraine; and Marie Yovanovitch, the former ambassador to Ukraine. More witnesses are scheduled as the proceedings unfold.

Mr. Kent and Mr. Taylor both said President Trump withheld aid to Ukraine in an attempt to pressure the country to investigate Joe Biden and his son Hunter, who served on the board of a Ukrainian natural gas company. Ms. Yovanovitch revealed a shocking account of her ouster and condemned foreign policy in the Trump era, while Mr. Trump attempted to intimidate her and other potential witnesses, condemning her on Twitter, even as she sat testifying in the relative security of the U.S. Capitol.

The first testimony "corroborated evidence of bribery" by President Trump in his dealings with Ukraine, according to House Speaker Nancy Pelosi (D-Calif.). Her use of the term "bribery"—one of the crimes the Constitution cites as an impeachable offense—suggests that Democrats have in mind a specific set of charges that could be codified in articles of impeachment.

After countless scandals from the day Mr. Trump was elected—including the convictions and resignations of more than a dozen top White House officials—what's at issue now is whether or not Mr. Trump withheld hundreds of millions of dollars of Congressionally authorized military aid to Ukraine in order to force that country's newly elected President Volodymyr Zelensky to publicly announce a corruption investigation into the business dealings in Ukraine of former Vice President Biden's son Hunter.

That conduct came to light after a CIA whistleblower complained of improper attempted coercion of Mr. Zelensky by Mr. Trump in a July 25 telephone call.

"If we find that the president of the United States abused his power and invited foreign interference in our elections," House Intelligence Committee Chair Adam Schiff (D-Calfi.) told reporters, "must we simply get over it? Is this what Americans should now expect from their president? If this is not impeachable conduct, what is?"

Mr. Schiff began the hearing itself with a somber note in his opening statement. "The president has instructed the State Department and other agencies to ignore congressional subpoenas for documents. He has instructed witnesses to defy subpoenas and refuse to appear. And he has suggested that those who do expose wrongdoing should be treated like traitors and spies.

"These actions will force Congress to consider, as it did with President Nixon, whether Trump's obstruction of the constitutional duties of Congress constitute additional grounds for impeachment. If the president can simply refuse all oversight, particularly in the context of an impeachment proceeding, the balance of power between our two branches of government will be irrevocably altered."

The top Republican on the House Intelligence Committee, Rep. Devin Nunes (R-Calif.), dismissed the entire impeachment process. In his opening statement he was blunt. "We should not hold any hearings at all until we get answers to three crucial questions the Democrats are determined to avoid asking. First, what is the full extent of the Democrats' prior coordination with the whistleblower, and who else did the whistleblower coordinate this effort with?

"Second, what is the full extent of Ukraine's election meddling against the Trump campaign? And third, why did Burisma hire Hunter Biden, and what did he do for them, and did his position affect any U.S. government actions under the Obama administration? These questions will remain outstanding, because Republicans were denied the right to call witnesses that know these answers. What we will witness today is a televised theatrical performance staged by the Democrats," said Mr. Nunes.

Republicans want the whistleblower whose complaint prompted the impeachment inquiry to testify and be publicly identified, claiming that he was compromised because of his contact with the staff of Rep. Schiff, and because he did not hear the July 25 call between Mr. Trump and Ukraine's president firsthand. Mr. Trump's allies have said the president should be able to face his "accuser," despite the whistle-blower's entitlement to anonymity.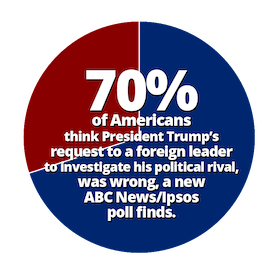 Rather than defend the president's innocence of the charges, the Republican strategy is to discredit the impeachment process itself. They "are going after the whistle blower," one New York City news analyst named Ms. Taylor said in an interview with WPFW-FM in Washington during a hearing break. "They are defining this process and calling it a coup and treating it as such and avoiding compliance with it in every way they can.

"And then when they are participating, it's this: de-legitimize it. So, number one, I think that there is no reason to believe and expect that they will play by the rules, and it is an extraordinary and unlikely situation where (Mr. Trump would be) voted to be found guilty in the Senate.

"Number two, it is unlikely. I think that the Senate, the Republicans are not going to vote to convict absent something that's been missing up until now, which is a third force, the masses of people in the streets in a different way," Ms. Taylor continued.

Absent a "third force" protesting against Mr. Trump's government in the streets she said, the mounting evidence presented in these hearings appears to many observers to be extremely unflattering, but not necessarily destructive of the Trump presidency.

"What the Democrats have done that's really smart through all the smoke and bluster is that they made it very simple that the president of the United States tried to get a foreign power to intervene in the 2020 elections on his behalf. And that is a very, fundamental takeaway I think that they want to present," Dr. Clarence Lusane, professor of international relations and former chair of the political science department at Howard University told WPFW.

"Well, what I think it will do, and I think one of the objectives of the Democrats broadly, is just to get it on the record and help hold this president accountable because he's basically existed his entire life and certainly for his tenure as president in a way (where he's) not been held accountable because he's been protected by Republicans in Congress and by a Justice Department that refuses to acknowledge what he's done. So, this is really the only opportunity to really hold him accountable.

"I think it lays the groundwork then for what they would do in the Senate as they bring (an impeachment) trial into reality. And Trump cannot escape that. I doubt that there are 20 Republicans who are willing to cross the line and vote against the president. I just don't see it," Dr. Lusane continued.

"And I think this, to go back to your original question about the interest of the people and how many different kinds of crimes against the people, against the environment, against immigrants, against women and LGBTQ; the White supremacy that's been whipped up, all of this that goes along with the Trump/Pence regime that has not found a home in these impeachment hearing," said Ms. Taylor.

"All of that gets expressed only if the people act independent of the impeachment hearings. The opening for (the removal of the President from office) to go forward, what could change the hand of those Republicans in the Senate? What could tip the balance of them and others, is whether people themselves act.

"So, with the impeachment, it's high stakes. It's very damning," she continued. "There's every ground in what we've heard so far for the man to be removed from office. But whether that goes forward or not, it does depend on whether people get rendered as spectators to this (as) cheerleaders; to this feeling that the job is being done, or whether people see this as an opening to act and to take history into our own hands and seize on this fight at the top to move in a way that the interests of the people do get asserted.

"So, I feel it's unwritten, and the main factor that could swing the hand is still too much sitting on the sidelines," she said.

Mr. Trump's election and controversial presidency and subsequent impeachment has continued to divide a country already split among party and racial lines. The president still enjoys overwhelming support among Republicans and bitter opposition among Democrats.

Seventy percent of Americans think President Trump's request to a foreign leader to investigate his political rival, was wrong, a new ABC News/Ipsos poll finds. "A slim majority of Americans, 51%, believe Trump's actions were both wrong and he should be impeached and removed from office. But only 21% of Americans say they are following the hearings very closely," the poll notes.

"In addition to the 51%, another 19% think that Trump's actions were wrong, but that he should either be impeached by the House but not removed from office, or be neither impeached by the House nor convicted by the Senate. The survey also finds that 1 in 4 Americans, 25%, think that Trump did nothing wrong," continued the poll which surveyed 506 adults Nov. 16-17.

"The unfolding political drama between congressional Democrats and the White House reveals a polarized populace, with Democrats more united in their belief that Trump should be impeached and convicted than Republicans are in their belief that the president has committed no wrongdoing: 85% and 65%, respectively," ABC News/Ipsos concluded.

As the hearings moved into the second week of public testimony—heading perhaps for a full House vote on an impeachment resolution possible by Dec. 15, another new witness emerged—a State Department official in Kiev named Suriya Jayanti—who will be able to describe the overheard phone call that Mr. Taylor, the top U.S. diplomat in Ukraine, testified about.

On that call, the President and Gordon Sondland, the Oregon hotel magnate and mega-donor whom the President made the U.S. ambassador to the European Union, discussed the political investigations Mr. Trump sought from Ukraine. Mr. Sondland is also set to testify publicly. (Final Call staff contributed to this report.)