Wisdom House Online
News and Commentaries on issues facing the Black diaspora* (viewed best with Firefox, Google Chrome)
Wednesday, April 22, 2015
THE RETURN TO WASHINGTON!
Stay tuned for more information!
Tuesday, April 7, 2015
By
Starla Muhammad
-Assistant Editor- | Last updated: Apr 7, 2015 - 12:38:59 AM

What's your opinion on this article?
Printer Friendly Page
The challenges facing Black females and how to overcome these problems
"The Honorable Elijah Muhammad said, 'Civilization is measured by the woman.' If you want to take the world down, the place of attack is the female. If you want to build a world up, you start with the female." –Minister Louis Farrakhan
There is a commonly repeated narrative that while Black men and boys are under attack in America and are in desperate need of intervention and assistance, Black women and girls are fine and in most instances, excel above and beyond their male counterparts and even thrive in key areas.
But a critical analysis of data along with the stories and voices of Black women, teens and girls show the reality of continued struggles and challenges faced daily—often with limited or no support.
Black females attempt to navigate in and through a society that views them through the lenses of White supremacy, Black inferiority and sexism.
Despite the success and prominence of Black women like Oprah Winfrey, Beyoncé, Shonda Rhimes, Serena Williams, First Lady Michelle Obama and less well-known sisters like 4-Star Admiral Michelle Howard, the Navy's second highest ranking officer and the highest ranking Black woman ever in any branch of the U.S. military, the road Black women and girls travel for acceptance and validation is an uphill one.
Even those who "make it" find their intelligence, beauty and talent challenged, scrutinized and called into question.
Reality versus myths
"The way Black women are valued has to change. The fact that there are 64,000 missing Black women and nobody seems to really want to do anything about it or even acknowledge it I think speaks to the fact Black women kind of carry on in this society with a sense of invisibility, that they're not noted, cherished or valued," April V. Taylor, a blogger and community organizer told The Final Call. According to data from the Black and Missing Foundation, a non-profit group that raises awareness of missing persons of color, of the over 316,435 missing females reported in the U.S. in 2013, Black females were 37 percent of those missing ages 17 and under and 28.2 percent of those missing ages 18 and older.
There is not one individual issue that if addressed through policy would solve all the problems which are multilayered in scope, continued Ms. Taylor.
"We can look at that in terms of economics. No gender or race makes less money than what Black women do but it's much bigger than that. I mean we could pay women the same as men and that still may not mean that they're valued and cherished and given the respect that they deserve," said Ms. Taylor of kulturekritic.com, a political, pop-culture and news website.
Media plays a pivotal role in how Black women are portrayed and viewed by society, often perpetuating stereotypes or false images of Black females.
Carla Morrison is founder and executive director of Sisters of Today and Tomorrow, a non-profit mentoring organization with branches in New Haven, Conn. and Atlanta. Her group works with Black girls and teens.
"We've got a lot of little girls who just want to fight. For no reason at all they're just off the chain. And I really do think it's because of consuming too much television and I hate to be the one to blame television," she continued. "They see the way that women are interacting with each other and they think that it's OK and it's not and no one is really telling them any different."
The African American Policy Forum along with several racial and social justice groups recently analyzed challenges facing Black women during a week-long online series of actions. It included community dialogue, webinars and social media conversations under the hashtag "Her Dream Deferred: A Series on the Status of Black Women" and ran March 30-April 3.
It examined areas of education, violence, wealth, racism and health. In all areas, Black women were disproportionately on the negative side of statistics.
Black women have the lowest net wealth gap than any other racial or gender group, are incarcerated at three times the rate of White women, have the highest rate of HIV among all women, are more likely to die from breast cancer and in 2010 Black females ages 10-24 experienced the highest rate of homicide than any other group of females and even higher than White men. Black girls are suspended six times the rate of White girls. Even if they make it to an institution of higher learning, that does not guarantee success.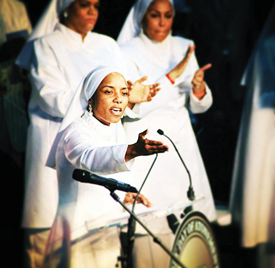 "There's a common myth that Black women have overwhelmingly made it since they are enrolling in college in numbers that are high compared to their Black male peers. The myth goes on that this must mean that they are somehow immune to the racial crises that plagues the brothers and are not in need of initiatives specially targeted to support their well-being," Kimberlé Crenshaw, founder and executive director of the African American Policy Forum, said in remarks during the "Black Women Have Not 'Made It:' How the Current College Enrollment Narrative Undermines the Real Educational and Socio-Economic Barriers Facing Black Women" discussion at part of the #HerDreamDeferred series.
Black women, though slightly overrepresented in two year colleges, are underrepresented at four-year institutions and have lower graduation rates than White women, said Ms. Crenshaw, adding that 9.7 percent of Black women enroll in college, only slightly higher than the 7 percent of Black men. In 2013 a Black woman with an Associate's degree was less likely to be employed than a White man with less than a high school diploma. The median wealth of Black women is just $5, lower than any other group. Black women were more impacted by the housing crisis, are more likely to face foreclosure and lost more jobs during the recession than any other group.
Value and virtue
Ms. Morrison is optimistic at changes, growth and development she sees in girls and young women her group works with. Young women with some key components active in their lives seem to want more and do better she said.
"Those couple of things are a faith-based organization presence be it a church, mosque or synagogue, something. The second would be that non-profit organization that's feeding them community-wise trying to teach them to be more leadership-like which would be like a Sisters of Today and Tomorrow. The third would be a positive woman influence that's in their home, their mother, older cousin that they live with, their grandmother, something," said Ms. Morrison. Young women and girls with those types of resources have at least one, if not all those entities correcting negative behavior saying, "that's not OK" and showing them "I know how to interact with another woman and we have a positive relationship, there's no fighting here," said Ms. Morrison.
It is important for older Black women to forge relationships and mentor younger Black teens and girls, help them cultivate and recognize their gifts, skills and talents and help them to realize their value, without being judgmental.
Black Girls Rock, the campaign spearheaded and founded by Beverly Bond celebrates and recognizes the immeasurable contributions Black women and girls make to the fabric of society. The 2015 Black Girls Rock Awards show aired April 5 and this year's honorees included filmmaker Ava Duvernay, educator Nadia Lopez, actresses Cicely Tyson and Jada Pinkett Smith, singer Erykah Badu and humanitarian Dr. Helene D. Gayle.
Mrs. Obama shared words of encourage
ment and spoke about her own struggles growing up with doubts about her value, despite having a loving mother and father who encouraged her.
"No matter who you are, no matter where you come from, you are beautiful, you are powerful, you are brilliant, you are funny. Let me tell you, I am so proud of you. My husband, your president, is so proud of you," Mrs. Obama told the audience. She honored Chental-Song Bembry, Gabrielle Jordan and Kaya Thomas, three young, beautiful entrepreneurs and change-agents, this year's recipients of the Making A Difference (M.A.D. Girl) awards.
"Our country has to come to terms with the fact that women are nurturers and where life comes from. Women have used the strength that they carry, Black women in particular, to be leaders in this new social justice movement that's unfolding around 'Black Lives Matter' in racial justice," said Ms. Taylor.
"Our society has to come to a point where we respect and value and follow behind women who are willing to lead. I feel like the wounded place that our country is in morally, emotionally, psychologically, that it will take a woman who's capable of nurturing and healing to lead us forward into something different than this racial oppression this country has known for hundreds of years."
Questions have risen about the protection, active support and strong voices of Black men and their role of speaking out on the injustices and abuses Black women endure.
Save Our Girls
With the establishment of the Nation of Islam in North America in 1930 by Master W. Fard Muhammad, teacher of the Honorable Elijah Muhammad, the critical and vital role of women was present from the beginning of the movement. A special class, the M.G.T. & G.C.C. (Muslim Girls Training and General Civilization Class), was set up specifically for Muslim women where they are taught about who they are as women of God, and to tap into the gifts, skills and talents they possess through 7 training units. The Honorable Elijah Muhammad allowed no men in the class, instead designating the training and development of the sisters to other Muslim women called M.G.T Captains. Mr. Muhammad and today, Minister Louis Farrakhan, are the spiritual heads of the class.
The protection and elevation of the Black women in the Nation was always in the forefront with women holding key positions of leadership and influence. During the early days of Islam, it was women like Mother Clara Muhammad, wife of the Honorable Elijah Muhammad, and others who kept the movement afloat and functioning while he and other male members were thrown in prison for refusing to serve in the U.S. military.
On several occasions the women fought alongside the men when the Muslims were attacked by police for educating their own children.
The Nation of Islam's Provisional Constitution has a special section dealing specifically with women's rights and Min. Farrakhan's national spokesperson is attorney, author and radio personality, student Minister Ava Muhammad. He also appointed her as the first woman over a mosque in the Muslim world. Women in the Nation of Islam are doctors, lawyers, stay-at-home moms, teachers, entrepreneurs, artists and more. They are encouraged to seek knowledge to rise to their fullest potential.
Min. Farrakhan enters to address the sisters' class rarely, which is why the internet, radio and social media circles are buzzing about April 18. The M.G.T. Class, which is usually only for registered women and girls of the Nation of Islam, is being opened up on that day for a Women Only live webcast.
Min. Farrakhan will deliver the keynote address from Chicago with the theme "Save Our Girls: A Nation Can Rise No Higher Than Its Woman." Nation of Islam mosques and study groups nationally and abroad are opening their doors that day for women to hear this vital message.
Under the direction of National M.G.T. Student Captain Sandy Muhammad, the women of the Nation in various regions around the country and world are excited, reaching out to churches, mentoring groups, high schools and college campuses, inviting women and girls to participate in this first of its kind event. Organizations are sponsoring buses and thousands of women and girls are expected nationwide.
Sister Gilda Muhammad, M.G.T. student captain of Muhammad Mosque No. 54 in Compton, Calif., is coordinating activities for the Western Region. There is so much excitement in the community she told The Final Call. We are reaching out to several Black organizations and churches, she said. Charlene Muhammad, national correspondent for The Final Call newspaper based in Los Angeles, dedicated her Liberated Sisters radio show April 4 to the Save Our Girls event. The show was broadcast on KPFK 90.7 FM and a replay of the show is available on kpfk.org.
"It's so exciting. It's building up. They've created a Facebook page and it's all over the media. So Insha'Allah (God-willing) we on the West Coast are shooting for 3,000 … we are working, fired up. It's like a movement on the West Coast," said Gilda Muhammad.
Headquartered in Atlanta, LaShonda Muhammad, southern regional M.G.T. student captain told The Final Call sisters are working diligently and excitement is also building. The Muslim women have forged great relationships with area organizations through the years. On a flyer promoting the Atlanta event is a bar code which when scanned, shows a video clip of Min. Farrakhan speaking on the beauty and value of the woman. Muslim women are posting and sharing the flyer on Facebook, Twitter, Instagram and other social media networks.
On April 5, the day many Christians celebrated Easter, the Muslims visited 20 churches in and around the city to invite female congregants to the event, said LaShonda Muhammad. She and the Muslim men and women often visit some of the area's poorer communities.
"What I have recognized when I have spoken to several of the women is the limited resources and they're feeling trapped in their environment that there is no way out and 'this is all that I know, this is what my mother taught me and what my grandmother taught me, I don't know anything outside of this,' " she explained. That mindset is a hindrance to the growth and development of Black women, she continued.
When asked what women can expect from Min. Farrakhan's upcoming message, LaShonda Muhammad said she knows he will give and provide guidance to make Black females think outside of that box of this society as well as above limitations imposed by themselves and their families.
"The most powerful impact the teachings of the Honorable Elijah Muhammad as given to us by the Honorable Minister Louis Farrakhan has for us as Black women is because the teachings speak directly to the core of who we are and who we were designed to be by God himself," said LaShonda Muhammad.
"This is why when the Minister speaks and gives us this word it penetrates us so much so that we want to shed the old person and become a new person. And it's because it literally taps into that which we were created by God to hear, to respond to, to try to line up in accordance with to be able to live the life that God intended for us to live," she added. "The Minister paints this wonderful, beautiful picture that literally allows us to see ourselves in that original vision that God has for his people and for us specifically as women."
Click here for more information about Save Our Girls.
Thursday, March 19, 2015
Why America's Race Problem Won't Go Away
By
Charlene Muhammad
-National Correspondent- | Last updated: Mar 17, 2015 - 12:11:18 PM

What's your opinion on this article?
Printer Friendly Page
In remarks commemorating the 50th anniversary of "Bloody Sunday," the 1965 civil rights march from Selma to Montgomery, Ala., President Barack Obama declared racism and intolerance unmasked in Ferguson, Mo., no longer exists on the same wide scale and in the same way—though America's race problem remains.
Revelations of racist chants by members of a college fraternity and police shootings of unarmed Black men clearly show hatred for Blacks remains deeply woven into the fabric of America, activists and scholars said.
Fallout continues over the University of Oklahoma chapter of Sigma Alpha Epsilon (SAE) fraternity since a video of members singing a racist song about lynching Blacks went viral.
"There will never be a n*gg*r in SAE. You can hang him from a tree, but he can never sign with me," young White male voices rang out on a bus trip. They have since apologized.
"We can't shake the problem of race in this country, because race is intrinsic to what America is. America will be racist for probably the rest of the time the United States is the United States," said Dr. David Horne, professor of Critical Thinking and African History, and former chair of the Pan African Studies Department at Cal State University-Northridge.
Hatred as American as apple pie
The University of Oklahoma disbanded the fraternity, expelled two members, and the national chapter revoked its charter. Although condemnation was swift and the school and fraternity leaders said racism would not be tolerated, news surfaced that 19-year-old Charles Desdunes's mother filed a $25 million lawsuit against the fraternity at Cornell University, after it allegedly hazed the aspiring doctor to death in 2011.
According to reports, the son of Haitian immigrants died after his hands and feet were tied with duct tape and zip ties. He was blindfolded and given so much alcohol that he died within a few hours of the hazing, according to media reports.
"Race and racism are intrinsic to America. They are as American as apple pie," Dr. Horne told The Final Call. "Any way she's sliced, whether it's a theoretical look at internal colonialism or structured functionalism, doesn't matter," Dr. Horne said.
Racism isn't going anywhere and part of the problem is people aren't even progressing in understanding its consequences, what to do about it, or how to make it less onerous, Dr. Horne said.
Black students charged the SAE incident reflects other racial incidents at the University of Oklahoma. They said complaints to school officials about a culture of racism on campus have gone unanswered. Dr. Horne argued actions were taken against the fraternity only because frat boys got caught, not because of benevolence toward Black students.
The racist chant video surfaced the day after national civil rights leaders, President Obama, and a diverse coalition of politicians, preachers, and activists commemorated the 50th anniversary of Bloody Sunday March 6-8.
It also came on the heels of the Justice Department's scathing indictment of the Ferguson Police Department, which it investigated following Officer Darren Wilson's shooting of unarmed Black teen Michael Brown, Jr.
It also followed the March 9 fatal police shooting of naked and unarmed Anthony Hill, a 27-year-old Black man in Georgia, and the fatal police shooting of 19-year-old Tony Robinson. He was killed inside his home in Madison, Wisc., March 6 after an officer forced his way inside, after hearing a disturbance, according to police.
People are growing tired, noted Dr. Horne.
Part of the whole consequence of race and racism is disrespect, he said. "When you disrespect people for a long enough period of time, they do respond. They do react. People don't like being disrespected, and that's what we're seeing now," he continued.
The March 11 shooting of two police officers during a protest at the Ferguson police station raised serious concerns.
Twenty-year-old Jeffrey Williams of St. Louis has been arrested for the shootings. He's been charged with two counts of first-degree assault, a count of firing a weapon from a vehicle and three counts of armed criminal activity. Bullets that struck police were aimed at someone else, he said.
"People are tired of being pushed around. They're tired of being taken for granted," Dr. Horne said.
He recommended Ferguson residents organize themselves politically and take command of the system.
"Change only comes when people decide that they've had enough and they are willing to organize themselves away from what the situation has been," Dr. Horne continued.
Readin', writin' and racism
In certain matters, things are getting worse, according to Professor Patrick Delices, former research fellow and assistant for Pulitzer Prize winning historian Dr. Manning Marable at Columbia University. He now works for a college in New York.
"The United States of America is what it is: a nation founded on the basis of White supremacy. It is a system that prides itself on White privilege, White superiority and Black inferiority, so it is up to us to tap into our resources to create a nation of our own," Prof. Delices told The Final Call.
The Most Honorable Elijah Muhammad was absolutely correct in directing Blacks to pool their resources to build a nation, the professor said.
If Blacks make up about 14 percent of America's population, yet are the majority of those incarcerated, being killed, who are homeless, who are unemployed, yet spend $1.2 trillion, Blacks must redirect spending habits to strengthen families and communities, said Prof. Delices.
The answer lies in using Black spending power to create employment and educational institutions, instead of sending Black children to be taught by people who have a history of being violent towards them, and who have no vested interests in truly educating them, Prof. Delices said.
And it's all happening under a president who identifies himself as Black, but who doesn't have the interests of Black folks at heart, said Prof. Delices.
"In other words you, have a Black face that promotes White supremacy. You have a Black face in a position of power that serves in the best interest of White supremacy and White America and doesn't serve in the best of interest of Black folks," he told The Final Call.
In Pt. 2 of his divine Saviours' Day 2015 message titled "The Intensifying Universal Cry for Justice," the Honorable Minister Louis Farrakhan of the Nation of Islam reiterated the Honorable Elijah Muhammad's warning that God will mete out justice to Whites who have terrorized Blacks in her midst.
" 'These people,' he was talking about White people, 'have been the worst people to us (the Black Nation) since they have been on the face of the earth. They were created and made for just the purpose of destroying our peace as well as our lives,' " Minister Farrakhan stated, reading from page 49 of the Honorable Elijah Muhammad's groundbreaking book, "Message to the Black Man in America."
"They have destroyed 600 million of the Black Nation since they have been on our planet. This averages 100 million every thousand years of their rule. They have affected nine-tenths of the total population of the Black Man under their rule, including the Brown, Red and Yellow races," Minister Farrakhan continued.
The best and only true solution is Blacks having their own land, where they can build their own society, free from tension, hatred and violence endemic to living in White America, the Honorable Elijah Muhammad taught. God is making a way for Blacks to gain the knowledge of self to build a civilization of their own, but today, too many are afraid and doubtful, he said.
"There's this notion that we live in a color blind, race-neutral society when people understand that race matters, and the very young folks who are chanting these racist slurs as it pertains to African Americans, they're the ones that are going to be the CEO's of these major companies that are not going to hire us. They're the ones that are going to hold that system of power over us … even though they know we're more qualified than the White person that they hire," Prof. Delices said.
In cases where Blacks may get the job, racism in America is so rampant, it also plays out when companies neglect to hire Blacks in senior executive or leadership or managerial positions, but at lower positions with lower salaries, Prof. Delices noted.
In addition, he argued, there's a running theme throughout the United States of America that was revealed when during the 87th Academy Awards ceremony, Patricia Arquette, a White female actress, took to the stage and championed the ridiculous, inaccurate historical claim that White women were involved in everybody's movement.
"Black people were involved in everybody's movement, but not everybody's involved in the movement for Blacks to be empowered and liberated," Prof. Delices said.
Ms. Arquette received thunderous applause when she said women's salaries should be equal to that of men, but when singer John Legend spoke on the problems of Black male incarceration during his acceptance speech with hip hop artist/actor Common, one could hear a pin drop, Prof. Delices pointed out.
"That speaks to the theme and the reality that we have in this country, because race matters, but Black lives don't matter," he said. Whites aren't interested in empowering Blacks, but maintaining their power at any cost, which they've proven time and time again, with the killings of Michael Brown, Jr. in Ferguson, Eric Garner in Staten Island, N.Y., and many others, he charged.
Police killings of Black males aren't just happening in a vacuum, Prof. Delices said. "But there is an institutional process in the United States of America to displace Black males from raising their families the way they need to be raised. And that stems from the country's history of slavery, which disallowed Black males to be with their families to begin with," he stated.
According to L.A.-based human rights Attorney Nana Gyamfi, one reason for America's race crisis is the system's refusal to hold people accountable. The system just refuses in cases of police brutality to pursue cops criminally and actually charge them with federal crimes, or to sue civil rights violating police departments such as Ferguson, she said.
"It's significant, for example, that the (Justice Department) found all this racism, but then turned around and decided not to indict Wilson with any federal crime, so it's like racism without racists," Atty. Gyamfi said.
"There's all these people doing stuff that's racist, but there's no racists. Where are the racists, because you're not holding any individuals accountable," she said.
Ultimately, it's up to the community to hold police and society accountable, but people need to change their strategies, she said.
"We have to admit that our attempts to go through the government, to meet with the police as some groups have been doing regularly here in L.A., to try to figure out who are the good cops, who are the bad cops, we have to admit that those strategies have not worked. And it's okay," she said.
Certain tactics worked before because Blacks were united, seized power and exercised power, she argued.
"We're not together. We're not thinking about this as a power struggle. We're thinking about this still in a position in which we are asking, in which we are begging, in which we are the powerless, seeking that hope from the powerful, and we have to stop that," Atty. Gyamfi insisted.
Until and unless Blacks recognize the need to take personal responsibility for solutions, things won't change, she said. "You just can't sit and see that this is a terrible thing and do locker room talk about it. We know that there are people obviously that are up in arms, that are in the streets, that are doing the work to seize power but it's not enough people, and they don't have enough support," she said.
Dr. Boyce Watkins, writer, organizer, and academic, told The Final Call federal action on Ferguson wasn't the best the government could do and the Obama administration is a big part of the problem. "The Obama administration has been incredibly weak on most issues that relate to racial justice. In fact, his presidency has been a huge setback for the African American community," Dr. Watkins stated in an e-mail interview from Botswana in Southern Africa.
"White people are angry, which puts us all in danger. The key is that we might need to get angry too," said Dr. Watkins. He's unsure if police ever felt that it was open season on Blacks, because many of them have been truly trained to believe Blacks are threats.
"In fact, some of them think they are doing the right thing when they kill a young Black man. What has to happen now is for Black people to make our voices heard and to realize that many of these White folks are NOT our friends. Once we realize that our sons have always been in danger, we might gain the will to fight back," Dr. Watkins said.