One Nation, One People!



By Starla Muhammad Managing Editor
DETROIT—The Honorable Minister Louis Farrakhan and the Nation of Islam are no strangers in the fight for the freedom and liberation of Black people in the United States and abroad.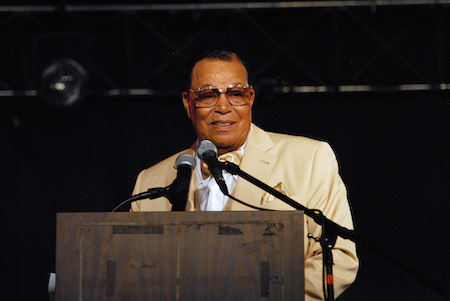 The Honorable Minister Louis Farrakhan delivers keynote address June 22 at 30th Annual N'COBRA Convention in Detroit.


Theirs is a proven track record of consistent and tireless dedication, work and sacrifice in the face of vehement opposition and attacks from those frightened by the rise of Black people or still psychologically and emotionally wedded to their oppressors.

Yet in this critical time Blacks must understand what freedom looks like, how they must be repaired inwardly, what reparations truly means and how inordinate ego and vanity of leadership is the worst enemy of the rise of Black people, the Minister told a packed audience at Bert's Marketplace during a critical June 22 message as part of the 30th Annual National Convention for the National Coalition of Blacks for Reparations in America (N'COBRA) held in Detroit.

Black people are the Original People of the planet and from them came all others so in this hour of death, destruction and confusion, the resurrection of the Black man and woman of America and the world is a necessity, said Min. Farrakhan.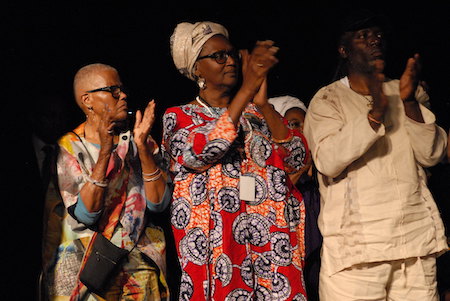 From left: Attorney Adjoa Aiyetoro; Mashariki Jywanza, female national co-chair of N'COBRA and Kamm Howard, male national co-chair of N'Cobra.


"Until we are resurrected, meaning brought back to our original state and place, the nations of the earth will not find order. The order comes from justice," the Minister explained in his opening remarks. Delving into scripture, Min. Farrakhan pointed to the book of Revelations in the Bible where an angel is riding on a black horse and it was justice.

"When we are purified from our 400-year sojourn under an enemy then we can purify everything else that came from us. Then it will be one world again and peace will reign because the Black man is awake, is resurrected, is restored, is repaired and is back on his post as the Original Man, the Cream of the planet earth and the absolute God of the Universe."

This year's N'COBRA convention came as part of a national debate on reparations for Black people in America who are the descendants of kidnapped and enslaved Africans. In addition, Blacks have been subjected to centuries of government sponsored terrorism, torture, oppression and the systematic dismantling of an entire people whose progeny suffer from these historic and current wrongs.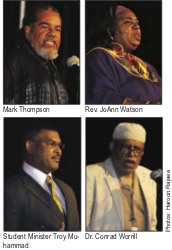 Full repair and freedom for Black people is needed but it will not come at the hands of the enemy of Black people, the Minister explained throughout his message.
As a longtime friend and ally of Black Nationalist and Pan-African liberation activists and groups, it was fitting that Min. Farrakhan delivered the keynote address at N'COBRA in Detroit, birthplace of the Nation of Islam, the Republic of New Afrika, Shrine of the Black Madonna and home to many Black and African-centered cultural and ideological movements and luminaries.
Min. Farrakhan expressed his gratitude and respect to those who fight for freedom despite pushback from some Blacks who do not understand what rightfully belongs to them or do not understand who they are.

He thanked N'COBRA for keeping the idea of reparations and reparatory justice front and center for the last three decades.

"I thank God for N'COBRA. I thank God for the movement of Black nationalism, Pan-Africanism. I thank God for all of us who struggle under different names. But every organization has value and only tribalism will keep us from seeing the value of one another."
Think for the whole

The Black nationalist community protected Min. Farrakhan during his early work in rebuilding the Nation of Islam after the departure of the Honorable Elijah Muhammad in 1975 and the subsequent fall of the Muslim movement.

During his introduction of Min. Farrakhan, Dr. Conrad Worrill, former chairman of the National Black United Front (NBUF) and a longtime comrade and friend, shared how Min. Farrakhan personally backed struggling Black organizations and leaders not just in words, but by his actions. Min. Farrakhan financially supported Rev. Jesse Jackson during his 1984 presidential campaign, N'COBRA, NBUF, the Southern Christian Leadership Conference and many others. During his message the Minister also paid honor and homage to freedom fighters in the Black reparation's movement in the United States such as Imari Obadele, Queen Mother Audley Moore, "Reparations" Ray Jenkins and others.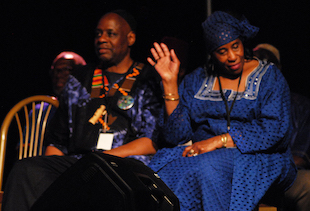 Activists from around the country attended N'COBRA's 30th Annual Convention in Detroit.


"So what Dr. Conrad Worrill said of the Minister in secret and in the open supporting everybody who struggles to give justice to the Black man and woman of America: 'Why do you do that when their philosophy is not religious or they are not Muslims or they are not this or that?'" asked Min. Farrakhan rhetorically. "It does not matter. What does matter is that we are a suffering people and we cannot afford the luxury any longer of feeding the divisions, the tribal manifestations of slavery and neo-colonialism and colonialism. We have to see all of us who struggle as one nation, one people, one great objective—total liberation of every Black man, woman and child on our planet!" he noted.

The Most Honorable Elijah Muhamad, patriarch of the Nation of Islam and Min. Farrakhan's teacher, instructed his star pupil to "think and speak for the whole."

Do not just think for those that are Muslim, nationalists or engaged in civil rights work, his teacher instructed him. "Think for the whole; no matter who they are, no matter what they are, no matter where they are, think for them. Stand for them, work for them, live for them and when you can't live anymore, die on behalf of your people!" the Minister stated emphatically.

"To the members of the Nation of Islam, we wouldn't be here today if it were not for the nationalists that came to my side and our side when we started our rebuilding efforts. We wouldn't be here today were it not for the African American Patrolmen League and the Black police that had nationally organized and before there was an FOI (Fruit of Islam, the men of the Nation of Islam). They guarded me in every city into which we went to bring back the Nation of Islam," he explained. There were Christian pastors who stood with him and the Nation in those early years, the Minister continued.

"We have to be for all or be for nothing or we will always be behind until or unless we act and think for the whole of our people."

Min. Farrakhan shared with the audience his recent trip to Saudi Arabia and the Islamic Holy cities of Mecca and Madinah. The Muslim world does not have a champion and practically all leadership has been co-opted, he continued.

"But there's a free Black man (who) is unbought, has not and will not bow to the forces that control this world. I have been a consistent Black man on this battlefield ever since I became conscious 64 years ago."

Vanity is a detriment to the unity and progress of Black people. Blacks in leadership must be true to the principles of love in order to be an effective catalyst in the healing of their people.

"Love is the only force that will put errant ego to rest," said Min. Farrakhan.


Black people must be made new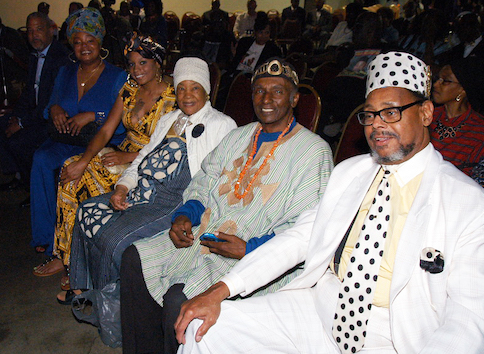 Dr. Leonard Jeffries (second from right) and his wife (third from right) were among many freedom fighters and luminaries that attended the Minister's keynote message at Bert's Marketplace.




Elijah Muhammad introduced The Muslim Program which appears on the inside back page of The Final Call newspaper and prior to that on the back page of Muhammad Speaks newspaper in the 1960s and 1970s. The nature of Black people is to be upright, not to be thieves and liars, said the Minister.

"You were under thieves and liars for over 400 years and they made us into themselves. So, when you look at Black people, you're looking at a creature, made devils. That's what the enemy is. He could not make you righteous because righteousness is not a part of his nature," he said.

The White man can only make us what he is and when you look at Black people today, you are looking at a people made in America, the 86-year-old Muslim leader explained.

You can't say that you want reparations and think it's money but reparations must repair our broken minds, corrupt souls and bring us new again, he continued.

Reparations must start with Black people accepting the nature of who they are, doing right and wanting for your brother and sister what you want for yourself, the Minister explained. If we fail to do that, then Black people will always be struggling for concepts that we can't figure out, he warned.

Min. Farrakhan expounded upon the first three points of "What The Muslims Want" of The Muslim Program and asked the audience if they agreed with those salient points.

The Honorable Elijah Muhammad said "we want freedom, a full and complete freedom." "N'COBRA don't you want that? And the NAACP don't you want that? The Shrine of the Black Madonna don't you want that? Whatever church you belong to, you want a full and complete freedom?" Min. Farrakhan asked.

"In nature, freedom allows a creature to grow to its fullest, reproduce itself and die. We have never been allowed to grow to the fullest manifestation of who we are. There's always a Caucasian reality and a wicked system that is at the head of your desire to rise."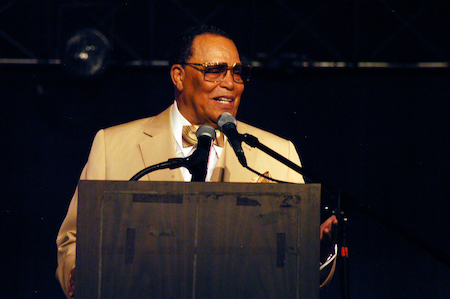 Min. Farrakhan spoke on the critical need for unity among Black people and thanked the Pan African / Black Nationalist community for their continued work in the fight for reparations.




The White man and his system cannot repair the damage he has inflicted on Black people. The repair can only come from God.

The Minister bluntly addressed naysayers who accuse him of "selling out" to the Church of Scientology for money. "If I was paid for by others, they would have a string over me. You don't see no string! The string that you can't see is the string that God has on me. I owe nobody nothing. I don't borrow money, I don't steal, I don't lie. If I tell you I'm going to do something I try my best to do it because I'm a new Black man!" Min. Farrakhan. He added that he sleeps well knowing he has injured no one. "I'm what you're looking for! I'm a fully repaired Black man!" he said.
Reparations means land

Some Blacks cannot stand the thought of being divorced from White people and don't think they can live without them, explained Min. Farrakhan. The Most Honorable Elijah Muhammad continuously preached separation as the best and only solution for Black people in America.

"We really need to be separated from this enemy. That's a hard decision for us to make. For all of you that feel you can change them, do it! But there are those of us who know better because we know the nature of the people that we've been living under because God has revealed it to us. They owe us big time!"

Obtaining land is the key. Min. Farrakhan recalled a man who helped the Honorable Elijah Muhammad obtain farmland in Alabama. The man took the Minister to the side and explained to him how Black people can begin to take over states if Blacks who once lived there returned and those that are there now got the right to vote.

"Imari Obadele and the Republic of New Afrika went South and claimed five states. He understood what justice looks like. Don't ask the White man for money and a White woman," said Min. Farrakhan. If Blacks were separated in their own nation, they could advance their agenda and way of life including educating their children properly.

"I'm saying to those who love reparations, to those who love justice, let's mark out some states. Make Mississippi one. When we become the power in all those states, we've got enough lawyers to make judges. We've got enough intelligent Black people to run state legislatures, become appellate court justices, state supreme court justices. When you run the state politically then you have a chance to run it economically. The federal government's got to give us some money."


A man on point

"This is a wonderful, historic moment and I love the fact that the Minister talked about self-repair," said Zoe Franklin, a member of N'COBRA. She traveled from Chicago to attend the conference. "How can we expect your enemy to heal you from the damage that they've caused not just for a day but for centuries on end? He also talked about how we need to come together regardless of what tribe we belong to, what our religion is and what types of orientations or disorientations that we might ascribe to, I thought that was extremely important," noted Ms. Franklin.

Naimah Singh is a recently retired educator with the Detroit Public Schools. What stood out to her from what Min. Farrakhan shared was the reality that there is "no changing this system."

"We as Black people have to make that change and reparations is totally due to us for we built this country. We have given song, we have given education, we have given our hard labor and technically, America is Africa—this is our land. You are nothing without the land and the Minister spoke on the importance of purchasing the land. We could be sovereign and whole and independent, and I thank Elijah Muhammad for coming to the city of Detroit and being the first Black man to teach independence, entrepreneurship and sovereignty," said Ms. Singh.

Longtime Pan-African educator and author Dr. Leonard Jeffries said Min. Farrakhan's direction and guidance to Black people has always been timely and his keynote message to N'COBRA solidifies that in his view.

"The Minister has always been timely since I've known him over these years. We needed him at this moment when reparations is the hot item in the Congress, in the media, in these new people running for the leadership of the government. We've been on that for a long time, this organization (N'COBRA) for 30 years but we've been trying to deal with it over several hundred years and so now is the time for clarity and the Minister brings so much clarity because he's been through so much," Dr. Jeffries told The Final Call. He stated he and his wife are grateful for Min. Farrakhan not only for his track-record of work for Black people but for his personal help and support through the years when they needed it.

"He doesn't live in the beyond, he lives in the now preparing the future. He is a man on mission, a man on point, a man who can raise in the same breath the Honorable Elijah Muhammad and our great warrior Malcolm X. He lived them, he lived them back in the day, he lives them today. He can bring them as he has alive for us, so we understand confusion and conflict. But we have to find unity," said Dr. Jeffries. "The Minister's message behind it all is you've got to have a plan. We've tried many things that have not worked so then don't go back to that which didn't work! Make and create a world anew, you have the capability. We are in a period of resurrection and rise."

To view coverage from the 30th Annual N'COBRA convention and Min. Farrakhan's keynote message, visit: ncobraonline.org or noi.org.