Rapper DMX remembered, honored in touching homegoing
By
Naba'a Muhammad
- April 27, 2021
INGLEWOOD, CA - OCTOBER 04: (EDITORS NOTE: This image has been converted to black and white.) DMX performs onstage during the Bad Boy Family Reunion Tour at The Forum on October 4, 2016 in Inglewood, California. (Photo by Kevin Winter/Getty Images for Live Nation)


The day after thousands turned out for a celebration at a nearby arena, rapper DMX's family, fellow artists and leaders came to the Christian Cultural Center in Brooklyn with about 2,000 people in the 7,000 seat facility, according to BET, which broadcast the service live on its cable and YouTube.com channel.

The service opened with music as singers performed below an image of "The Legend, Earl 'DMX' Simmons," with wings above their heads. "It is well with my soul," sang a soloist. Prayers, songs and encouraging words exhorted the audience to appreciate the faith DMX believed in and the unity of his children.

The Black community and world said final goodbyes to the man who impacted the world through sharing his pain, spirituality, musical innovation and talent. It was a moving five-hour service.
Rapper DMX performs in concert at B.B. King Blues Club & Grill on March 27, 2016 in New York City. (Photo by Noam Galai/Getty Images)

"Sometimes we don't know why circumstances in our lives were like they were. Sometimes we are upset with mom because of this or that, upset with dad because of this or that upset with siblings because of this or that, but what we may not know or realize it's these circumstances when you were in the womb, it's these circumstances that were in your environment when you came from the womb, that have shaped you and marked you for the future and for that which you are going to do like dad to affect the whole world," said the Honorable Minister Louis Farrakhan of the Nation of Islam in live message April 25 delivered via Zoom.
Advertisement
"Did you know that your dad's life and love and pain and suffering shaped him to be a voice for our young people and young people all over the world?" said the Minister to the children of the rap icon in the sanctuary.
DMX was genuine and connected with people around the globe, he said.
People gather for a "Celebration of Life Memorial" for rapper DMX at Barclays Center on Saturday, April. 24, 2021, in Brooklyn, New York. DMX, whose birth name is Earl Simmons, died April 9 after suffering a "catastrophic cardiac arrest." The 50-year-old Grammy-nominated rapper delivered iconic hip-hop songs such as "Ruff Ryders' Anthem" and "Party Up (Up in Here)." He also starred in several films including "Belly" and "Romeo Must Die." (AP Photo/Brittainy Newman)
People gather for a "Celebration of Life Memorial" for rapper DMX at Barclays Center, Saturday, April. 24, 2021, in the Brooklyn borough of New York. DMX, whose birth name is Earl Simmons, died April 9 after suffering a "catastrophic cardiac arrest." (AP Photo/Brittainy Newman)
"Those of us who study the Bible and the Holy Qur'an and other religious texts, we may not see him as a prophet, but he actually was. God used his life to educate, to teach and show the world that you can come up the way he did, but struggle, and then overcome the struggle and reach beyond your pain and your suffering and yourself to affect the whole world that is just like you," he said.

"We didn't have an easy life. God ordered it that way so that we could serve his purpose through our pain to affect the whole of humanity," said the Minister.

The life of DMX is an example of the struggle of Black people and the struggles of life in this world, the Minister continued. He explained that the Christian cross with a vertical and horizontal bar represents the duality in human nature and the struggle between the carnal and the divine.

DMX found his purpose, and had his faith, said Min. Farrakhan. And, he noted, a young beautiful brother referred to the rapper as "that's my dog," which was repeated by others. The Minister offered a different understanding of man's ultimate friend. This world may say a dog is man's best friend, but for a Christian, your best friend will always be God, he said. His words were often interrupted with applause and were lauded on social media.

Min. Farrakhan shared his joy at seeing the rapper's children standing together and said each has a special, individual gift to develop and a bit of their father. Develop your gift and impact the world as your father did, the Minister said to the children.
When Jesus said the dead would rise, it wasn't necessarily about people in the cemetery, said Min. Farrakhan. We are operating on a dead level, mentally, morally, spiritually, politically, and educationally, he said. But we have the power to rise, he said. DMX rose and reflected God in his lyrics and when speaking, he told the children. Think of your father as God, not dog, said Min. Farrakhan.
The Minister thanked Tashera Simmons, the ex-wife of DMX, and all the women in his life for the comfort they "gave to a man who was always in pain."
DMX "had a life and he educated and taught the people that are still in the worst part of life," he noted. And, he urged artists, lift the people up with conscious rap.
Rev. A.R. Bernard of Christian Cultural Center shared how he listened to DMX music and watched videos prior to the funeral. "His music invited us to join his struggle, the good, the bad, the ugly, the highs, the lows. The threat and the promise because life is threat and promise," Pastor Bernard, who led the service, said.
Tashera Simmons, his former wife and mother of four of his children, met Earl Simmons at 11 years old and started dating him in Yonkers, N.Y., at age 18.
"It was love at first sight and we were inseparable from that time," she said.
She said she never met a young man who loved the Lord despite a difficult life that included school suspension, trouble at home, living in a juvenile facility and run-ins with the law.
Tashera Simmons shared how she learned faith, forgiveness, and unconditional love with DMX. We were broken and looking for love, God loved us, but the worldly things going on in our lives had us confused, but we had each other, she said.
"I knew Earl was a prophet because of what I learned from the Qur'an and bible," she said. "I felt it was my mission and purpose to love him no matter what. I loved the soul of that man."
"When you love someone, you want the best for them. It was important to be selfless if you loved Earl," she said.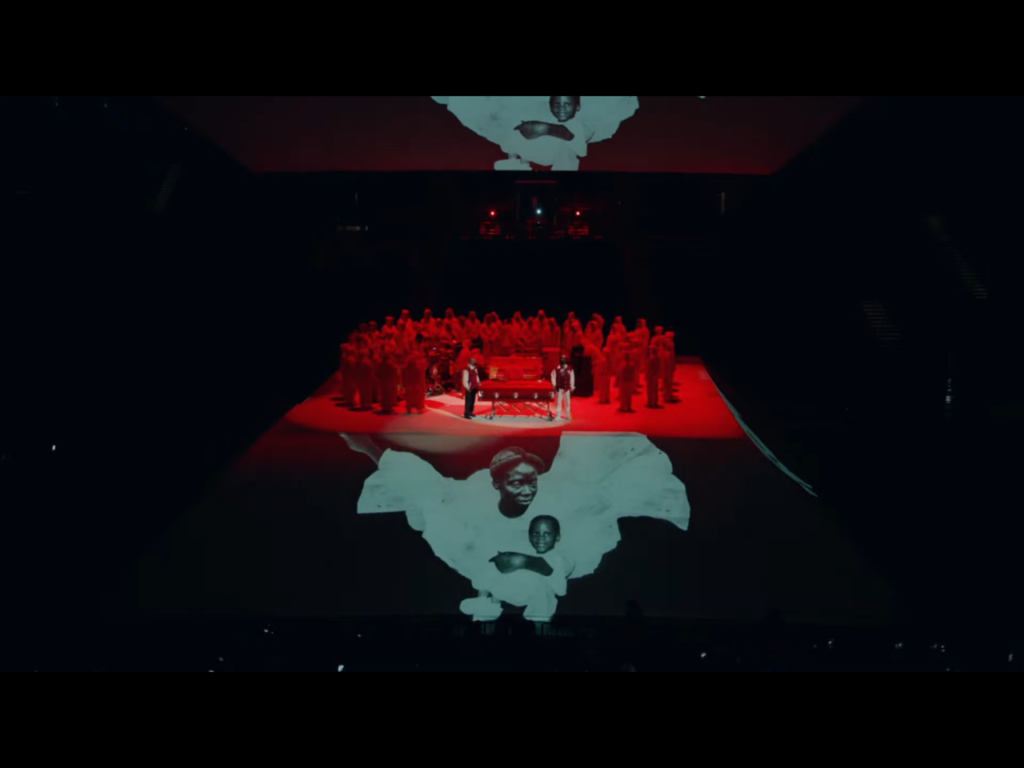 "No disrespect to the industry but the industry, if you're not grounded, can suck you up and be the devil's playground," Tashera Simmons added.
She said she watched a "pure soul get sucked up" but God was always part of his life. "Earl was thirsty, he never stopped desiring God's word," she said.
Towards the end of his life, Tashera Simmons said, the couple reconciled in unimaginable ways. He "will be my first love, he was my heart and soul, he was my everything. And in some crazy way I feel like he has prepared me for this moment," she said. "I feel so blessed I was able to join hands with this man, this God."
In a conversation six days before his death, Ms. Simmons said DMX said, " 'I'm in the world, not of the world.' I have the peace that surpasses all human understanding because my friend, my childhood sweetheart, my friend is home. He's no longer in pain. He knew he ran his race," said Tashera Simmons. "He wasn't perfect by a longshot, but his heart, his heart, is pure as gold. He is no longer in his flesh, he's in his spirit and that spirit is nothing to reckon with."
She shared her love for Desiree Lindstrom, who was engaged to DMX at the time of his death. They embraced on stage; the former wife introduced Ms. Lindstrom to speak.
Ms. Lindstrom described DMX as the love of her life. "I lived and breathed Earl Simmons. The truth be known it wasn't always easy to do," she said. "I equate Earl with nothing but love … his love of God." She thanked him for their time together and their son Exodus, one of 15 children DMX fathered.
Similar expressions of love came from his daughter Praise and Paige Hurd his god daughter. Kenneth McBride spoke of his god father and best friend who protected him and taught him not to be selfish. You are at peace, he said.
"Just looking out in this crowd everyone in this room represents how much he was loved," added DMX daughter Jada. His son Manny shared how his dad was his friend and the person he looked up to the most. "My dad was honestly the best dad anyone could hope for," Manny said. "He said he didn't want us to be like him, he just wanted us to listen. He was right."
Aaliyah, his nine-year-old daughter, was sad her dad won't be able to say happy birthday again. "Even though I know he can't talk back, I know I can still talk to him. I think it's cool that I get to call a legend my dad. Rest easy dad."
Russell Simmons, via video, shared how hip hop started as abrasive, rebellious music but had become more melodic at the time DMX entered. DMX saved Def Jam Records with his major success.
"This brother was going through what I had been through," said Mr. Simmons. He didn't do much to help during DMX's struggles. Sometimes we don't do what God wants us to do and other times we can't help people until they are ready, he said.
"He was God's servant and his voice will be around forever," Mr. Simmons added.
Joaquin "Waah" Dean, founder and CEO of the Ruff Ryders, shared how he met DMX going back to the 1980s. Their work was dominant with the success of DMX and other artists aligned with the rap crew. "We have 400 or 500 Ruff Ryders chapters around the world, he said. "X left us to bring us together because we're all going through something right now. But we need each other."
He spoke of his desire to bring the children of DMX, his children and others together as the next generation of Ruff Ryders or Young Ryders. "We want to pass the baton on for you all. It's your job now," he said. He vowed to hold a monthly ride for a cause, Black people and unity.
Swizz Beatz, super producer, shared his memories of time with his brother and best friend. "X was a very loving, teddy bear kind of guy," he said, despite his persona growling and barking on stage. "His kids are now my kids and we are going to ride this out forever."
Rev. Conrad B. Tillard, Sr., thanked the mothers, DMX's children and the Ruff Ryders for a display of what Black family is. He read the obituary and shared his love for the rap legend's uncle, Ray Copeland, who managed DMX.
BET broadcast co-host Marc Lamont Hill spoke of the spirituality of DMX and how much it meant to his life. He noted days before the funeral hip hop's loss of Shock G of Digital Underground and Black Rob, another hip hop icon.
Erica Ford, an anti-violence activist, said she worked with DMX since the 1990s. He represented the streets and his impact brought the powers that be here today, she said. Proclamations and accolades came from the governor of New York, the state legislature, other politicians and dignitaries.
"I wish these honors would have come while he was living, nonetheless he got them. And we will continue to honor him," added another presenter.
Heartfelt speeches came from those who knew the rapper best during the public memorial April 24 at a major sports arena in Brooklyn. Major hip hop artists, including Kanye West and Busta Rhymes were among those present at the ceremony at the Barclays Center. The gathering was limited to close friends and family.
In a touching moment, DMX's children gathered on stage to talk—and sometimes rap—about the star as a father who taught them such lessons as "always say thank you," and "be kind to everyone."
Before the service, a massive black big-wheel truck with the words "LONG LIVE DMX" on a side of the vehicle carried DMX's shiny red casket for more than 15 miles from Yonkers, New York—where the rapper grew up—to the Barclays Center. A plethora of motorcycles trailed the truck during the procession before arriving at the arena, where thousands of people crowded the streets.
Thousands of motorcycle riders surrounded the monster truck, revving up their engines. Others gathered at the arena while some of DMX's biggest songs from "Where The Hood At" and "Ruff Ryders' Anthem" blared from the crowd's speakers.
The Fruit of Islam, men of the Nation of Islam, handed out a free copy of a special reprint of The Final Call newspaper that paid tribute to DMX.
Earl Simmons died April 9 after suffering a "catastrophic cardiac arrest." He spent several days on life support after being rushed to a New York hospital from his home April 2.
The 50-year-old Grammy-nominated rapper delivered iconic hip-hop songs such as "Ruff Ryders' Anthem" and "Party Up (Up in Here)."
DMX arrived on the rap scene around the same time as Jay-Z, Ja Rule and others who dominated the charts and emerged as platinum-selling acts.
Rev. Barbara King closed the service saying DMX was rejoicing at exiting a difficult world. He had the heart of a deacon and helped everyone, she said. She shared how DMX joined her church and she ministered to him. "I believe that Earl is still alive in me, he's still alive in his loved ones, he's still alive in his children and he lives in his music," Rev. King said. "Death formed against Earl," she said, "but it did not prosper."
The Associated Press contributed to this report.