Ferguson activist wants the truth about the death of her son and vows to get it



By Janiah Adams and J.A. Salaam


SPANISH LAKE, Mo.—Two weeks after the troubling death of 24-year-old Danye Dion Jones, his family and friends were seeking answers to questions about what actually happened to him.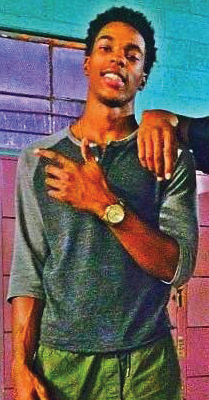 Danye Jones




Mr. Jones was found hung in the backyard of his mother's home in the north county community of Spanish Lake, Missouri, just five miles away from Ferguson where 18-year-old Michael Brown was killed in 2014. The St. Louis County Police Department is investigating the death as a suicide and say a 911 call about a "suicide" was made by a family member, who used that specific word, according to reports.

But Melissa McKinnies, Mr. Jones' mother, and other family members aren't convinced and lack confidence in police handling of the death and subsequent investigation.

"I don't know who said my son committed suicide," Ms. McKinnies told The Final Call. "Of course, when you first see someone hanging, your first thought is that. But I know my son and none of us said he killed himself. The police were standing there, and I said to both of them, 'this needs to be investigated, do you hear me?' I know my son and none of this adds up, not at all."

St. Louis County police spokesman Shawn McGuire, during a press conference, said there were no signs of struggle or trauma to the body.

Ms. McKinnies found her son hanging by a bed sheet early Wednesday, Oct. 17, at approximately 5:45 a.m. As photos of Mr. Jones' lifeless body circulated online many people expressed their suspicions via social media. Some questioned whether someone else could have been involved in causing the young man's death.

"The knots that were used in the sheets he was hung with, everybody I talked to that's been in the military, know about these knots. My nephew was not in the military, militia or boy scouts," said Daniel (Kashif) Muhammad, Danye Jones' maternal uncle.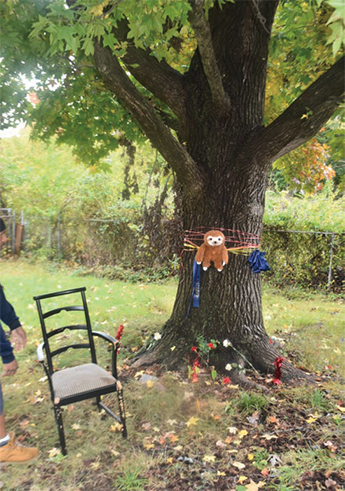 Makeshift memorial dedicated to Danye Jones. The 26-year-old was discovered hanged in the backyard of his mother's home Oct. 17. Police are calling it a suicide, his family and friends dispute that conclusion.




Photos showed an arm chair that Mr. Jones allegedly used to stand on, lying approximately three feet away from where he was hanging. The family believes this was staged to make it appear like he hanged himself. How did he get up there and tie a military-type noose around the branch of the tree and his neck? they asked.

Mr. Jones was about 6 feet and 1 inch tall. His feet were eight inches from the ground, his pants were rolled down to his ankles and both of his fists were clenched. He had abrasions on his face and blood on his shirt.

"He was too happy with his life and the possibilities of being successful. He had just written in his notebook the night before, about his plans with his new real estate business. So why would he take his life? He wouldn't, and we will find out who did this to him," vowed his mother.

Mr. Jones had started a real estate business, Movin' On Up Properties, that his uncle helped him with.

"He was really excited about it," said the uncle. "When we came back, he didn't think he was gonna be able to do anything about it because of his credit, and I began to tell him about wholesale real estate. He was taking down notes. He would take down notes like the law, then from there we were talking on the regular and he was doing his research," said Daniel Muhammad.

Mr. Jones was also looking forward to his 25th birthday coming up on Nov. 19, he added.

Since the shooting of Mike Brown Jr., in August 2014—which sparked national and international outcry and protests—there have been numerous threats toward some of the frontline activists of Ferguson protests on social media.

Darren Seals, a 29-year-old youth activist, was found with his Jeep Wrangler engulfed in flames in Riverview, Mo., another suburb of St. Louis. He died from a gunshot wound to his head, according to authorities. Family members felt his crime scene was sloppily handled. Mr. Seals was among one of the first to respond in Ferguson following the shooting of Mr. Brown.

Deandre Joshua, 20, was shot once in the head and burned inside his car in 2014. He was the only person who died during unrest that shook Ferguson after a grand jury decided not to indict the White officer who killed Mr. Brown. He was a friend of the young man who was with Mike Brown, Jr., during the fatal police encounter. There has been speculation that he testified to a grand jury, whose records are secret, but his family told a news outlet after his death that he did not testify.

Could the death of Mr. Jones be related to what many see as suspicious deaths?

"Absolutely," said John C. Muhammad, a member of the St. Louis City Council and family friend of Ms. McKinnies. "I don't think that these are isolated incidents. We continue to see a pattern of people that are involved in a protest movement or going against a system, we see that these people die. We see that consistently. We think that these are all connected some way, somehow. It may not be by the same forces, but there is a connection that binds all of them together—that is definite."

Ms. McKinnies was very close to Mr. Seals, according to Daniel Muhammad. She was one of the original protestors in Ferguson who lead demonstrations and campaigns surrounding the death of Mr. Brown. She was a member of a grassroots activist group called "Lost Voices."

The St. Louis County coroner is currently doing an autopsy that could take several weeks. The office did not respond to The Final Call's request for comment.

Although family members and supporters believe police should investigate the case as a murder, they're preparing for the police to render a different decision.

"Realistically, do we have the utmost faith in the law enforcement system here? Absolutely not," said John C. Muhammad. "And that's because of what we've seen happen in the past when our movement and protests have been shot down and no justice has happened after their death. … Our justice will not come from any police department that investigates it. We understand this is something we're going to have to pursue on our own."

John C. Muhammad said some community members have been trying to piece things together.

"We've all been trying to find information for what we can bring together to find out what happened, when exactly and why," he said. "So, we can come up with a motive or a story or something we can say well, this is why. And from that point, this is how we know how to move."

Regardless of the decision by police, Ms. McKinnies is determined to get answers.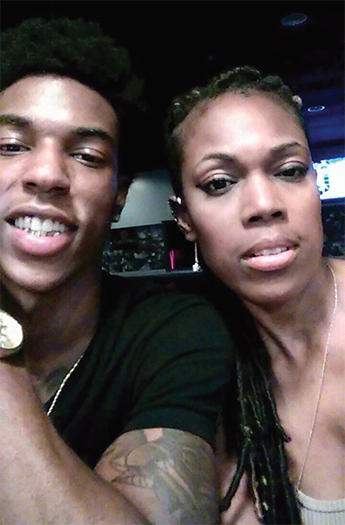 Danye Jones and his mother Melissa McKinnies




"They are not going to sweep this one under the rug. No! Wrong mother, wrong child," she said. "Even if I have to get an autopsy done myself, we will get answers. Or hire an investigator myself, but we have to do it. I'm going to fight for my baby, that's what he would want me to do and I will."

Since Mr. Jones' death, Anthony Shahid, a St. Louis activist, said the atmosphere in the city is terrible.

"It's always a cloud over [us] every time someone turns up deceased around here. It's always something you can't put your hands on and we're not accepting it," he said.

Marcellus Buckley, a local poet and activist, found it difficult to believe the way Mr. Jones died. "I still don't believe it, in some ways, that we're still getting hung like we're still going through that period of Jim Crow and it's just heartbreaking," he said.

"And for my son, to have him grow up in this world where this is still happening because we want to speak out or we want to have an opinion on our rights as human beings, it's a sad thing."

Ms. McKinnies is a friend of the Nation of Islam in St. Louis, said John C. Muhammad. Two of her brothers are members of the Nation of Islam. Daniel Muhammad recalls bringing his nephew to the mosque when he was young.

"When he was young, he used to be a part of the Jr. FOI (Fruit of Islam). He used to do the drills and when I first got back to St. Louis in 1999, when he was real young, we cleaned him up from pork and we went into it about the worms," he said. "We had him to the point where he would run and open the door for the sisters."

Daniel Muhammad said during a vigil for the young man, many recalled how well-mannered he was. "One thing that everybody mentioned from the drills is how we would have him say, 'yes sir, no sir, yes ma'am, no ma'am.' And everybody constantly talked about his love and mannerisms, not even knowing where it came from," he said.

Javon Jones, Danye's younger brother, said he was a good, family person. "We just want justice for what was done to my brother. It wasn't his time to go. Even though God has a time for everybody, we would have really appreciated for him to stay here a lot longer," said Javon Jones.

He's dissatisfied with what he saw from the police in his yard the day his brother was found.

"They say it was a suicide. The police were in the backyard. I was looking at them through the back window; they were not even next to him," he said.

"They were on the right side of the yard laughing and stuff. They were laughing and having a group conversation in the front yard before they even went back to do the investigation on what happened in the backyard. They didn't give it any time of mind. They just wanted to hurry up—get in and get out. My brother had bruises on his face and when it comes to suicide, you don't do harm to yourself like that."

The family held a press conference Nov. 1 to share with the public their belief that Danye did not commit suicide. Ms. McKinnies believes "vicious, hateful individuals" may try to paint an ugly picture of her son and herself. However, she's determined to defend him.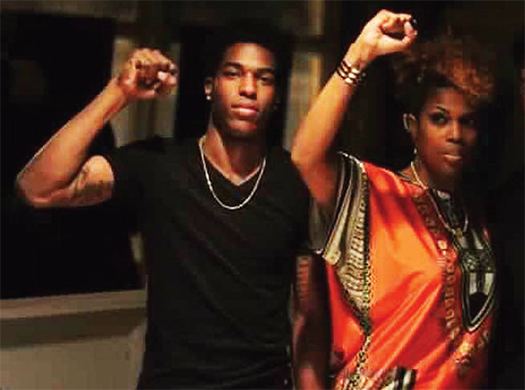 Danye and his mother Melissa, a local activist.
"As his mother he was born for me to protect. And where he is now, I am going to protect him," she said. "I know my son. Danye had too much going on. Why would he be downstairs in his room writing his notes for his business if a couple of hours later he was going to hurt himself?"
As of now, John C. Muhammad said the main priority is comforting the family.
"It's all about giving them comfort and giving them physical and spiritual security," he said.
At Final Call press time, the case was still open and had not officially been ruled a suicide.
The family received all of Danye's belongings except the sheet that was around his neck. They were told the investigation will take up to eight weeks before they can release the sheets and give their findings. The family is demanding a full investigation and for the sheets to be returned sooner.