Cuba's doctors can help U.S. fight pandemic and save lives

By Brian E. Muhammad -Staff Writer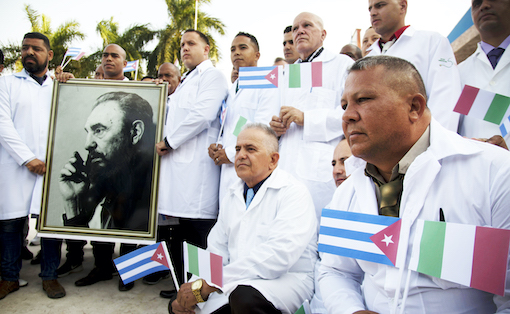 Several of the Cuban doctors and medical professionals that will depart for Italy to assist with the pandemic in the country pose for the media with a photo of Fidel Castro and flags of Italy and Cuba, in Havana, Cuba, March 21. Photo: AP Photo/Ismael Francisco

For nearly six decades the Republic of Cuba has been training and sending health care professionals around the globe. Cuba has sent upwards of 400,000 health care professionals to 164 countries since that time. The small island nation's "medical internationalism" and soft power way has been a source of solidarity for other nations. Officially called "Collaboration Missions" the first medical brigade aided Algeria in 1963 during its independence war with France. The missions are part of Cuba's longstanding policy of supporting anti-colonial struggles and nations in distress.

With the Covid-19 pandemic engulfing the world many are recognizing the Cuba health care model and its success despite decades of a crippling economic embargo by the United States.

The country of 11.5 million people is oriented toward health promotion and disease prevention, Dr. Jewel Crawford, assistant professor at Morehouse College Department of Community Health and Preventive Medicine told The Final Call.

"They have a sound gold standard health infrastructure in place, so whatever comes along, they're prepared to deal with," said Dr. Crawford.

Cuba has an efficient house to house and community to community system of being aware of the welfare of the Cuban people. It doesn't take long to mobilize in emergencies, pandemics and disasters.

Dr. Crawford is impressed that the Cuban system doesn't require a big budget.

"Just organizing a system of care… neighbors checking on neighbors—things that Black people used to do," she said. It's a practice Black people must return to, especially now with the need for contact tracing of Covid-19 infected people, said Dr. Crawford, an advocate for engaging the Cuban people. "So, we have to get to some of what they're doing."

In Cuba, there are 1,537 infected people, 54 deaths and 714 recoveries from Covid-19.

Only 90 miles north Covid-19 has forever altered life as it was known in the United States—the world's largest economy and superpower. While nations were besieged by the "invisible enemy" some countries have managed the crisis better than others. Since the pandemic started Cuba has been lauded for its effectiveness, response and assistance to other nations, including major powers struggling to fight the Covid-19 pestilence ravaging their people and economies.

Some see the contrasting approaches to health care as a major indicator of outcomes in a pandemic. The Cuban model is structured on universal health care compared to the capitalist and cost driven system of health in the United States.

"I believe that is an aspect of why Cuba has been successful in curbing their numbers with this pandemic and successful treatment," said Dr. Desta Valdez Muhammad, a Central Valley California-based physician trained in the Latin American School of Medicine in Cuba.

"In Cuba it's the access to health care. Everyone has access, which here in the United States not everyone—especially the poorer... inner city... rural communities may not have access to care, " she said,

Dr. Muhammad told The Final Call in the U.S. system, the cost compounds how people are handled, particularly in the pandemic and attention has to be directed to the more vulnerable population. "Unfortunately, Black and Brown people; we make up the most vulnerable population," she said. "And a lot of the times we are forgotten."

Dr. Muhammad further explained, one reason the numbers for Covid-19 is disproportionate for Black and Brown people in the U.S. is not having access to care. Before Covid-19 access was a major concern where over 70 million people in the U.S. has inadequate or no health coverage at all.

The coronavirus is a new virus, that the world has not seen before and one the medical community is learning more about. As far as treatments, right now everything is experimental, she added.

Another dynamic Dr. Muhammad points out is the fact that Cuba is considered an underdeveloped third world country, yet the people do not die from third world diseases. She directly credits the Cuban Healthcare system for that.

There have been favorable reports about Interferon Alfa 2-B medication used in China and elsewhere to treat Covid-19. Although Interferon Alpha-2B Recombinant has not been approved to treat Covid-19, by the World Health Organization, individual countries have been requesting the drug from Cuba according to reports.

"The world has an opportunity to understand that health is not a commercial asset, but a basic right," said Cuban doctor Luis Herrera, creator of the Interferon Alfa 2-B medication, in a mid-March interview with TeleSUR.

"We cloned different genes of Interferon from local sites, and we started to produce Interferon in 1981 and 1982, which we used in the outbreak of dengue fever, and we presented the results in the United States in California."

The antiviral drug is one of several being used by the Chinese to fight the new coronavirus and has reportedly proven effective for viruses with characteristics similar to those of Covid-19. The U.S. Food and Drug Administration Center for Drug Evaluation and Research has an approval process for drugs that can be used as treatment options in the U.S.

But critics argue that even if all standards are met, any positives from Cuba gets entangled in the geo-political fray of the United States.

Public polls, observers and experts alike agree the U.S. government has mismanaged the Covid-19 crisis and is part of a global problem between the major powers taking on the coronavirus. In a May 1 press briefing, the United Nations Secretary General Antonio Guterres lamented world leaders have fallen woefully short because of division, bickering and blame-shifting.

"It is obvious there is a lack of leadership," said Mr. Guterres answering a question on whether global leadership has been adequate in handling Covid-19.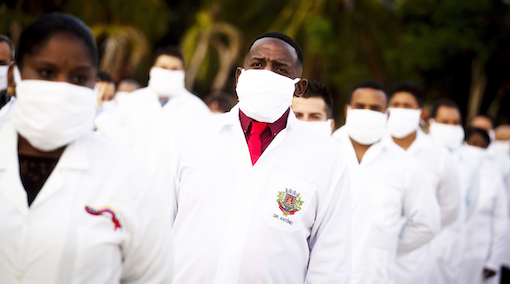 A brigade of health professionals, who volunteered to travel to South Africa to assist local authorities with an upsurge of coronavirus cases, attend the farewell ceremony in Havana, Cuba, April 25. Photo: AP Photo/Ramon Espinosa


"It is obvious the international community is divided in a moment where it would be more important than ever to be united," he said.

The secretary general pointed out however, that there is leadership in battling the pandemic, but it is disconnected from power.

"We see remarkable examples of leadership, but they are not usually associated with power," said Mr. Guterres, adding, "where we see power, we do not see the necessary leadership."

This is the state of the global arena says experts, in the face of the pandemic that has at Final Call press time infected 3.5 million people and claimed over 250,000 lives worldwide.

Despite the divide between world powers Cuba has risen to the occasion say advocates who support allowing Cuban medical professionals to work unhindered.

"I think this time it's more important that people … experts from different nations work together in cooperation because we face a common danger," said Arthur Heitzer, chair of The National Lawyers Guild—Cuba Subcommittee.

The guild supports the call of many organizations for cooperation between the U.S. medical authorities and the Cuban medical personnel. "Many of them (the Cubans) have experience in dealing with epidemics and disaster situations," said Mr. Heitzer.

Through its Henry Reeve International Medical Brigade (HRIMB), Cuba has sent doctors to more than 20 countries during the Covid-19 pandemic including hard-hit Italy and France—which also authorized Cuban teams to assist in its overseas territories.

South Africa announced 217 Cuban doctors arrived in the country, which has the highest number of coronavirus infections in Africa. The HRIMB was established in 2005 by the late Cuban leader Fidel Castro in the wake of Hurricane Katrina. The brigade specializes in rapid medical response to natural disasters and outbreaks.

Over the years the brigade has won prestigious medical accolades and awards. The medical team has been nominated for the 2020 Nobel Peace Prize for its efforts with Covid-19.

However, the U.S. has maintained an adversarial relationship against Cuba since the 1959 Cuban Revolution. In April 29 remarks Mike Pompeo, the U.S. Secretary of State chided countries for receiving Cuban assistance with the Covid-19 crisis.

"We've noticed how the regime in Havana has taken advantage of the Covid-19 pandemic to continue its exploitation of Cuban medical workers," said Mr. Pompeo.

He criticized South Africa and Qatar for accepting Cuban help and called on other nations to reject Cuba's overtures to help.

"Governments accepting Cuban doctors must pay them directly. Otherwise, when they pay the regime, they are helping the Cuban government turn a profit on human trafficking," he said.

Critics say Mr. Pompeo's characterizations of the Cuban medical system as exploitative is outrageous and his remarks cripple responsible international cooperation and solidarity needed to lessen Covid-19 and save lives.

"What right does #US Sec. of State have to put pressures on sovereign governments to deprive their nationals from health assistance?" questioned Bruno Rodriguez, the Cuban Foreign Minister in an April 29 tweet.

"Despite efforts to discredit it, our doctors work is highly demanded and recognized in the world," Mr. Rodriguez wrote, saying further these are "times of solidarity, not meanness."

Over the last year the Trump administration has reinstituted a pressure campaign axed by former U.S. President. Barack Obama targeting Cuba's foreign health missions for eradication.

Cuban officials said this new attack aims to hide the failure of the pressure campaign against Cuba's health missions. The campaign included efforts to debunk the program and lure Cuban health professionals away from Cuba promising greener financial pastures in the U.S. health care system.

Between 2006 and 2016 according to reports, only 7,000 doctors defected to the U.S. out of the tens of thousands of doctors produced by the country.

An AFP report said Cuba earned $6.3 billion from its medical dispatches in 2018 and used the proceeds to finance its own universal health care coverage.

Cuba since the days of Fidel Castro has been training and providing medical doctors to countries throughout the Caribbean, Central and South America and the continent of Africa. Although a small nation, it has been big as a first responder on major disasters and humanitarian crises. The Pan American Health Organization said between 2005 and 2017, the brigade helped 3.5 million people in 21 countries affected by floods, earthquakes, hurricanes and epidemics, including the 2014 Ebola outbreak in West Africa.

During the tragic Hurricane Katrina that hit the U.S. Gulf Coast and killed 1,833 mostly poor and disenfranchised Black people, Fidel Castro offered to send 1,500 doctors to the U.S. to help with the relief effort. Then President George W. Bush rejected the offer. Four years earlier the U.S. rejected another Cuban government offer to send medical personnel to New York City immediately after the 9/11 attacks that killed 3,000 people in 2001.

In a release called "Get out Cuba's Way" a diverse group of organizations and individuals are calling on the U.S. government to not repeat history and allow the Cuban medical personnel on U.S. soil to help mitigate Covid-19.

"An aggressive blend of history, morality and integrity" is pushing the group to act, the letter said in part.

They are urging the White House, U.S. Congress and Senate to grant permission for the brigade to immediately come and provide hands on medical assistance in hospitals, clinics and other emergency installations. The letter signed by professional medical associations, activists and peace advocates is also requesting permission for the American Medical Association, National Medical Association and Black Nurses Association to work in conjunction and harmony with the Cuban medical team, once they arrive on U.S. soil.

The document also included a request that U.S. victims of COVID-19/SARS/COV-2 be given access to Interferon Alpha 2B, which was developed by Cuba's Center for Genetic Engineering and Biotechnology.

"This measure would be a step in concert with the other 45 Nations worldwide who have made a formal request for Interferon Alpha 2B," the release said.

Could Washington afford to be so honorary about accepting help from Cuba or anyone else during a pandemic that had its first known U.S. case in January, and by May over one million people infected and over 69,000 perished surpassing the 58,000 American soldiers killed fighting for almost a decade in Vietnam?

Many attribute the high Covid-19 figures to early dismissiveness of the Trump administration about the virus coupled with the politics of blame between Washington, Beijing and the World Health Organization.

"Politically the powers that be in the U.S. do not want to admit anything good about Cuba," said Mr. Heitzer.

He pointed out how mainstream media have been very quiet about Cuban contribution through its medical brigade. The Trump administration's focus has been to impose the U.S. 60-year official policy "'to bring about hunger, desperation and overthrow of government,' in Cuba," added Mr. Heitzer.

When Washington rebuffed Cuba's help with Hurricane Katrina, Fidel Castro in relevant and prophetic words said this is not a war between human beings but for the life of human beings, against disease and calamities.

"One of the first things this world should learn especially now, with the changes that are taking place and the phenomena of this type, is to cooperate," said Mr. Castro.