KOBE: His Life, Legend and Legacy of Excellence



By Richard B. Muhammad, Charlene Muhammad, Michael Z. Muhammad and Brian E. Muhammad Final Call Staff @TheFinalCall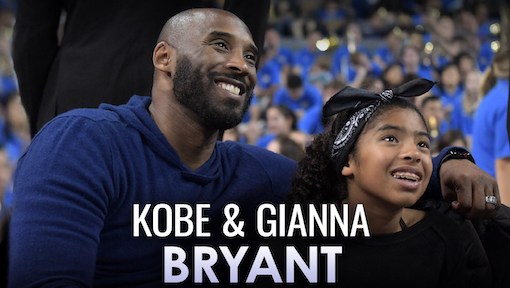 The world mourned the passing of legendary professional basketball player Kobe Bryant, his daughter Gianna, and seven others, who died in a tragic helicopter accident near Calabasas, Calif.

Condolences poured in from around the world as the basketball great was remembered as a doting, loving father, talented entrepreneur and an example of Black drive and excellence.

His final time with his daughter, a basketball player, was spent en route to a Jan. 26 practice at his Mamba Academy, where he coached and his daughter played. Kobe was 41 years old and daughter Gianna Maria Onore was 13.

"The death of Kobe Bryant is both shocking and sad not only for Laker fans, but really for all of the world," said Danny J. Bakewell, Sr., the chairman and executive publisher of the Los Angeles Sentinel, a weekly Black-owned newspaper in the city where the teen phenom made history. "This tragic death is a reminder of just how precious life really is and how we must embrace life, love and family and never forget what is really important."

In a statement, Los Angeles Mayor Eric Garcetti said Kobe inspired, amazed and thrilled people everywhere. "He will live forever in the heart of Los Angeles and will be remembered through the ages as one of our greatest heroes," Mayor Garcetti stated.

The helicopter, an S-76 owned by Kobe, crashed and caught fire at about 10 a.m. Pacific time, according to the Los Angeles County Sheriff's Department.





Rescue crews were on location within moments, but officials said it was too late to save anyone aboard.

"He's way too young," Laker legend Earvin "Magic" Johnson stated. "I was supposed to pass away before him. He's gone way too soon. It's a devastating loss for all of us."

Another Lakers legend, Kareem Abdul Jabbar, who played against Kobe's father, Joe "Jellybean" Bryant, said he was stunned.

"Most people will remember Kobe as the magnificent athlete who inspired a whole generation of basketball players," Mr. Abdul Jabbar tweeted. "But I will always remember him as a man who was much more than an athlete."

Born in Philadelphia in 1978, Kobe was initially drafted by the Charlotte Hornets with the 13th overall pick of the 1996 NBA draft, but forced a post-draft trade to the Lakers, stating it was the only team he'd join.

He spent his entire career with the Lakers, winning five NBA championships and the 2008 MVP Award. He topped Michael Jordan for third place on the NBA all-time scoring list in December 2014 and retired in 2016 after scoring 60 points in his final game.

His uniform numbers 8 and 24 were both retired by the franchise, making him the only NBA star to have two numbers retired with the same team. In 2018, Kobe earned an Academy Award for Best Animated Short Film for Dear Basketball.

The late superstar supported at least seven charities and foundations, including After-School All-Stars, Aid Still Required, Cathy's Kids Foundation, and the Kobe and Vanessa Bryant Family Foundation, where he and his wife are dedicated to improving the lives of youth and families in need, both domestically and globally.

The foundation provides financial resources and develops unique programs that serve to strengthen communities through educational and cultural enrichment opportunities.

Kobe is survived by his wife, Vanessa Laine Bryant, and children Natalia, Bianka, and Capri.

Memories and media failures

Thousands gathered outside the Staples Center in downtown Los Angeles to pay homage outside the house that Kobe built the night of his death. That evening the star-studded Grammy awards Jan. 26 were held inside the arena and the entertainment industry offered its tributes to Kobe. National Basketball Association games were played that night around the country and included remembrances of one of the league's greatest players. Dallas Mavericks owner Mark Cuban retired Kobe's jersey number 24, which will never be worn again by a player for the franchise.

Shaquille O'Neal, who won three NBA titles with Kobe and the Lakers from 2000 to 2002, tweeted that his late and former teammate was much more than an athlete. "He was a family man. That was what we had most in common," Mr. O'Neal wrote. "I would hug his children like they were my own and he would embrace my kids like they were his. His baby girl Gigi was born on the same day as my youngest daughter, Me'Arah."

Current Lakers star LeBron James was seen leaving the team's airplane in tears. He didn't address reporters.

Ken Miller, the publisher of the Inglewood, California-based Black newspaper, Inglewood Today, was in shock and devastated by the news.

Mr. Miller covered Kobe for years for the Los Angeles Sentinel.

"When Jerry West drafted Kobe at the age of 17, no one knew exactly what the franchise was getting," Miller stated. "I was so star struck by him by his air, by his intelligence, and he had a reclusiveness to him as well, that I just walked up to him and asked him for his personal cell phone. He gave it to me, and it was at a time when Shaquille O'Neill was gone, and the Lakers had just won three championships. He ultimately wanted to connect with the African American community."

Kobe's death brought up the ugly specter of race with spectacular failures in White mainstream media: It started when many viewers were sure MSNBC anchor Alison Morris described Kobe as a member of the "Los Angeles ni--ers" instead of the "Los Angeles Lakers." Her words broadcast Jan. 26: "Seems like he was just the kind of athlete, the kind of star that was perfectly cast on the Los Angeles ni--ers," she appeared to say, then repeated the "Los Angeles Lakers." A backlash came quickly and the broadcaster said she flubbed words and said "Nakers." She insisted she was trying to talk about the pro basketball's New York Knicks and Los Angeles Lakers at the same time.

"Earlier today, while reporting on the tragic news of Kobe Bryant's passing, I unfortunately stuttered on air, combining the names of the Knicks and the Lakers to say 'Nakers,'" she tweeted. "Please know I did not & would NEVER use a racist term. I apologize for the confusion this caused." But Kobe spent his entire career with the Lakers and had little connection to the Knicks.

Then BBC "News at Ten" used video of LeBron James instead of Kobe while reporting on his career. British lawmaker David Lammy tweeted, "Kobe Bryant and LeBron James don't even look similar. If the BBC hired more black producers and editors, appalling mistakes like this simply would not happen." The BBC later apologized for the "human error."

More anger exploded after a White, female Washington Post reporter dredged reports of a 2003 case in which accusations of rape against the basketball star were dropped and a settlement reached. The star athlete, who lost endorsements at the time, said the incident was consensual. Post writer Felicia Sonmez, via Twitter, put out a link to a 2016 news article about the incident.

The Post put her on leave and was reviewing whether the tweet violated the newspaper's social media rules. But Post managing editor Tracy Grant added, "The tweets displayed poor judgment that undermined the work of her colleagues." The reporter, who later deleted the posts, said she received 10,000 responses and some death threats.

Black Twitter was incensed and many saw it as another racial double standard and example of how Black athletes and stars are denigrated.

"A couple things stand out to me about Kobe, that says a lot about who he is was when he made the statement that 'if I'm known for being a basketball player only, then I have failed,' " said Reggie Williams, a Charlotte, N.C.-based professional sports consultant.

He recalled Kobe saying in 20 years he wanted "to be known for investing," which for Black athletes in an industry where sports figures end up broke is visionary. "He understood the business of it all and (that) it's all business when it breaks down," said Mr. Williams. "He was speaking of portfolio and investing financially, but also investing in people."

Mr. Williams spoke about the level of enthusiasm that Kobe displayed about moving to a new professional career post-basketball, which young athletes need to learn.

Race, reality and amplifying voices

With the 2012 killing of Black teenager, Trayvon Martin in Florida, other police shootings and the 2014 killing of Mike Brown, an unarmed Black teen in Ferguson, Mo., by a White cop, who was not charged with anything, race relations were heated in America and Black athletes spoke loudly.

The entire Miami Heat basketball team was photographed with heads down wearing hoodies in honor of slain Trayvon Martin. Later, the Los Angeles Clippers wore their warm-up jerseys inside out and then prior to the start of the game, left them balled up at center court as a symbolic protest of racist comments by then-owner Donald Sterling in 2014.

Kobe was criticized for comments about race attributed to him in a March 2014 New Yorker article, which he later clarified. In other statements, including the last interview before his death, he acknowledged the problem of racism and, in a heated time, the targeting of Black males.

"The system enables young black men to be killed behind the mask of law #Ferguson #tippingpoint #change," Kobe tweeted in 2014.

Trayvon Martin's mother, father, their attorneys, celebrities, community leaders, and youth marked the one-year anniversary of the verdict freeing their son's killer with a Peace Walk and Peace Talk at Los Angeles' Crenshaw High School in July that same year.

They strategized about ways to stop violence against Black youth, raise awareness about Trayvon Martin Foundation efforts to help mothers and fathers cope with the murders of their children, register voters, raise awareness about the importance of jury duty, and reach out to families suffering from tragedies.

Kobe joined rapper Nipsey Hussle, actress Jurnee Smollett Bell, actress and Reverend Omarosa Manigault for the program organized by Trayvon Martin's parents hosted by Big Boy of Power 106 FM.

Crenshaw High erupted into applause and a standing ovation when Kobe was introduced. He shared his personal battles as a pro basketball player to overcome adversity, injuries, pressures and challenges and how it could seem like the most significant thing in the world.

"However, when you step outside of that, and you look at Sybrina, Tracy and what they had to go through as a family, what they've come out of, that's true adversity. That's responding to true conflict and being true inspirations," Kobe said, as the room exploded into applause.

Athletes and those with influence have a responsibility to raise the voices of others, like Trayvon Martin's parents, he said.

Later in December 2014 in the aftermath of the killing of Eric Garner, a Black man in New York choked to death by White cops, Kobe took a stand. During a game he led his teammates to replace their Lakers jerseys with black "I Can't Breathe" t-shirts. Mr. Garner was on video pleading the words while being choked out by the N.Y. police.

The action was in unity with other NBA players around the league making the same statement.

"I think it's us supporting that movement and supporting each other as well as athletes," Kobe told ESPN after the game. "I think the beauty of our country lies in its democracy. I think if we ever lose the courage to be able to speak up for the things that we believe in ... we really lose the value that our country stands for."

"First of all, I have to give my condolences to the family on the tragic loss of our dear brother Kobe and his daughter, Gigi, and also the rest of the members that were on the helicopter," said Tracy Martin, the father of Trayvon Martin.

"It just shows that Kobe didn't feel he was bigger than life and that at the height of his career, he wanted to be engaged with the social injustices that were happening across the country, and Kobe certainly expressed his sentiments and how he felt about things that was happening to our young Black and Brown boys and girls," observed Mr. Martin.

Though one of the world's greatest athletes, Kobe didn't shy away from injustices like some do, he said. Whether it was happening in or outside of Crenshaw, or across the country, he was there, and that speaks volumes, Mr. Fulton said. "It was just a testimony to Kobe just to see that he was standing with us. It was just a testimony of who he was and it's just devastating, not only to the basketball world, but Kobe certainly touched the lives of many people outside of the basketball world just by being a fierce competitor," Mr. Martin said.

"Kobe certainly had that same tenacity, that drive to want to get justice served and so for that I'm forever in debt to Kobe. I'm forever grateful for crossing his path and doing some work with him. It's still unbelievable right now," stated Mr. Martin.

"He was very genuine, loving, kind, compassionate, and Kobe did a lot for not only the game of basketball. Kobe opened the eyes of so many people, near and far," Mr. Martin told The Final Call.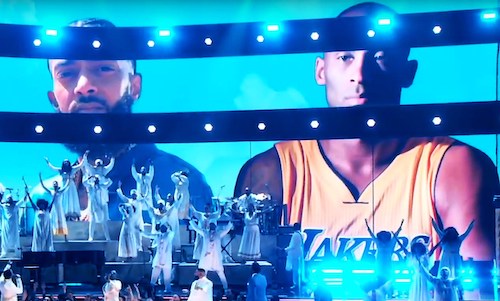 "It's just a tragic, tragic day. It's such a tragic loss," he continued, as he expressed thoughts about a historic photo from the Peace Talk, which included Kobe and Nipsey Hussle, the 33-year-old hip hop artist, visionary, entrepreneur and community builder, who was born Ermias Asghedom. He was killed assassination-style in front of his Marathon Clothing Store on March 31, 2019.

"I was looking at the photo and I was just saying that were there in Crenshaw in honor of Trayvon and many who have lost their lives, and as I looked at the photo, I just said, 'wow!' The same superstars that were there in honor of Trayvon have now perished, and I think the photo is just iconic," Mr. Martin concluded.

"Kobe Bryant actually did a lot to defy the odds at 17 years old. He bypassed what most Black athletes normally do and that is go straight into college and he defied the odds by going straight to the NBA," said Abdul Malik Sayyid Muhammad, Nation of Islam Western Region Representative and student minister for the Los Angeles mosque.

"And many of the big college coaches actually developed a serious dislike of Kobe Bryant, and many NBA players, as well as coaches," he added. "Kobe Bryant is just the proof that there's nothing more powerful than a made up mind, and so I think he took over into his game. He put every effort and energy into getting better, and he was blessed to come up with this slogan that people love today, the Black Mamba."

He recalled impact at the 2014 Peace Talk, which occurred after participants marched around the Crenshaw High School neighborhood. It was his first time meeting the star basketball player.

"I was shocked that Kobe Bryant came to the 'hood, because I never, and it was just unheard of that Kobe Bryant would come to the hood to deal with 'hood affairs, and hang with the community, and I was totally shocked and somewhat apologetic because I was a critic," he stated. Min. Sayyid Muhammad was impressed by Kobe's genuine concern and desire to help the community unite.

"Kobe Bryant will truly be missed you know because again he wasn't a flashy brother. When he did good; he didn't seek to be seen of men. When he did good he wanted to do good because it was in his heart, so he will truly be missed in the Los Angeles area. He was truly a Black giant icon for all races," he added.

Dennis Freeman, longtime L.A.-based sports writer and publisher and editor of news4usonline.com, exhaled deeply as he spoke about a young man he said he covered since 2004 until Kobe retired.

"He was just more than a basketball star breaking barriers. He was out fighting against the homelessness, before it became trendy. He was always meeting with young people, talking to young people, kids that were on Skid Row or kids living on the streets. Kobe's a once-in-a-generational individual," Mr. Freeman told The Final Call.

A global brand, a global presence

The world lost a giant in the death of a basketball legend and entrepreneur in a helicopter crash in dense fog on mountains of Southern California. Kobe was involved in global business and built a wide-ranging empire that includes a venture capital fund, multimedia production company, athletic training centers and books.

He was purposeful in his on court life and it translated into his off court life whether in business or philanthropic efforts, said analysts, admirers and commentators.

Kobe's star was still rising after he retired from basketball. He is among cultural icons whose contribution propelled them to a space where only a first name is needed. The Queen of Soul, "Aretha," the King of Pop, "Michael," in jazz it's "Miles," in hip hop "Biggie" and "Tupac" and now "Kobe."

"He embraced the power of sport to change people's lives," said Thomas Bach, the International Olympic Committee president. Kobe won gold medals in 2008 and 2012 leading the U.S. Olympic basketball teams. The first was in Beijing China where his presence brought popularity to basketball adding to the Olympics' purpose of breaking down barriers between nations. "After retiring from the game … he continued to support the Olympic Movement and was an inspiration for the Olympic Games LA 2028."

Kobe engaged the IOC body and was credited for successfully advocating Los Angeles being the official 2028 Olympic site.

"To have the Olympics here, and to have so many different cultures represented, would be a beautiful story to tell," Kobe told the media at one point.

Kobe was exposed internationally growing up by his father, a former NBA player who held professional coaching positions in Europe and Asia. The exposure resulted in Kobe becoming multilingual, and able to seamlessly flow between English, Italian and Spanish.

Shock gripped regions of the world over his death.
Japan has enormous respect for Kobe. Besides basketball, he touched the hearts of Japanese people when he donated money toward the Great Hanshin Earthquake recovery efforts in 1998. Then, in 2001, he traveled to Kobe, Japan, and was honored as friendship ambassador.

"This is so sad," said Dai Oketani, the head coach of the Sendai 89ers, a Japanese professional basketball team.

"Kobe not only played hard, but he also tells us how to work hard and how to get tougher. We just lost a special guy. R.I.P," he told the Japan Times.

In Africa, expressions of sadness came at the passing of their brother in America. "The EFF joins the international community in mourning the death of Kobe Bean Bryant," said South Africa's Economic Freedom Fighters political party in a Jan. 27 statement. The EFF noted how basketball, once dominated by Whites, has become a showcase for Black achievement.

"Against all the racism, collective humiliation and constant dehumanization of black people, Bryant and his generation of Sportsman stood for Black excellence," said the EFF statement. "He is a flag that Blacks across the world will continue to raise at the face of all White Supremacy that doubts our ability & humanity."

In a Jan. 26 tweet, Liberian President George Weah, a former soccer star, sent condolences to Kobe's family and colleagues. "This is not only a sad day for them, but for the entire sports world, as we are all devastated by this tragedy," said the West African president. He added that "the world has lost a great soul whose legacy will live on and serve as an inspiration for generations to come."

(Stacy M. Brown of the NNPA Newswire and Final Call staff contributed to this report.)