Disasters gather, plague America

By Brian E. Muhammad Staff Writer @globalpeeks |


Warnings, preparation and states of emergencies were declared by the governors of Florida, Georgia and North and South Carolina as Hurricane Dorian was expected to slam into the United States southeastern coastline and travel northbound along the coast after leaving behind devastation in the Bahamas.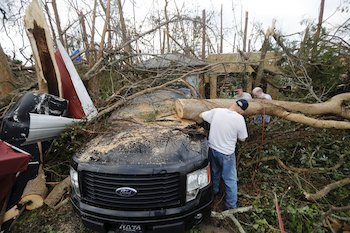 People cut away a tree that landed on a vehicle in the aftermath of Hurricane Michael in Panama City, Fla., Oct. 11, 2018. Photo: AP Photo/Gerald Herbert



At Final Call presstime, a "cone of uncertainty" traveled up the Atlantic Ocean spinning its way toward America at a time of increasing calamities. The entire state of Florida was put on alert as people rushed to board up houses, businesses and other structures. Gas had to be trucked in from nearby states as pumps ran dry with Floridians filling their tanks and bracing for any possible evacuation. Uncertainty as to the exact path of the hurricane had weather experts unsure of exactly where it would strike and do the most damage. However, said experts, the damage and aftermath was of great concern.

President Donald Trump promised the "best people" were in place for the disaster, but admitted the odds seemed to be in favor of substantial destruction. "Should Hurricane Dorian strengthen into a Category 4 storm and come ashore on Florida's Atlantic coast, it will be the strongest hurricane to hit the state's eastern coast in nearly 30 years. Since the late 1800s, only eight Category 4 and Category 5 hurricanes have made landfall on Florida's east coast. With Hurricane Dorian forecast to become a Category 4 storm as it makes its approach, it may become the ninth. The last hurricane of this magnitude to hit Florida was Hurricane Andrew, which hit 27 years prior in 1992," reported Accuweather. Andrew caused between $25.3 billion and $32 billion in destruction for Florida and was the most expensive hurricane to hit Florida when it struck. Sixty-five people were reported dead.

The U.S. should expect multiple days of danger from Hurricane Dorian reported The Weather Channel. "Regardless of the track, high surf and coastal flooding will be an issue," the network reported. The flooding was expected to affect areas most prone to it including Virginia Tidewater, southern Delmarva Peninsula, Delaware Bay, parts of the Jersey Shore, Long Island Sound and coastal eastern New England. Even if Dorian spares America a direct hit, it will still be damaging. AccuWeather estimates the total damage and economic loss would be $8-10 billion.

"Much of those costs are a result of losses to the travel and tourism industry, including canceled vacations, canceled flights, lost revenue to hotels, cruise lines diverted, and expenses in preparation for the storm. Possible flooding and storm surge to coastal areas in the Southeast will also be a factor. Citrus crop and vegetable damages could also occur," noted accuweather.com. Over 1,100 flights had been cancelled as of Sept. 2 and three of Florida's airports had shut down. Over one million people across at least three states had been ordered to evacuate their homes.

As states braced themselves, people also have to adjust themselves for the event and the aftermath. "I would say that it's never too late to start to prepare yourself and your family. Having a little something is better than having nothing," said Alva Muhammad, a Chicago-based disaster preparedness instructor.

"It's only going to get worse …not better. We're never going to have a time when there will be no extreme weather," she explained.

With disasters striking with more frequency and intensity, many wonder why America seems to be suffering from acts of God and wonder if there is any prospect for relief?

For decades the Most Honorable Elijah Muhammad, patriarch of the Nation of Islam and his national representative, Minister Louis Farrakhan, have warned God has weaponized weather and is using it to chastise America for past and present injustices against the Black descendants of slaves and the Indigenous people which the country has decimated.

"The forces of nature are great weapons as we see them in play upon America," said Elijah Muhammad in his book The Fall of America, published in 1973.

"Watch the weather," Minister Farrakhan has repeatedly warned. "God doesn't fight with your cheap weapons! God fights with the forces of nature: rain, hail, snow, wind, drought. He uses the insects and the animals and turns nature against you. You can't win in a war against God."

The United States is number one on God's list to be destroyed and severe weather will be used to help bring the country down, according to the Teachings of the Honorable Elijah Muhammad.


Others connect the disasters to global climate change.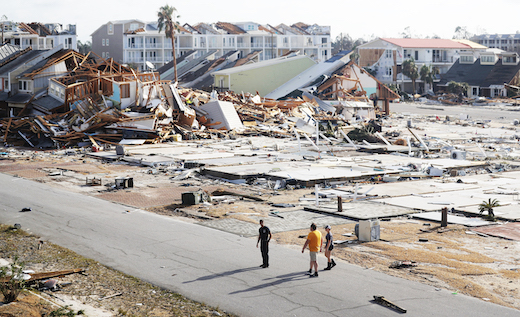 Rescue personnel perform a search in the aftermath of Hurricane Michael in Mexico Beach, Fla., Oct. 11, 2018. Photo: AP Photo/Gerald Herbert
A May 2018 Pew Research paper said a majority of Americans believe global warming is manmade and the federal government has been neglectful in combatting climate change.

Pew said 53 percent of Americans say the earth is getting warmer mostly due to human activity like burning fossil fuels. However, roughly 29 percent attribute the warming to "natural patterns" in the earth's environment and another 17 percent say there is no solid evidence of global warming.

The report said 69 percent of Americans feel vital resources like water are not adequately protected and 65 percent believe the same about air quality. Overall 67 percent said the government is doing too little to reduce the effects of climate change.

Over the last year America was afflicted by deadly wildfires on the West Coast, and bone numbing cold from a Northeastern vortex gripped New York on the East Coast after sweeping the Midwest, affecting Illinois, Minnesota, Iowa, Wisconsin and North Dakota. In addition to fires and the bitter cold, havoc making tornadoes crisscrossed America and menacing floods further compromised aging infrastructure.

With great loss of property and lives, the financial toll disasters take on America is steep, according to a 2019 National Oceanic and Atmospheric Administration National Centers for Environmental Information report that tracks the costs of weather and climate disasters.

The center said as of July, 2019 there were six weather and climate disaster events with losses exceeding $1 billion each across America. These events resulted in 15 deaths and had significant economic impact. Since 1980, America has experienced 250 disasters at a cost of $1.7 trillion.

In light of Trump administration slashing of the Department of Homeland Security budget that oversees the Federal Emergency Management Agency, financial aid to states already hit by disasters is being affected.

Two years after Hurricane Harvey ravaged Texas, federal assistance has not fully arrived.
"We lost over 300,000 housing units. Two years later we are still waiting for the federal resources to do flood mitigation projects," said Dr. Abdul Haleem Muhammad, Southwest Regional Representative of the Honorable Minister Louis Farrakhan and student minister of Mosque No. 45 in Houston.

Minister Haleem Muhammad told The Final Call the business and philanthropic community raised over $110 million in the aftermath of the 2017 disaster while people waited for FEMA money. "Though Houston rebounded faster than most areas hit by disasters, we still have a long way to go," he said.

September is recognized as National Preparedness Month to emphasize the need for disaster and emergency planning.

The 2019 theme is "Prepared, Not Scared" and is part of the Dept. of Homeland Security "Ready Campaign" to educate and empower Americans to prepare for, respond to and mitigate emergencies, including natural and manmade disasters.

Professional practitioners of disaster management said the public and Black people, especially, are not prepared for disasters.

With millions of people living in vulnerable coastal cities on the Southeast border of the United States, aid and assistant groups like the American Red Cross were prepared for the disaster before it arrived.

While Dorian was still wrecking destruction in the Caribbean, some 2,600 people stayed in 60 Red Cross and community evacuation shelters in Florida.

"We are mobilizing over 1,600 trained volunteers from all over the country, 110 emergency response vehicles, and 99 tractor-trailer loads full of relief supplies, including cots, blankets and 63,000 ready-to-eat meals," Jenelle Eli, American Red Cross director of international communications told the Final Call in an email.

Ms. Eli explained that Red Cross shelters are open to everyone , and all disaster assistance is free. It doesn't require people to show any kind of identification to enter a shelter— just their name and pre-disaster address.

"You have to be aware before you can begin to prepare," said Yusef Muhammad, past president of the International Association of Black Professional Fire Fighters. "Many of our people wait until the last minute to prepare—if at all," he said.

Yusef Muhammad offered steps to prepare for disasters: (1) Get informed; (2) Develop a plan: (3) Have a survivors kit for your home and a "go to bag" of essentials for each person in your family in case you must evacuate; (4) Periodically reassess the plan and the kit.

Mosques, churches and organizations can team up with local Emergency Management offices and fire departments where courses and training are offered to become part of a Community Emergency Response Team.

"It's really about networking … because all of us can't do everything, but if we know who's doing what in terms of their expertise … we can help each other save lives," said Yusef Muhammad.

Alva Muhammad agreed. She said people must think about being prepared for long term survival. "We have to grow our own food and preserve our own food," she said. "We have to be prepared for a time when there are no modern services and it is just us, until we can take our rightful place." She told The Final Call that along with stocking up on water, food and first-aid supplies people should learn medical skills.

While the physical toll of damage is readily assessed, the psychological and spiritual damage caused by disasters must also be considered. There are actions that can be taken to promote mental stability in time of disaster, say experts.

Looking after vulnerable members of the community, such as the elderly, and maintaining calm are key.

"Another one is self and collective advocacy … focusing on the fact that there are things that we can do on our own and in collaboration with our family members, neighbors … to try to maintain as much normalcy in our lives as possible," said Dr. Annelle Primm, chair of the All Healers Mental Health Alliance, a national network of mental health professionals, health advocates, first responders and faith leaders.

Dr. Primm said keeping a sense of hope, maintaining connectedness and avoiding isolation are important. "Keeping all those things in mind as we and our families anticipate disaster is important (and) will help to guide our actions," she said.

Most Americans are economically ill equipped to handle a crisis, according to the Economic Well-Being of U.S. Households, an annual report issued by the Federal Reserve. Four in 10 adults, if faced with an unexpected expense of $400, would either not be able to cover it or would cover it by selling something or borrowing money, the report said.

Such people would especially be ill-prepared to care for themselves and their families in the wake of a disaster. Blacks, who lag behind economically, often fare worse in times of emergency, not being financially able to withstand a disaster.