Hell, high water and a struggle to survive
By Brian E. Muhammad - Staff Writer |
COLUMBIA, S.C.—The destruction of land, property and the interruption and loss of life came with what meteorologists characterized as the "storm of a lifetime" and worst hurricane in recent years.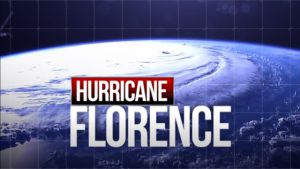 But, placed in the social context of history and the southern states it touched, some asked if the onslaught of Hurricane Florence was divine judgement against America.
The Most Honorable Elijah Muhammad, patriarch of the Nation of Islam, cautioned God is angry about America's long and bloody history of injustice, persecution and oppression. In his pivotal book, "The Fall of America" published in 1973, Mr. Muhammad wrote God will deploy rain, hail, snow and earthquakes to chastise and break the power of America.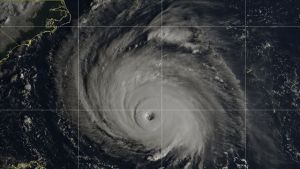 "We see them now covering all sides of America, as the Holy Qur'an prophesies curtailing on all her sides. And these judgments would push the people into the center of the country, and there they would realize that it is Allah (God) Who is bringing them and their country to a naught," wrote Mr. Muhammad.
He said God will use the snow and ice as a weapon in a day of war against the wicked. "All up and down the coast to the Carolinas, the rain takes up where the snow leaves off," Mr. Muhammad wrote.
All around the southern border of America, storms raged. There were tornadoes and heavy rains and more storms were on the way—one right after another.
Virginia, Georgia, North and South Carolina have a long history of mistreating Black people.
In recent times, the Honorable Minister Louis Farrakhan, Mr. Muhammad's national representative, has echoed the warnings, to watch weather God has weaponized.
Hurricane Florence did a menacing slow dance across the Atlantic Ocean, taking its time before making landfall at Wrightsville Beach in North Carolina. It wreaked havoc on other coastal towns in North Carolina and that was only the beginning.
Florence's winds weakened as it drew closer to land, dropping from a peak of 140 mph before downgrading to a Category 1 hurricane from a terrifying Category 4. It was later downgraded to a tropical storm but it still punished the Carolinas and other parts of the East Coast.
National Weather Service forecaster Brandon Locklear said in a video briefing North Carolina would see the equivalent of up to eight months of rain in a two to three-day period. Several lives were reported lost in the days to come.
By Final Call press time, Accuweather reported at least 22 people died, including a mother and infant killed after a massive tree split their home in Wilmington, North Carolina.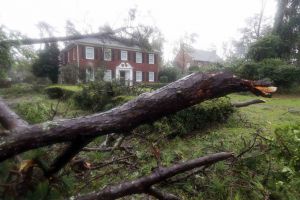 Toppled trees land in the yard and on a home in Wilmington, N.C., after Hurricane Florence made landfall, Sept. 14. Photo: AP Photo/Chuck Burton
The National Weather Service said remnants of the storm will hit the Northeast and mountain regions of southern Virginia could also see flooding potentially experience mud and landslides from Florence's heavy rains.
"Remnants of Florence will be pushed towards the Northeast where areas from Northern Pennsylvania through central New York towards Boston could pick up some heavy rain," said CNN Meteorologist Michael Guy.
In the days leading up to Florence making its way to the U.S. coastline, state of emergency and mandatory evacuation orders were issued by the governors of Virginia, North Carolina and South Carolina with nearby Georgia closely monitoring the storm.
More than a half a million people were estimated to have evacuated, while others opted to "ride it out."
Myrtle Beach resident Monique Burgess decided to leave for Orlando, Fla., where she has a brother.
"It was a last minute decision. I typically do not evacuate," Ms. Burgess told The Final Call.
She left with her 72-year-old mother and two teenaged sons. Like many people who live along the coastline, hurricanes are nothing new for her.
Conway, S.C. educator and high school coach Michael Hopkins, 58, preferred to stay. "We are hunkered down right here," Mr. Hopkins said. He remembered going through Hurricane Hugo in 1989 when he evacuated to Columbia which was hit harder by that storm.
"I'm trusting and believing … opening the house up to anybody who don't have anywhere to go or don't feel safe at their dwelling," he added. The coach said his family has a generator and food, but also "understands this is God's will too."
Hurricanes are not new in these areas, but the patterns and magnitude of Florence were erratic. Government and public safety officials weren't taking anything for granted. They began mobilizing quickly ahead of the disaster.
Common advice to residents was "prepare for the worst and hope for the best" and officials implemented special state of emergency rules.
While forces were being marshaled in effected states for Florence, a magnitude 2.6 earthquake struck McCormick S.C. on Sept. 13 near the border with Georgia, according to the U.S. Geological Survey. The agency said it was the fifth this year. The largest earthquake in the area was a magnitude 5.1 in 1916. Moderately damaging earthquakes strike the Carolinas inland every few decades, and smaller earthquakes are felt about once each year.
As Hurricane Florence slowed to a crawl meteorologist said that meant a life-threatening storm surge and excessive rainfall over a wider area for a longer period of time.
In North Carolina, live video of bending trees, flooded streets and homes with people who decided to wait it out were seen on weather networks.
Hundreds of calls inundated the North Carolina Emergency Management Agency requesting rescues of people trapped with water levels rising in their homes. Thousands were in the dark as electric power went out.
Other images showed an American flag withered and torn, appearing to be overcome by the high winds of Florence.
Although state and local city officials in the affected states united to address the advancing storm, President Donald Trump chose the timing of Hurricane Florence to politicize and deny official death toll figures from last year's Hurricane Maria that crippled Puerto Rico.
Mr. Trump has been embroiled in controversy over federal handling of the disaster that initially reported 64 deaths, which later rose to 3,000 fatalities.
With Hurricane Florence President Trump declared a major disaster in North Carolina and South Carolina and approved Federal aid for the states. FEMA, the-Federal Emergency Management Agency website said the money supplements recovery efforts in the affected areas.
Federal funding is available to state and eligible local governments and certain private nonprofit organizations on a cost-sharing basis for emergency protective measures, FEMA said.
A Sept. 11 Bloomberg.com article predicted Hurricane Florence will be among the top ten costliest disasters on record, costing an estimated $27 billion in damages when done.
Tony Thompson looks at damage at his mobile home, Sept. 16, in Newport, N.C., following Hurricane Florence. Thompson lost his home and most of his possessions. Thompson says he feels lucky to be alive. Photo: Robert Willett/The News & Observer via AP
But, estimated insured losses were lower, ranging from $3 billion to $5 billion, according to CoreLogic a data and analytics company. Goldman Sachs, a Wall Street bank, said they could go as high as $10 billion to $20 billion, reported USA Today.
Statistics from the National Hurricane Center showed among United States hurricanes, Katrina at $160 billion was the costliest storm on record followed by Hurricane Harvey ($125 billion), Hurricane Maria ($90 billion), Hurricane Sandy ($70.2 billion) and Hurricane Irma ($50 billion).
In 2017 alone, there were a total of 16 "billion-dollar" weather events in the U.S., costing a cumulative $306.2 billion, breaking the previous record of $214.8 billion in 2005, said Bloomberg.
Serious questions arose about the fate of thousands of inmates at prisons in mandatory evacuation zones.
Media reports began circulating about South Carolina not relocating inmates to facilities in safer areas despite Governor Henry McMaster telling the press Sept. 11, "we're not going to gamble with the lives of the people of South Carolina. Not a one."
The State Newspaper said South Carolina Department of Corrections Spokesperson Dexter Lee admitted inmates would not be moved. "Right now, we're not in the process of moving inmates," Mr. Lee said. "In the past, it's been safer to leave them there."
Newsweek reported Virginia evacuated 1,000 inmates from one facility and elected to keep inmates in place at other jails, ordering additional food and medicine.
By early evening Sept. 14, the day the storm struck, 650,000 people were without power in North Carolina and tens of thousands were without electricity in South Carolina.
This is part of the challenge states face in emergency situations, said experts. Many people are not prepared when disasters come.
"You have to have a plan," said Shahid El-Shabazz, owner of S2 Consulting Services.
In disaster emergencies, people must understand how much they are on their own and have knowledge of how federal and state agencies operate, he said.
"There are not enough emergency response or public safety personnel to save everyone," Mr. Shabazz said. "If you don't prepare for yourself, for your family, for your loved ones, not everyone is going to be saved."
Mr. Shabazz has been in the fields of law enforcement, security, emergency management and emergency preparedness for 30 years. "You have to have a plan," and practice it before an emergency happens, he stressed.
Yusef Muhammad, former president of the International Association of Black Professional Fire Fighters, agreed. Knowledge is paramount to handling and surviving disasters, he said. "You have to be aware before you can prepare," he added.
Yusef Muhammad suggested four steps: Get informed. Develop a plan. Prepare an emergency kit or go bag in case you have to evacuate. Reassess your plan over time and make sure your survival kit is up to date.
"It has a way of bringing people from all walks of life together, because we all want to live, to survive," observed Yusef Muhammad.