Minister Farrakhan, social media and the awakening of the masses
By
Jesse Muhammad
-Final Call Social Media- | Last updated: Jun 19, 2018 - 11:41:01 AM
What's your opinion on this article?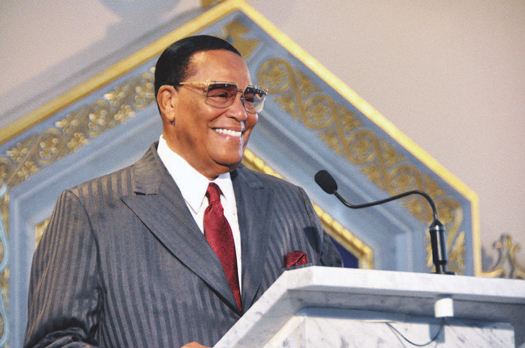 The Honorable Minister Louis Farrakhan speaks at Mosque Maryam in Chicago, IL May 27, 2018.
Those who vehemently oppose the Honorable Minister Louis Farrakhan recognize the global impact he has and is having on the masses via an array of social media platforms and they won't stop until his accounts are completely shut down.
"Zbigniew Brzezinski, who was a national security adviser, I think under Jimmy Carter, he said, 'It's easier to kill a million people than to control a million people.' With the technology that's now available: You and I are talking, and the words that we just spoke are on social media," said Minister Farrakhan during a recent radio interview in St. Kitts.
"If it's on Facebook, if it's on Instagram, if it's on Twitter, if it's on any of the media outlets that this iPhone and smartphone, and the work of Steve Jobs and others have done, the whole world is at our fingertips in an instant. The control of the masses that has always been the purview of elites who control media and information that goes to the public—that's over now!"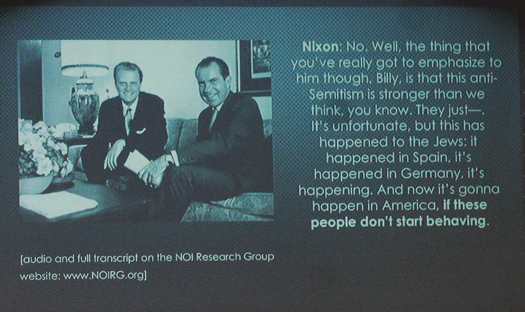 Slide presentation shows President Richard Nixon and Evangelist Billy Graham in a discussion on the growing moral degradation in America. Mr. Graham expressed fear that Jewish controlled entities were the source of the moral decline
He continued, "So what you have in Black America, in the Caribbean, in the UK, in Africa, all over the world, is an instant communication that is causing the awakening of the masses. This is both good and bad. It's good that we are awakening, which means we are demanding more, we are trying to correct the mistakes that we make, but we are also forcing government to do what government does not want to do for the masses of Black and Brown people."
Evidently, the Satanic Jews and Synagogue of Satan hate the sight of his words, videos and images trending and spreading on Twitter, Facebook, Instagram or YouTube and generating millions of views. They hate to see daily comments and testimonies from those who are instantly touched by him on every continent. So, it's no surprise that specifically the past eight months the online campaign to ban Minister Farrakhan has intensified. However, they have been countered by online users inside and outside the Nation of Islam who support Minister Farrakhan and have appreciated his presence on social media the past seven years.
De-verification and Defending Farrakhan
On June 8, Twitter, Inc. de-verified Minister Farrakhan's Twitter account (@LouisFarrakhan) by removing his blue verification badge. While the opposition celebrated the decision, supporters of Minister Farrakhan found it to be a frivolous attempt to derail his social media reach; boldly declaring that he is verified by God and verified in the hearts and minds of the people.
According to their website, "The blue verified badge on Twitter lets people know that an account of public interest is authentic" and "a verified badge does not imply an endorsement by Twitter."
According to their Terms of Service, "Twitter reserves the right to remove verification at any time without notice. Reasons for removal may reflect behaviors on and off Twitter that include:
Intentionally misleading people on Twitter by changing one's display name or bio. Promoting hate and/or violence against, or directly attacking or threatening other people on the basis of race, ethnicity, national origin, sexual orientation, gender, gender identity, religious affiliation, age, disability, or disease. Supporting organizations or individuals that promote the above. Inciting or engaging in harassment of others. Violence and dangerous behavior. (Directly or indirectly threatening or encouraging any form of physical violence against an individual or any group of people, including threatening or promoting terrorism. Violent, gruesome, shocking, or disturbing imagery. Self-harm, suicide.)"
Why is Minister Farrakhan's account de-verified then?
Many news outlets reported that Minister Farrakhan's blue verification badge was ultimately removed due to a video posted to his account on June 6 with the caption, "Thoroughly and completely unmasking the Satanic Jew and the Synagogue of Satan." The clip, only a minute and a half in length, is from the May 27 address he delivered at Mosque Maryam in Chicago.
"I wonder will you recognize Satan. I wonder will you see the Satanic Jew and the Synagogue of Satan which has many races in it because Satan has deceived the whole world," said Minister Farrakhan in the posted video, which has over 800,000 views.
"Think about the message that I was blessed by God to give you today. Think about what they're going to say when they have been so thoroughly and completely unmasked. Whenever you read that God has told the Jews to hear and obey and they say, 'I hear and I disobey,' that's Satan openly disobeying God. He's prepared to take the whole world down with him. Come out. Come out of her my people," he continued.
The Anti-Defamation League and others, such as CNN's Jake Tapper, started attacking the entire message and that video clip in particular as being "hateful" and "anti-semitic." Twitter, Inc. then started receiving numerous reports from those who flagged the video in hopes it would be removed for so-called violations of Twitter's policies.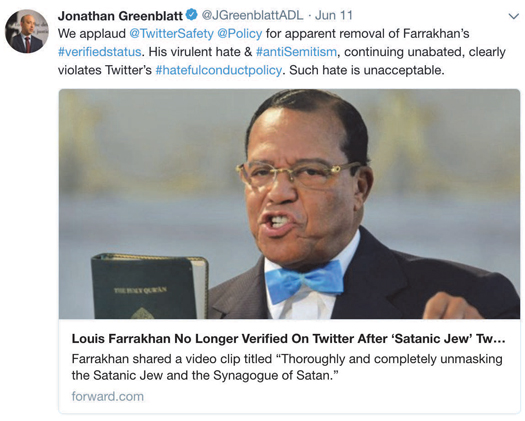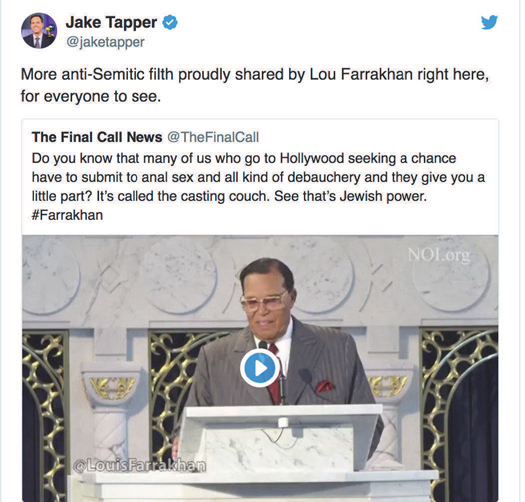 However, the email account connected to Minister Farrakhan's Twitter page received multiple notifications from Twitter, Inc. with the following confirmation: "We have received a complaint regarding your account, @LouisFarrakhan, for the following content. We have investigated the reported content and could not identify any violations of the Twitter Rules (https://support.twitter.com/articles/18311) or applicable law. Accordingly, we have not taken any action at this time. Sincerely, Twitter."
Many such as former Daily Mail reporter Karen Yossman tweeted out that they reported the same video yet received the same response from Twitter. If Twitter and their executives found no violations of their policies or terms of services in that video, what's the motive for de-verifying Minister Farrakhan? Who is behind this?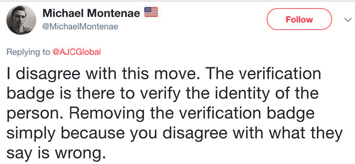 In his latest Youtube video titled "The Internet Slave Patrol Attack Free Speech," Nation of Islam Research Team member Ilia Rashad discussed how the Anti-Defamation League and the Southern Poverty Law Center have heavily inserted themselves into Silicon Valley to advise Twitter, Facebook, Google and Amazon on the issue of "online hate;" which is really a tactic to take control of that which has freed the masses from the control of the elite.
"The same slave patrol-like groups, including the ADL, who have led the FBI to attack progressive Black movements, are the same thought police leading the restrictions against Minister Farrakhan and our online content," said Mr. Muhammad in the video. "They've un-verified Minister Farrakhan's Twitter account. They've restricted our videos. They limit our post exposure. While they work to silence the voice of truth, let's do our part to utilize our platforms and spread Black love and Black unity."
"The Honorable Minister
@LouisFarrakhan
was already verified before
@Twitter
verified him. His WORK has verified him, should you better be worried about being verified with the God," tweeted Brother Ben X, who frequently uses his popular social media accounts to spread the messages of Minister Farrakhan and to defend him. "A lot of people love to throw 'anti-Semitic' on
@LouisFarrakhan
but I have yet to see anyone show and prove how what he's saying is incorrect or made up."
Farrakhan immeasurable e-reach
Minister Farrakhan's presence on social media cannot be taken likely especially with so much opposition coming against his pages. His Twitter account has been active since March 2011 and his #AskFarrakhan Q/A's became rapidly popular; often trending in the top ten topics. It wasn't until 2013 that Twitter decided to verify his account, however, it was only due to multiple complaints sent to the company after Minister Farrakhan's account strangely lost tens of thousands of followers in a matter of 24 hours. The company gave no reasoning for the loss in followers and since, Minister Farrakhan's follower count has been stifled.
His Facebook was blocked for over a week in mid-2016 due to the opposition repeatedly flagging a clip from the Justice Or Else! Tour that dealt with separation. His Instagram page has also been targeted with a few recent videos dealing with the Talmud removed without explanation. The Youtube.com link to his Saviours' Day 2018 keynote address has been flagged as well.
This is to be expected and none of it has slowed Minister Farrakhan's impact, which is why he continues to be openly attacked and makes news headlines just from short tweeted statements or a video clip posted on his Facebook page to his over one million followers. His pages—coupled with The Final Call and Nation of Islam's Youtube channels—are consistently generating millions of views and uniquely touching lives.
"The Honorable Elijah Muhammad said to me, 'If the enemy took out a full page ad in the New York Times, and cursed me out word for word and line by line, they would only help me.' As it was with my Teacher, so it is with me," tweeted Minister Farrakhan on March 13 in response to distractors outraged by his Saviours' Day address. "The more they knock me, the more I am boosted, by the Grace of God."
"The ban on Farrakhan is the greatest sign that he is feared, because of his message to the rulers of darkness. Yet; they cannot keep the people from searching for a method to hear his message. The Minister told me 35 years ago he would reach millions one day and never have to leave his home. This is that moment. Millions are inspired by his message," posted Imam Abdul Malik on Facebook after a pre-recorded video from Minister Farrakhan was banned by the UK from being played at a rally last summer.
"Sir, we see your videos on youtube, we follow your true religious teachings, we appreciate your doctrine that aims at empowering black people, the truth you are sharing with millions is slowly getting recognition, thank you," tweeted Nkululeko Mfecane of Western Cape, Cape Town, South Africa.
"It's amazing for me to see our people continue to bash Minister Farrakhan, but can't name a more consistent organization than his. Also I have not seen anyone attempt to bring together all aspects of those that have been oppressed in America like he has," tweeted @WillSayWatEva. "I have a feeling we won't appreciate Minister Farrakhan until he is gone and we don't have a figure like him fighting white supremacy."
"I can't begin to explain how much this man has taught me...through a computer screen...how to live, how to eat, how to treat a women, how to serve god, how to be the best I can be....I want to say thank you but thank you isn't enough. I love you Minister ♥ thank you so much," tweeted @realrightpmg.
"I could never thank you enough sir, hearing your speeches and words of truth, saved my life and kept me from killing myself. i thank Allah for you. I'm forever grateful and will always base my life off the principles you taught," expressed one of his Instagram followers in a private direct message.
"Minister Farrakhan, you're the realest. The more they attack you, the more I've been wanting to learn more about you and Elijah Muhammad and the NOI. I'm glad I have started studying y'all because at the age of 20 I now have someone I can pattern my life after. You're saving lives and that's why they are upset," posted Ashley Johnson on Facebook.