World War III in slow motion?
By Askia Muhammad -Senior Editor-
What's your opinion on this article?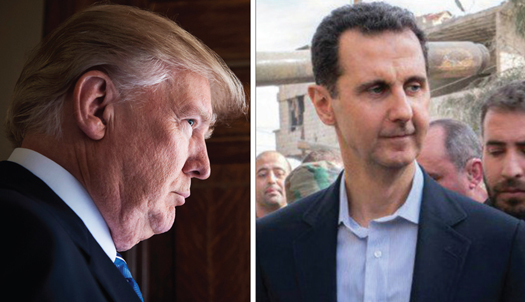 President Donald Trump takes a moment before taking the stage during a Memorial Day ceremony at Arlington National Cemetery in Arlington, Va., May 28, 2017. (R) Syrian President Bashar al-Assad is surrounded by soldiers of Syrian army as he visits a front line area in Damascus' Eastern Ghouta area, Syria, March 18.
WASHINGTON—United States military forces, joined by the United Kingdom and France, launched hundreds of military strikes against Syria, ostensibly to punish Syrian President Bashar Assad, for his alleged use of chemical weapons, a year after a similar attack last year. President Donald J. Trump quickly declared via Twitter: "Mission Accomplished."
World War III is "happening in slow motion," George Galloway, a former member of the British Parliament said on his Mother of All Talk Shows. "It appears we have a political leadership that's in quite a hurry to get to Armageddon," said Mr. Galloway.
Many observers contend that the alleged April 7 chemical weapons attack on Syrian civilians either did not happen, or was a "false flag" operation by forces made to appear to be loyal to the Syrian government, while in fact their intention was to justify U.S. air strikes against the Damascus government.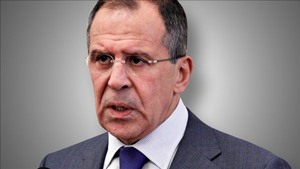 Russian Foreign Minister Sergei Lavrov
Russian Foreign Minister Sergei Lavrov reinforced his government's narrative that Moscow had "irrefutable evidence that this was another staged event, and that the secret services of a certain state that is now at the forefront of a Russophobic campaign was involved in this." He did not identify the state. The Russians said there was a UK-funded Syrian medical group called the "White Helmets" which faked the April 7 attack in Douma with the help of the British government.
He claimed Britain told the White Helmets, who work as first responders in rebel areas, to fake the alleged attack. He released statements purportedly from medics at Douma's hospital who said a group of people with video cameras entered the hospital, shouting that it had been affected by chemical weapons. The medics said no patients had been affected by chemicals.
"It is not entirely clear that there was an attack," Republican Virginia State Senator Richard Black said in a speech on the Virginia Senate floor April 11. "There was a doctor, from the hospital—from the main hospital in Douma—who has said, 'We haven't received any casualties. Nobody has been sent in.' The U.S. has decided that regardless of whether there was an actual chemical weapons attack, 'we are going to attack Syria and, escalate our war in Syria.' "
Some Russian officials also questioned whether or not any chemical attack even took place, as did U.S. journalist Mike Cernovich. "Magic gas that only kills women and children. And also disables all cell networks so that no one is able to post any videos from the ground," Mr. Cernovich rhetorically asked his 400,000-plus Twitter followers.
"If President Trump attacks Syria under a false flag operation, if Mr. Trump goes the way he is presently going, it would be like taking a gun and putting it to his head and to the head of America, and to the head of the Western world," the Honorable Minister Louis Farrakhan said April 13, during an interview with Freedom FM 106.5, St. Kitts and Nevis. "The Western world will not survive this war. So, once the war is started, the end of this present world has arrived."
"President Trump's decision to strike Syrian forces was impulsive, dangerous and a clear violation of domestic and international law," Jon Rainwater, executive director of 61-year-old Peace Action said in a statement. "This attack endangers U.S. forces in the region, and invites escalation from Russia, Iran and Syria.
"Syrian civilians need humanitarian aid to alleviate the suffering and desperation caused by years of war. Syrians need refuge in safer countries, refuge that Trump has refused them. Syria needs sustained, multilateral diplomacy to end the war and achieve a lasting political solution. Above all, Syria needs peace, and missiles have never brought peace."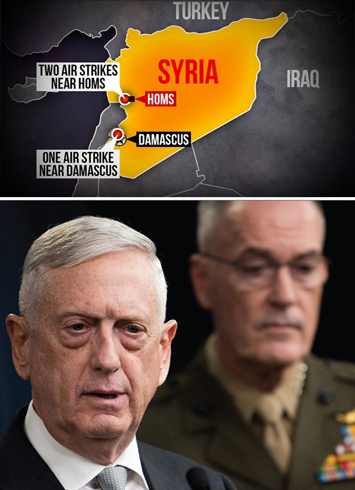 Defense Secretary James N. Mattis and Marine Corps Gen. Joe Dunford, chairman of the Joint Chiefs of Staff, brief reporters on the current U.S. airstrikes on Syria during a joint news conference at the Pentagon, April 13.
The April 13 attack is like a return to the "Bad Old Days" of "gunboat diplomacy," according to Brian Becker of the International ANSWER Coalition. "Gunboat diplomacy refers to that 50-year period in the 19th century where the British government imposed a reign of terror on their colonial Chinese subjects by having British gunboats, threaten and bomb and kill people," Mr. Becker told The Final Call.
"Gunboat diplomacy is back in full swing with England, the United States, successive U.S. governments. The indications that we have so far of the air strikes we have in Syria is that they are illegal. They lack UN Security Council authorization. They lack U.S. Congressional authorization. They were thus an act of aggression.
"They were a violation of international law. They were in fact a war crime. The U.S. is trying to send a message to the Syrian people: 'Don't you dare believe that you can become the masters of your own destiny. We, the American government will use limitless violence to make you succumb to our desires.' "
"Syrian civilians need answers, provided through an independent investigation, about who attacked them with chemical weapons, and how those parties will be held to account for their crimes," said Mr. Rainwater.
"Sadly, we've grown accustomed to a president with little regard for the law, and to a Congress with little interest in enforcing it," he continued. "President Trump had no legal authority to attack Syria, and President Obama's legal justification for sending U.S. soldiers to Syria was dubious at best. But Congress' failure to reassert its war powers has rendered it useless in preventing illegal wars.
"Members of Congress must speak out and work to reassert congressional war powers in order to reverse this fundamental erosion of our democracy and alter the course of an increasingly reckless foreign policy emanating from the White House," said Mr. Rainwater.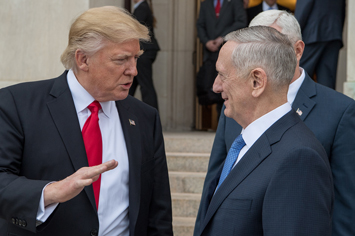 President Donald J. Trump swears in James Mattis as the 26th secretary of defense during a ceremony in the Hall of Heroes at the Pentagon in Washington, D.C., Jan. 27, 2017.
This "slow motion" aggression is taking a toll, said Mr. Galloway. "Just like the slow motion beginning to the first World War, which led to the slaughter of millions of people including many hundreds of thousands of our own people. And from which Britain never recovered and we will not recover from this war."
"Nothing conceivable could be more dangerous than the moment we are now in," said Mr. Galloway. Indeed, he continued, Mr. Trump's "declaration of war" on Syria is "more grave than the Cuban missile crisis."
"President Trump has no legal authority for broadening the war in Syria. It is Congress, not the president, who determines whether our country goes to war, and Congress must not abdicate that responsibility," states Sen. Bernie Sanders (I-Vt.) during the public conversation leading up to the attack.
"This is a tremendously dangerous situation that we have right now, precisely because of the fact that the administration's strategy seems to only be driven by events, not by any strategic thinking, not by any type of a consideration of what lies in the U.S.'s national interest, combined with the fact that he has no diplomatic component whatsoever," Trita Parsi, founder of the National Iranian American Council told "Democracy Now!" "And particularly when you put it in the context that this could actually put the United States in direct confrontation with Russia, then we truly see the tremendous risk for escalation that exists here."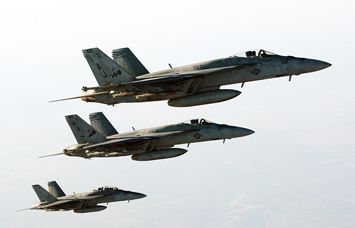 A formation of U.S. Navy F-18E Super Hornet aircraft leaves after receiving fuel from an Air Force KC-135 Stratotanker aircraft over northern Iraq after conducting air strikes in Syria, Sept. 23, 2014.
"The media may not like most of what (Mr. Trump) does on a daily basis at home, but they sure like it when he acts presidential and throws missiles at a faraway country about which he knows little," Mehdi Hassan reported for The Intercept.
"By the way, a lot of the media coverage also suggests that Trump gets worked up about chemical weapons because he sees pictures of kids choking on gas on his Twitter timeline—which is complete and utter horseshit," she continued.
"The idea that Trump gives a damn about Syrians is perhaps the most offensive and ridiculous idea of all. This is a man who bans Syrian refugees, including children, from coming to the U.S.—that's how much he cares about them. Trump and his people are constantly comparing refugees to animals."
"I think however, that this attack by the United States, while it was illegal and immoral, will fail to impose the kind of domination over Syria," said Mr. Becker. "The Syrian people are a proud people, a strong people, and in fact they are completely committed, as part of the anti-colonial project to overcome the horrible legacy of French colonialism, British colonialism, American neo-colonialism and they, not the Americans, will be the masters of their own destiny."