Racist Jews and their Attacks on Black leaders
By the standards established by the contemptible Jewish leadership, all those who ever attended any meeting in the presence of The Honorable Minister Louis Farrakhan must be condemned, repudiated, and suffer the loss of their reputations and their jobs. Curiously, those who have been targeted in these recent Jewish attacks are ALL BLACK: Barack Obama, Rep. Keith Ellison, Rep. Maxine Waters, and several Congressional Black Caucus (CBC) members—but no whites.
Yet at a single meeting in 1998, Minister Farrakhan gave the Anti-Defamation League a whole lot of work to do. Farrakhan was one of over two hundred guests at a gala held by the Jewish-owned Time magazine, and nearly all of the guests were prominent white people. So, ADL, let the condemnations begin. You may wish to start with the two presidents who were there, Donald Trump and Bill Clinton; or with the high government officials Jack Kemp, John Glenn, Ted Kennedy, Hillary Clinton, and William Westmoreland; or media figures Wolf Blitzer, Walter Cronkite, Roone Arledge, Ben Bradlee, Peter Jennings, Tom Brokaw, Dan Rather, Carl Bernstein, Mike Wallace, and Barbara Walters; or with business leaders Steve Jobs and Bill Gates; or with Christian preachers Jerry Falwell and Billy Graham. In fact, when the Reverend Graham saw Minister Farrakhan, he ran over to hug and kiss the Muslim leader.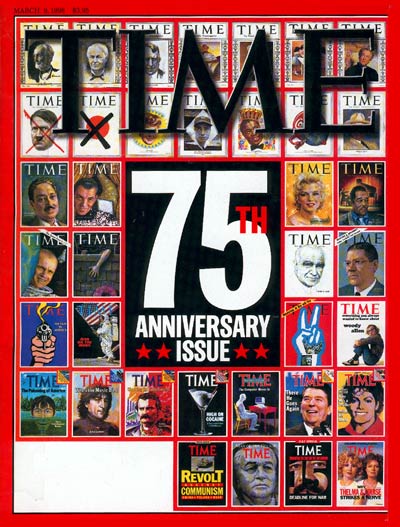 But, racist Jews, you can't stop there. At least 70 of the Farrakhan-meeting-attending luminaries were Jewish, including Henry Kissinger, Sidney Blumenthal, Steven Spielberg, Jeffrey Katzenberg, and even "Holocaust survivor" Elie Wiesel. Yes, Elie "never again" Wiesel met with The Honorable Minister Louis Farrakhan!
It is time for Black leaders who have silently suffered this ludicrous Jewish onslaught to hold their Jewish "best friends" to the very same Jewish standards they have so rudely applied to Blacks alone. This "new" evidence shows that when the unscrupulous Hillary Clinton turned to presidential candidate Barack Obama in 2008 and demanded he condemn Farrakhan, Barack could have easily told her, "You met with Farrakhan too," and ended that nonsense right then and there. But fear and trepidation of Jewish reprisals are a greater influence on most elected Black leaders than the needs of their oppressed Black constituents.


And let us be clear about how cynical these satanic gangsters are. Black leaders should check their calendars. The Jewish Star's Jeff Dunetz noted the silence of the Congressional Black Caucus on Trump's decision to relocate the U.S. Embassy in Israel from Tel Aviv to Jerusalem. He wrote, "perhaps because around the same time as the Jerusalem announcement, pictures of many of their member smiling alongside famous anti-Semite Louis Farrakhan was released [sic]."[1]


And thus we have the reason why a 2005 meeting of Black people has become "news" thirteen years later in 2018. As the Mossad's motto explains, "By Way of Deception, Thou Shalt Do War."


So the attacks on Black politicians and Min. Farrakhan have nothing to do with "anti-Semitism." And to prove it, let us see if these selectively offended Jews will be so quick to condemn Elie Wiesel, Henry Kissinger, and Steven Spielberg as they are Barack Obama, Keith Ellison, and Maxine Waters. The responses of the ADL's Jonathan Greenblatt, and his shills Alan Dershowitz and Jake Tapper, will prove definitively whether or not the Jews have changed their ways since their centuries of slave dealing, racist violence, and exploitation of Black people.

Don't hold your breath.

Full List of Time Magazine's 75th anniversary party held March 3, 1998, at New York City's Radio City Music Hall with guest Minister Louis Farrakhan:


Lamar Alexander

Muhammad Ali

Kurt Andersen

Terry Anderson

Kofi Annan

Roone Arledge

Ken Auletta

Lauren Bacall

Lee Bailey

Anne Bancroft

Roger Bannister

Jill Barad

Dr. Christiaan Barnard

Carl Bernstein

Wolf Blitzer

Sidney Blumenthal

Reginald K. Brack Jr.

Ben Bradlee

Bill Bradley

William J. Bratton

Steven Brill

Phil Bronstein

Tom Brokaw

James L. Brooks

Mel Brooks

Tina Brown

Don Budge

Joseph Califano

Kate Capshaw

Steve Case

Carol Channing

Julia Child

Bill Clinton

Hillary Clinton

Jennet Conant

Sean Connery

Joan Ganz Cooney

Arthur Cooper

David Copperfield

Kevin Costner

Patricia Nixon Cox

Walter Cronkite

Tom Cruise

Michael Deaver

Dr. Michael E. DeBakey

Barry Diller

Joe DiMaggio

Dominick Dunne

Ahmet Ertegun

Mica Ertegun

Harry Evans

James Fallows

Jerry Falwell

Joe Ferrer

Kelly Flinn

Jodie Foster

Nancy Friday

Betty Friedan

David Frost

James R. Gaines

Bill Gates

Frank Gifford

Kathie Lee Gifford

William Ginsburg

John Glenn

Mikhail Gorbachev

Raisa Gorbachev

Billy Graham

Andrew Grove

Henry A. Grunwald

Bryant Gumbel

Bruce Hallett

Dorothy Hamill

Tom Hanks

Valerie Harper

Don Hewitt

Andrew Heyward

Anita Hill

Dr. David Ho

Richard Holbrooke

Evander Holyfield

John Huey

Lee Iacocca

John Irving

Walter Isaacson

Ann Jackson

Judith Jamison

Mort Janklow

Peter Jennings

Steve Jobs

Tom Johnson

Lanny Jones

Star Jones

Arthur Kaminsky

Peter Kaplan

Jeffrey Katzenberg

James Kelly

Jack Kemp

Caroline Kennedy

Edward Kennedy

John F. Kennedy Jr.

Rory Kennedy

Nancy Kerrigan

Dr. Jack Kevorkian

Nicole Kidman

Val Kilmer

Pat Kingsley

Larry Kirshbaum

Henry Kissinger

Michael J. Klingensmith

Jill Krementz

Steve Kroft

Frank Lalli

Bert Lance

Matt Lauer

Gerald M. Levin

Robert Levine

Marshall Loeb

Don Logan

Dave Long

Sophia Loren

James Lovell

Henry Luce III

Norman Mailer

Terry McDonell

Cynthia McFadden

Jay McInerney

Jason McManus

Robert McNamara

Lisa McRee

Sonny Mehta

Christopher Meigher III

Isaac Mizrahi

Ann Moore

Mary Tyler Moore

Dick Morris

Toni Morrison

Isolde Motley

Daniel Patrick Moynihan

Henry Muller

Ralph Nader

Martha Nelson

Mike Nichols

Chris O'Donnell

Daniel Okrent

Edward James Olmos

Alan J. Pakula

Richard Parsons

Jane Pauley

Norman Pearlstine

Michael Pepe

Joy Philbin

Regis Philbin

George Plimpton

Sally Quinn

Dan Rather

Donna Rice

Leni Riefenstahl

Molly Ringwald

Gil Rogin

Ed Rollins

Sherrie Rollins

Andy Rooney

Mickey Rooney

Charlie Rose

Roger Rosenblatt

Tim Russert

Morley Safer

Robert Safian

Mort Sahl

Diane Sawyer

Claudia Schiffer

Arthur Schlesinger Jr.

Edwin Schlossberg

James W. Seymore Jr.

Joyce Seymore

Bernard Shaw

Peggy Siegal

Liz Smith

Lois Smith

Jerry Solomon

Theodore Sorensen

Mira Sorvino

Steven Spielberg

John Squires

Martha Stewart

Sharon Stone

Kerri Strug

Strobe Talbott

Gay Talese

Nan Talese

Cheryl Tiegs

Laurence Tisch

Calvin Trillin

Garry Trudeau

Donald Trump

Peter Ueberroth

Paul Volcker

Diane von Furstenberg

Mike Wallace

Barbara Walters

Wendy Wasserstein

James Watson

Dr. Andrew Weil

Harvey Weinstein

Raquel Welch

Jann S. Wenner

David Westin

William Westmoreland

Tom Wicker

Elie Wiesel

Jeannie Williams

Rita Wilson

Jeff Zucker




[1] http://www.thejewishstar.com/stories/hashana-byerushalayim-this-year-in-jsalem,15199