Slave markets in Libya - Who is to blame?
By Richard B. Muhammad and Raychelle Muhammad, Final Call Staffers | Last updated: Nov 29, 2017 - 11:59:59 AM

What's your opinion on this article?
Libya's suffering and slavery didn't just happen
When
CNN
released video footage of a live slave auction in Libya, captured by journalist Nima Elbagir, shockwaves were sent around the world.
Starting the bidding at $400 each, buyers purchased 12 African migrants at an undisclosed location outside the capital city of Tripoli in a matter of minutes.
How is it possible for open slave market to exist in the year 2017?
The roots of the slavery, suffering and misery in Libya goes back to the purposeful, targeted destruction of the government of Libyan leader Muammar Gadhafi.
While President Barack Obama and his secretary of state, Hillary Clinton, declared their assault on the North Africa leader was about protecting the Libyan people and standing for what is right, Libya has gone all-wrong with no solution in sight.
Raymond A. Winbush, a professor and director of the Institute for Urban Research at Morgan State University, noted that by President Barack Obama's own admission, the worst mistake of his presidency was how he handled Libya.
With three different feuding governments, Libya has never been more unstable. This instability left the door wide open for today's widespread corruption, human rights abuses, and the slave trade, said Dr. Winbush.
Dr. Winbush told
The Final Call
that Libya once boasted the highest standard of living in Africa as Col. Gadhafi redistributed oil revenues back to his people. Libya is now in utter chaos. Racism and slavery are running rampant and these are crimes Col. Gadhafi would have never permitted, he said.
Dr. Winbush also noted that the end of Col. Gadhafi's reign was accompanied by the birth of the international terrorist organization ISIS.
Gerald Perreira, the chairperson of the Black Consciousness Movement Guyana and Organization for the Victory of the People, drew attention to CNN and its role in offering an "expose:" "The world we find ourselves in is complex and full of contradictions. It is easy to fall for rudimentary textbook propaganda based on simplistic dichotomies, such as 'the good guys versus the bad guys.' If we are not aware of the complexities and nuances facing us, we can fall for this type of propaganda, whose sole aim is to keep us apart and destroy any type of unity that could strengthen our ability to defeat the enemy," he wrote in a piece titled
"Deceptive Intelligence: CNN breaks story on Slave Trade in Libya; French Government Voices Concern for African Migrants."
"When examining and assessing the latest information fed us by one of imperialism's mouthpieces, CNN, there are important things for us, as revolutionary Pan-Africanists, to keep in mind. The first thing to note is the clear hypocrisy and insincerity which is nowhere more stark than CNN's recent expose of 'Libyan crimes against humanity' and French President, Emmanuel Macron's call for a special meeting of the UN Security Council to demand immediate action against this heinous 'Libyan' crime," he wrote.
Mr. Perreira warned against giving too much credence to CNN and Western media without a critical analysis of their roles and their corporate, imperialist agendas. Lies "can come in the guise of the imperialists and White Supremacists themselves, or their mouthpieces such as CNN, BBC, Fox News or any of the mainstream corporate media outlets. We should never forget their role as cheerleaders and purveyors of the fake news that laid the groundwork for the invasion and destruction of the Libyan Jamahiriya. Therefore, let us ask ourselves the burning question, why are they providing us with this information, and why now? Why are the imperialists suddenly feigning concern for the plight of Africans?" he asks.
"Muammar Qaddafi and the Revolutionary Committees Movement of the Al Fateh Revolution had a monumental task on their hands: to conscientize and reposition the Libyan people for a significant role in the revolutionary Pan-African project for a United States of Africa. This is a battle for all African revolutionaries. In Sub-Saharan African countries, where almost the entire population comprises Black Africans, we face the same battle. Here in the Caribbean, it is no different. So, when Qaddafi urged his people to look towards a United States of Africa and a revolutionary Pan-African perspective, he had to face Libyans who rejected this program in favor of Libya and the entire North African region joining the Barcelona Project, a Mediterranean-European alliance, whose aim is to take North Africa out of Africa," Mr. Perreira continued.
"Prejudice against dark-skinned Africans exists all over planet earth. Even in countries where the population is almost 100 percent Black African, we have to contend with 'shadism,' a hangover from colonialism and plantation culture, where Africans with lighter skin shades are held in higher esteem than Africans with darker skin shades. However, to say that 'Arab Libyans' are selling 'Africans' is overly simplistic and deliberately misleading. There is a hidden agenda here—beware. The objective is to ignite hostilities between so-called Arab-Africans and so-called Sub-Saharan-Africans. There is a debate amongst Africans about who is an African. On the one hand, there are those who limit the definition of African to Black Africans in the Sub-Saharan region of the continent. On the other hand, there are those of us who believe that Africa is one, and we will resist any attempt by the imperialists to redefine and further balkanize Africa," he continued. "Rather than becoming part of the European Community, North Africans promoting the Barcelona Project would be better off seeking out their African roots. This is what Muammar Qaddafi told all Libyans."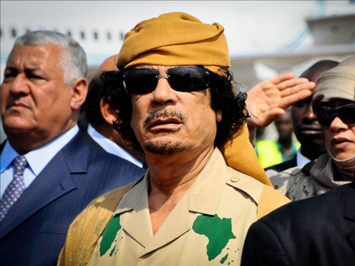 The writer lived in Libya and is a Gadhafi loyalist. Mr. Perreira pointed out how the forces of U.S.-European Union imperialism had fought to take down Col. Gadhafi and his government since its establishment in 1969. In 2011, Col Gadhafi was on the brink of unifying the African continent and was poised to receive the UN Human Rights Award, he wrote in an article published on
Modern Ghana
online.
But the Obama administration, on the advice and counsel of Secretary Clinton and others, along with British Prime Minister David Cameron, French President Nicolas Sarkozy, Saudi Arabia King Salman bin Abdulaziz al Saud, and Qatar Emir Tamim bin Hamad Al-Thani launched an all-out assault against Col. Gadhafi which ended in his execution on Oct. 20, 2011.
President Obama's 'regret'
In an interview with
The Atlantic
published in April 2016, President Obama discussed the U.S. "intervention" in Libya which he said was carefully planned to stop Col. Gadhafi from invading Benghazi, where there was an uprising. President Obama, along with Vice President Joe Biden and then-Secretary of Defense Robert Gates, initially wanted no part in the conflict, according to the article. It was Secretary Clinton, UN Ambassador Susan Rice, and others who won Mr. Obama over. But he expressed remorse for how Libya was handled and turned out—but not that Col. Gadhafi was killed.
The effort, which cost the U.S. $1 billion, was an epic failure. Publicly, Mr. Obama said, "Libya is a mess." Privately, the article said, he called Libya a "sh*t show."
"When I go back and I ask myself what went wrong, there's room for criticism, because I had more faith in the Europeans, given Libya's proximity, being invested in the follow-up," President Obama said to The Atlantic. "If we're going to do something, obviously we've got to be up front, and nobody else is sharing in the spotlight."
The former president's admission of error does nothing to solve the problem. Complicating matters, Italy's government has made deals with Libya's coast guard, tribes, and warlords to prevent refugees from entering Libya and continuing their journeys into Europe.
And while Western nations were able to collude on how to deal with Libya and Col. Gadhafi, they have not come together to deal with the horrors of Libya today. Did the Western nations fear what was happening in Libya and an awakening of a broader African identity and possible political and economic reality?
Mr. Perreira offers a compelling answer: "The North Atlantic Tribes Organization (NATO) deeply fear this type of awakening and the unity of purpose and action it could lead to in this oil rich and wealthiest region of the world. Minister Farrakhan said many years ago, reflecting on periods of unity in our history, 'we did it before and we can do it again.' Muammar Qaddafi's persistent struggle to forge a United States of Africa was starting to pay off. He was on the verge of creating an African currency that would have shifted the global economic imbalance, preparing the way for Africa to take its rightful place in the world. … Fear of this emerging African unity, especially between countries in the north and south of the continent, prompted France to orchestrate (Cote D'Ivoire leader Laurent Gbagbo's) removal from power at the same time as the NATO led invasion of Libya. Genuine African unity, resulting in anything more than talk, will always be opposed, no matter what the cost, by the forces of White Supremacy."
Chaos breeds refugee crisis
Since 2014, over 600,000 people have migrated to Italy including an all-time high of 180,000 refugees in 2016 alone. Although this action has left migrants vulnerable to being sold into slavery, Italy's interior minister Marco Minniti stands behind their policy.
The International Organization for Migration, a United Nations agency, has been reporting the rape, violence, extortion, and enslavement of refugees for months.
The IOM exposed the problem and yet no one was apparently listening. Migrants were being swindled by human traffickers they had paid to transport them off the African continent. Survivors said instead they were enslaved, starved, and abused by their captors.
"The latest reports of 'slave markets' for migrants can be added to a long list of outrages [in Libya]," said Mohammed Abdiker, IOM's head of operation and emergencies. "The situation is dire. The more IOM engages inside Libya, the more we learn that it is a vale of tears for all too many migrants."
All Africa
reported that many families of migrants captured by militia and smugglers have been extorted. If they can't pay the ransoms, then the prisoners are sold. Often the new owners will try to extort the families as well. If at some point the captors can neither collect on nor sell a prisoner, or if the prisoner falls ill, the prisoner is killed.
The CNN footage has garnered much attention and condemnation from the UN, African leadership, and people around the globe. Shortly after the story aired, a massive, and at times violent protest in Paris outside the Libyan embassy ensued. Similar demonstrations were held at Libyan embassies in several African capitol cities including Bamako, Mali and Conakry, Guinea.
UN Secretary-General Antonio Guterres called for an immediate investigation into the matter and prosecution of all guilty parties.
France called for an emergency meeting of the UN Security Council to discuss the problem. President Emmanuel Macron condemned human trafficking as a "crime against humanity" via Twitter on Nov. 22. He has since met with head of the African Union, Alpha Conde.
But are France's hands clean? "The destruction of this most prosperous and just African country was led by France, who now dares to call for a special meeting of the UN Security Council to discuss the crimes committed against African migrants 'by Libyans.' This is devil-speak," said writer Perreira.
"The same devil who, in the words of the Honorable Minister Farrakhan, 'unleashed the demons' that are now committing these and other heinous crimes, is trying to sow more discord by talking about 'Libyan crimes.' Where was CNN and the French government when these same gangs of demons were committing the atrocities described above?"
Libyans have vowed to cooperate with the UN probe while also conducting investigations of their own. But West African political leaders have heavily criticized the Libyan slave trade and are taking action on behalf of exploited migrants from the region. Both President of Niger Mahamadou Issoufou and the foreign minister of Burkina Faso, Alpha Berry, summoned the Libyan ambassador to meet to address the issue.
President Issoufou has demanded that the International Court of Justice investigate Libya. The matter of the slave trade in Libya has been added to the agenda of the next African Union meeting in Ivory Coast on Nov. 29 and Nov. 30.
Looking to the future
Where do we go from here? The answer to that question is multi-layered with many moving parts. Minister Abdul Akbar Muhammad, the international representative of the Honorable Minister Louis Farrakhan and the Nation of Islam told
The Final Call
that those who have bought and sold slaves must be held accountable.
All authorities, who include the AU, the UN, the U.S., international human rights organizations, and all three divisions of the Libyan government, must step in to chastise and isolate the offenders, he said.
Mr. Muhammad also observed that the fractured Libyan government model is nothing shy of a "basket case." And with the government being a product of a military coup, Libya should be kicked out of the UN as well as the AU, he argued.
The United States must now be involved in the solution as both the creator of the problem as well as the home of the media outlet that filmed and aired the footage of the inhumane practice, Min. Akbar Muhammad said. CNN's reporting has culpability in the world's perception of this crisis and their investigative team is a witness against the perpetrators, he continued.
Mr. Muhammad also said Blacks in the U.S. and other members of the African Diaspora must become voices for the victims by petitioning their governments and human rights organizations to act swiftly against slave trafficking.
Perhaps the most important action that the 54 members of the African Union must take, Mr. Muhammad said, is to immediately begin to invest in building their economies, creating business and employment opportunities, and improving the quality of and access to education so that young people will no longer have to risk their lives migrating to Europe.