The quiet aftermath of carnage in Charleston
By Richard B. Muhammad and Brian E. Muhammad -Final Call Staffers- | Last updated: Nov 9, 2016 - 12:30:38 PM

What's your opinion on this article?
CHARLESTON, S.C.
—An overcast Friday afternoon closed the first week of the trial of former officer Michael Slager, who is accused of murdering an unarmed Black man. The death was captured on videotape.
The opening week included tearful testimony from the mother of Walter Scott, whose unsuccessful run for his life was captured by Feidin Santana, who happened to be late for work that fateful day in 2015.
"Murder is murder, I don't care what uniform you are wearing," said a Caucasian woman crossing at the intersection of Broad St. and Meeting St. She was speaking into a cell phone and commenting on the Slager trial.
To her back was the courthouse where Mr. Slager was facing potential justice and tucked in a courtyard were journalists covering the trial. Their TV trucks lined up along Meeting St.
The Scott trial opening coincided with plans for the trial of accused mass murderer Dylann Roof, who authorities say shot down nine Blacks after Bible study at Mother Emanuel Church in Charleston trying to start a race war.
Despite defense lawyers' objections, the jury, composed of 11 Whites and one Black male, watched the videotape of 50-year-old Scott running away as Off. Slager fired his weapon.
Mr. Scott scuffles with the officer, then turns and runs. Shot in the back, his body collapses on the ground.
"For some reason I decided to use my phone to record and prevent something that might happen," Mr. Santana told jurors.
What should have been a simple traffic stop over a broken tail light ended up in a horrifying encounter witnessed by horrified viewers over the internet and on television. The friend who was in the car with Mr. Scott testified that his friend was murdered.
Defense lawyers tried to argue the video was part of a life and death struggle between the two men. It was hard to accept that with bullets pumped into a man who was running away.
Mr. Santana testified that he never saw the victim with the Taser nor on top of Off. Slager who was fired after the incident. The family of Mr. Scott also received a $6.5 million settlement from the city of North Charleston, where the shooting took place.
Mr. Santana, who is bi-racial and a permanent U. S. resident, was fearful for his life and of police which led him to initially hold the videotape. When it went public, the images were explosive, released to the media by Scott family lawyers contacted by Mr. Santana.
Defense attorney Andy Savage questioned Mr. Santana, raising questions about a song against police brutality he wrote. "I'm not against any law enforcement, any officer," Mr. Santana replied. "I am against police brutality."
Past and current officers who testified the first week and Nov. 7 as the trial began its second week were generally supportive of their former colleague. One saying Mr. Slager was not a hot head and one insisting Mr. Slager had been in a fight.
But two officers were forced to admit the account of what happened given by Mr. Scott did not mesh with the damning videotape.
One officer said he tried to perform CPR on Mr. Scott who was handcuffed, laying facedown and suffering from bullet wounds. Mr. Scott did not respond to efforts to revive him, the officer said.
Both officers testified that when they got to the scene, Mr. Slager told them he and Mr. Scott had wrestled and that Mr. Scott got control of Mr. Slager's Taser. The 34-year-old faces 30 years to life in prison if convicted.
Judy Scott, who testified in the first week, broke down. Her anguished cries could be heard as the trial was livestreamed on the internet. She testified that her son called her during the traffic stop, saying he was Tasered and she heard his moans. Solicitor Scarlett Wilson, the lead prosecutor in the case, questioned the hurting mother. The prosecutor argued the ex-cop was intentional in his murder of Mr. Scott and tried to cover up the crime by dropping his Taser next to the man's body.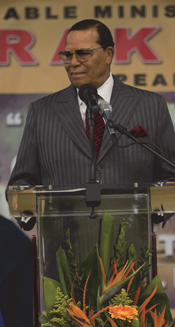 "Justice is the only principle that will cause Charleston to be favored by God. The policeman that shot Walter Scott has a jury of 11 Whites and one Black. If justice does not come for this family and if justice does not come for the nine that perished from the pistol of Dylann Roof, let me tell you what Charleston will soon face," said the Honorable Minister Louis Farrakhan in an important statement. It was issued Nov. 7 over social media, just two days after a highly successful major speech in North Charleston, hosted by the "magnificent pastor" Isaac Holt, Jr.
The Minister recounted how for nearly two years his efforts to come to Charleston and pay his respects to the families of the Emanuel 9—but every effort was blocked. The North Charleston police officer who killed Mr. Scott fired eight shots, striking the unarmed man five times, the Minister noted. That officer is on trial now and the trial of the Emanuel 9 killer, according to authorities, will soon follow, the Minister observed.
A biblical scripture in the chapter Isiah, says justice stands afar off and equity cannot enter because truth has fallen in the streets, said the Minister.
"Whenever truth is spoken, justice in accord with truth must follow if there is going to be peace. But if justice does not come when truth is spoken, that the truth now falls in the street and justice stands afar off and equity cannot enter, then it's a sign that the forces of falsehood are so strong, so wicked that they will not bow to the majesty of truth to bring about justice and eat the fruit of peace," he said.
"So these forces of falsehood if justice does not come, the Honorable Elijah Muhammad said they have to be removed physically and that is why God enters that picture. Since he gives you a chance to do justice, then vengeance is his and he will exact a terrible punishment to prove to those who have power to lie, to cheat, to steal, to kill and think that they get away with it. God is on the side of the weak, the oppressed. God is never in favor of the tyrant. And fighting against tyranny really is obedience to God," said Min. Farrakhan.
"So God will have his way no matter what the jury does. But if they are wicked enough to deny these families justice, then God will answer and I fear the terrible nature of his chastisement. Be warned."
The Slager jury consists of six White men, five White women and one Black man.
The local NAACP and the National Action Network affiliate have complained about the racial makeup of the jury. Scott family lawyers have said they are unconcerned about the jury's racial makeup as it just takes two eyes and ears to see Mr. Slager's guilt and hold him accountable.
"Overall I am frustrated. I am sickened," said Thomas Dixon, a Charleston community leader and U.S. Senate candidate. He lambasted those in the established power structure and political leaders, complaining about a lack of will to use their influence and power.
"Those who have the power to put legislation forth that possibly could have … have done nothing," he said. In this instance, Mr. Dixon was referring to the Emanuel Church massacre. He blamed Senate Republicans and the South Carolina state legislature for blocking "sensible gun control" laws. But, he noted, when tragedy strikes these politicians hypocritically tweet prayers, but fail to change policy.
"Don't come talking about we praying for you after the fact—that's hypocritical—just say we don't care nothing about you because we did nothing to stop this from happening out in the front," Mr. Dixon said.
"I have a problem with these folks who like to pat themselves on the back and when they have sound bites or photo ops, all of a sudden they want to bring up Mother Emanuel. That sickens me."
Some residents, like Micki Zalatimo and Danielle Jackson, are watching as things unfold with the Slager trial. "We need something or someone to give us hope that this is going to turn out right," said Ms. Zalatmo. Ms. Jackson, a lifelong resident of Charleston, added, "We're so stuck on our old ways and our old ways haven't brought upon change. We need somebody to stir up the fire, stir up the pot to get us riled up."
Others say Black leaders should beware of capitulating to the White power structure while Blacks and the poor in Charleston, North Charleston and the state suffer. Some leaders quickly offered forgiveness for Mr. Roof before he asked for it or expressed regret for his alleged crime. Some spoke of reconciliation and healing but said little about the law of justice.
"The masses are not going to listen to the buffer or the sellout leadership anymore, they have lost their power … God has silenced their voices," stated Student Minister DeAndre Muhammad of the Nation of Islam group in Charleston.
There is another power that's controlling the masses that neither the misleaders nor the enemy can control, he said. Among the grassroots and leadership, there are those watching these two cases and their outcome, the Muslim student minister continued. They have already imbalanced the jury in the Slager trial by having 11 Whites with one Black juror, he added.
"There is no trust in this justice system because of the years of lies and disrespect and injustice that we have received," said Student Minister Muhammad. "They don't want to play with the aspirations of the people for justice because the God of Justice will answer. Allah Himself and the forces of nature is set and ready and the anger of the masses of the people is going to be ignited based on injustice and that is only right." As the Slager trial and the Roof trial go forward, it will be seen if the quiet Friday afternoon was a sign of disconnection, complacency or reconciliation—or a ticking racial time bomb ready to ignite at the proper time.
The Associated Press contributed to this report.