An overwhelming success in Washington
By Final Call News | Last updated: Oct 15, 2015 - 2:06:57 PM

What's your opinion on this article?
Printer Friendly Page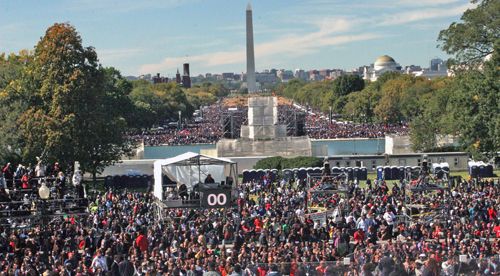 WASHINGTON—
With anticipation, steely determination and focus by activists, organizers and Nation of Islam Believers around the country—led by the tireless work and unceasing travel, vision and determination of the Honorable Minister Louis Farrakhan—mobilizing for "Justice Or Else!", the 20th anniversary of the Million Man March, was intense. Plans for the gathering started after an April announcement by Min. Farrakhan that it was time to return to Washington, D.C. Yet in a few months, with no corporate sponsors, no huge national political backers, few establishment endorsements, and no mainstream media help, the U.S. Capitol and down the National Mall Oct. 10 were filled with throngs of people. They were drawn by a call to stand against pervasive racism and injustice with the invitation extended to Native Americans, Latinos, veterans and women to stand against oppression. Urban News Service put the number at hundreds of thousands and some estimated a million people and upwards. With substantial construction underway on the National Mall there was spillover onto side streets. It was an incredible gathering that was peaceful, loving and the beginning of a movement. The #justiceorelse hashtag trended across social meeting on Oct. 10 and for days after the gathering. Now on the ground work begins and people are eager to get started. Join the movement at
www.justiceorelse.com
. Look for more photos next week.
PHOTO GALLERY: THE CROWD