'We are tired' Police killing of Black man takes toll on his family and those familiar with heavy handedness of police

By Brian E. Muhammad and Eric Ture Muhammad The Final Call @TheFinalCall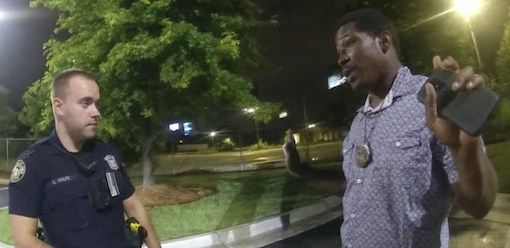 ATLANTA—The young mother and wife was poised initially, holding her child and facing the media at an extremely difficult time. Her words, however, and clear pain were heartbreaking.

"There is no justice that can ever make me feel happy about what was done," said Tomika Miller, whose heartrending words were broadcast live. "I can never get my husband back, I can never get my best friend," she said, fighting back her tears. "It's just going to be a long time before I heal … before this family heal," Mrs. Miller lamented.

The grief of the 27-year-old widow of Rayshard Brooks, who was shot to death while running away from Atlanta police officers, and his tight knit family was palpable.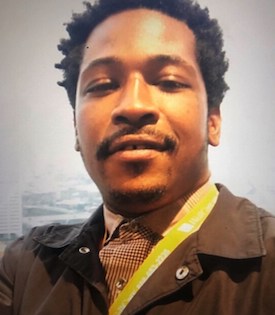 Rayshard Brooks, 27, was shot and killed by Atlanta police after they responded to a call about someone being asleep in a Wendy's drive thru. Photo: MGN Online

They spoke from their hearts, they spoke of who the father of three girls, and a 13-year-old stepson was. They cried. Then together, they walked away from the cameras and microphones—still hurting, still broken.

Silently echoing through the room was a simple but profound question, what is justice? What equals the loss of a father, a husband, a brother, a nephew, a cousin, a friend? How can the void of his loss be filled?

Protestors were still in the streets filled with rage, anger, hurt, frustration and a spirit of resistance near a now-torched Wendy's and other places 21 days into anti-police brutality protests that have rocked America—but not stopped cops from killing.

Mr. Brooks' cousin, Decatur Redd, is demanding answers from a city he "thought was better" than this.

"We've been watching this happen for so many years, with young Black boys around the country just dying in vain," said Decatur Redd, who cried over the death of his cousin. Cameras from CNN and other outlets captured his words.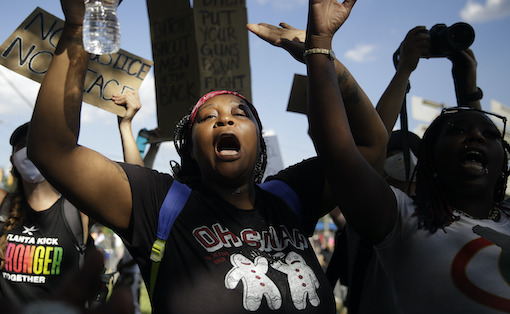 A protester marches, June 13, near the Atlanta Wendy's where Rayshard Brooks was shot and killed by police following a struggle in the restaurant's drive-thru line. Photo: AP Photo/Brynn Anderson

"I didn't think it would hit right here … I thought this city was better than that. They've got to answer. Somebody's gotta say something," he said. Tears flowed.

"We need to at least know that the city is with us," Decatur Redd said.

Other family members spoke of their pride in living in Atlanta and their sense that this was their city. They hurt when buildings were burned and windows smashed during protests over the death of George Floyd in Minneapolis, a White cop kneeling on his neck for nearly nine minutes on Memorial Day.

Now, said family members, this has happened in our city. The death was senseless, they said. It didn't have to happen and should not have happened, they added.

Police were called to the Wendy's with a report of a man asleep in a car in a drive thru. Two officers, both Caucasian, eventually were on scene and initial contact, captured on body cam seemed to be cordial. Mr. Floyd told cops June 12 he had plans for his daughter's birthday and could walk to a relative's house nearby. Police say he failed a breathalyzer.

Officers moved to handcuff him, and he twisted to get away. The officers and the young Black man tumbled to the ground. One officer tried to tase him. Mr. Brooks got control of the taser and ran away.

The officers chase him; he turns taser in hand and runs away. An officer fires shots; two strike him, according to a medical examiner. He dies from his injuries.

Fleeing an officer, grabbing a taser and even drunk driving are not capital offenses, say advocates, attorneys and ordinary Black people. Many point to online videos of Whites who fight, beat, take officers' tasers, steal their patrol cars and don't die.

Paul Howard, Jr., Fulton County district attorney, told CNN that his office will decide the charges, if any, against officer Garrett Rolfe, who was quickly fired. The other officer, David Bronsan, was put on administrative leave and could face charges.

"(Mr. Brooks) did not seem to present any kind of threat to anyone, and so the fact that it would escalate to his death just seems unreasonable," Mr. Howard said.

"If that shot was fired for some reason other than to save that officer's life or prevent injury to him or others, then that shooting is not justified under the law," he added June 15.

The Fulton County medical examiner ruled Mr. Brooks' death a homicide, an autopsy found he was shot in the back twice and died from organ damage and blood loss.

According to the Atlanta Journal-Constitution, his death marks the 48th officer-involved shooting the Georgia Bureau of Investigation has been called to look into in 2020 alone.

Abdul Sharrieff Muhammad, who heads the Nation of Islam mosque in Atlanta, watched the videos and heard accounts of what happened.

He sees the results of a false sense of entitlement that ofttimes comes with police officers' authority. "This speaks directly to what the Honorable Minister Louis Farrakhan says dealing with the ego. His (the shooting officer's) ego got the best of him," said Min. Sharrieff Muhammad. "He believed the act of running challenged his authority. Training becomes the issue with law enforcement everywhere when dealing with the citizens who they have pledged to protect.

"And who is to say that there won't be more deaths like this in a few days?" he asked. "Everything leads to the Honorable Minister Louis Farrakhan's call for separation. Everything leads to separation."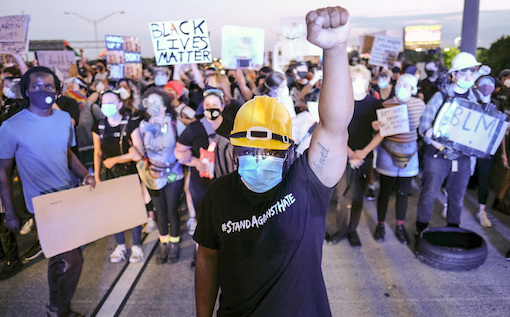 Demonstrators react after getting onto I75 and shutting down the interstate in Atlanta, June 13. Photo: Ben Gray/Atlanta Journal-Constitution via AP

Former city police chief Erika Shields resigned but will stay employed, said Mr. Muhammad. "She will get another job. She will replace her salary and she will be replaced I believe with a Black police chief. That in this case is a swift necessary action, but it is not going to stop or heal anything. God has his hand on this moment all over the world. And when His voice, the Honorable Minister Louis Farrakhan, speaks to the world July 4, we will gain a full understanding of where all of this is heading."

Mayor Keisha Lance Bottoms issued new orders June 15 regarding use of deadly force, calling for reasonable use of force, and directing that de-escalation be used before deadly force.

"We do want everybody's support; we're looking forward to the D.A.'s findings in this situation," said L. Chris Stewart, an attorney for the Brooks family.

"One thing that we could ask for is some semblance of an idea of justice because there is no definition anymore of what it is. But what we do know right now is that a man's life was taken when it should never have happened," said Atty. Stewart.

Besides being a father, Mr. Brooks comes from a large family of siblings and cousins.

Days earlier, family attorneys described the impact of the police killing. "We sat and watched them (Mr. Brooks' children) play and laugh and be oblivious to the facts that their dad was murdered on camera," said Atty. Stewart.

"A scene that we keep repeating as we watched Gianna Floyd play in Houston, oblivious that her dad (George Floyd) was knelt on and murdered. How many more examples will there be?" asked Atty. Stewart, who also represents the child who lost her father in Minneapolis.

Protests began at Wendy's and flowed into nearby streets in the nights that followed. Highways were blocked. Protestors marched June 15 through downtown Atlanta and to the state capital.

"I am tired of them constantly killing us. They still see us as three-fifths of a human being. So until they value our lives we have to keep saying Black Lives Matter! There's an obvious distinction between us and them," said a Black registered nurse who joined the protests.

Brandi, who preferred to be identified by her first name, added, "When they do mass killings like Columbine shooting and Dylan Roof at the church, they will talk a White man down and allow them to live. But here's a Black man sleep in his car and he ends up dead. That's not right."

John Wade was part of a morning protest in downtown Atlanta and sometimes spoke through a bullhorn.

"After the 20 or 30 minutes conversing with Brooks, they decided to handcuff him. I believe he was scared. So, my question is why not give him the option to sober up and then try to put him in handcuffs? I feel that was a tactic that they were using to pretty much lynch him and get rid of him for whatever reason. He was a positive role model in the community, Rayshard Brooks. He had three children by one woman," said Mr. Wade.

Standing among the remains of what was once a Wendy's restaurant, Gerald Emerson Rose of the New Order National Human Rights Organization, said, "What we need to do is stay woke. Another Black man killed at the hands of the police. People are angry. We are still reeling from the George Floyd murder. I just got back from Brunswick, Ga.," he said. Ahmaud Arbery, a young Black man, was killed by a White man who chased him in a truck in Brunswick.

"I can go on and on. We are tired. We are tired. You've asked for our vote; you keep asking us to be patient, but people want some solutions."

"There is a turning point … they (police departments) have to do it now, (because) the consequences are too great with all that's happening," commented Ron Fears, a retired College Park, Ga., police chief.

"Society is being overwhelmed," he said. "White society is scared. This is different for European Americans." They didn't see it coming, said Mr. Fears.

"George Floyd, Ahmaud Arbury and Rayshard Brooks were all Black fathers," said khalid Kamau, councilman in the city of South Fulton, Ga. "This is an assault on Black fathers, this is genocide."

Pointing to the bevy of police killings over the last several years—particularly of Black males—Councilman khalid said its hunting season on Black men. He spells his first name lowercase and prefers to be identified as Councilman khalid.

He told The Final Call as an elected official, he agrees with calls for defunding police departments.

"I don't normally talk about defunding the police, I talk about reimagining policing," explained Councilman khalid. "Let's reimagine calling somebody other than an institution that was built on fugitive slave catchers and incarcerating Black men for Jim Crow era forced labor."

Advocates say modern American policing is an outgrowth of White supremacy and Black oppression that evolved from slave catching. Police also enforced racist laws or customs, like keeping Blacks out of White neighborhoods, grabbing Blacks for loitering or arrests for not obeying dictates to get out of town before sundown.

"That's what that institution is about," said Councilman khalid. "Maybe that's not the institution you want to call for Black people when they're in trouble," he said.

He argues cops were not endangered by Mr. Brooks but were suffering from bruised egos after the taser was taken.

Yonasda Lonewolf, a Black and Native American activist based in Atlanta, said the Covid-19 pandemic has forced people to be "still" and tune in to phones and television where they are regularly exposed to injustices.

"We were able to visually see White supremacists' gun down and kill Ahmaud Arbury, we were able to see a White cop putting his knee on a Black man, George Floyd," she noted.

"Now we're seeing what injustices have been happening to Black and Brown people—not just nationally, but locally and globally," said Ms. Lonewolf.

Heru Ranesi-El, Grand Sheik of the Moorish Science Temple of America in Atlanta said the police are more like an "occupying force" than a "protect and serve" unit in Black communities. His group had made efforts to bridge the widening gap between Blacks and law enforcement. "It makes it impossible to bridge the gap when these types of murders are taking place," said Sheik Ranesi-El.

Some see the police chief's quick resignation and termination of officers in recent incidents as a result of protests and unrest.

"It had to take the city to burn," observed Ms. Lonewolf. "Much of the resistance was necessary because a shift is happening across America where the police is being dismantled and defunded. And, they're actually listening to those that they have swept under the rug for so many years," she said.
According to Brooks' family attorneys, Justin Miller and L. Chris Stewart, Mr. Brooks' daughter had her birthday dress on the morning after his death, waiting for her dad to come pick her up and take her skating.
"They were having a birthday party for her, her eighth birthday with cupcakes while we were sitting there talking to her mom about why her dad was not coming home," said Mr. Miller.

"We have more family members at that house than I could count. A ton of brothers and sisters that love him more than life."

Mr. Stewart told the press he was tired and out of answers. "There's not much more we can do or say as a society. If people that are refusing change, not understanding that now is the time for a complete and full systematic change, take a look. Compare it to all of the other videos online where there was a White individual that had a deadly weapon and wasn't killed. We are trying to understand why they didn't get shot and why did Rayshard have to while he is running?"

(J.A. Salaam contributed to this report from Atlanta.)